FROM 1983-2005
With the newly raised establishment of 'Ordnance Directorate' in year the 1981, two similarly named establishments were present called as 'Ordnance Directorate and Directorate of Ordnance Service'. For easy administration Ordnance Directorate was renamed as 'Ordnance Procurement Company' and it became a significant event during this period. Out of its administrative and technical duties, only the technical duties were brought under the Ordnance Directorate while administrative duties were taken under RHQ SLAOC.
Along with the expansion of the army, Forward Ordnance Depot was established in Anuradhapura on 18 February 1985 in the Saliyapura Gajaba Regiment Cantonment. The objective was efficient and timely supply of all the ordnance needs of the troops were operating in the North.
THE APPROVED ESTABLISHMENT IN 1985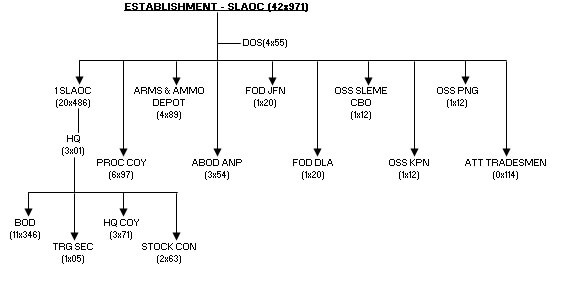 Later, a new establishment of 125 Officers and 2270 Other Ranks was approved by letter ref ප්‍ර/මාරා/70dated on 25th March 1991. SLAOC Regiment was re-structured along with the new Army establishment. At that time, Army establishment had been structured into 3 Divisions and in order to fulfill the Ordnance needs new Ordnance Units were raised as Division Ordnance Units. (DOU)
A new Ordnance Factory was added to the Regimental organization on 20th May 1991. The factory was established in Dombagoda and motar launchers, mortar bombs were produced by Lt Col D S G Kempitiya ato. Pivotal role was played by himself and Trip flares were locally produced by Lt Col G W P Samaratunga ato.
In early 1992 SLAOC and its stock control section was shifted in order to pave space for a new Army hospital in Panagoda cantonment. Stock control section was shifted to Base Ordnance Depot (Panagoda). Billets of Other Ranks were also relocated to provide space for a new Pay & Records Office.
Apart from the traditional technical duties, the corps was engaged in the internal security duties & troops had to be deployed in fulfilling internal security duties in times of needs in the country.
Under the new establishment, Div Ord Units were raised and established.1 Division Ordnance Unit was established at the main Ordnance depot premises on 1 July 1992. The Advance Base Ordnance Depot (Anuradhapura) was established as the 2 Division Ordnance Unit on 01 November 1991 in Anuradhapura and the Ordnance stores which functioned as Advance Base Ordnance Depot (Minneriya) was established as the 3 Division Ordnance Unit in Minneriya on 23 March 1995. At present, these Ordnance units function as 1, 2, and 3 Regiments of SLAOC.
THE APPROVED ORGANIZATION OF SLAOC - 1991
The first ever Army Regiment Beat group was formed on 4th November 1992 by SLAOC. Ordnance School which was functioning under the Panagoda Regimental Headquarters was shifted to the Dombagoda factory premises on 20 May 1995. From thereon, the Ordnance school demonstrated its capability and esteem with an excellent service to the Army by providing training for soldiers making them professional soldiers.
Since the inception of the Army, the ammunition stores which was located at the Army Headquarters was later on shifted to Kosgama Salawa Camp on 15 April 1999 and raised as the Central Arms and Ammunition Depot.