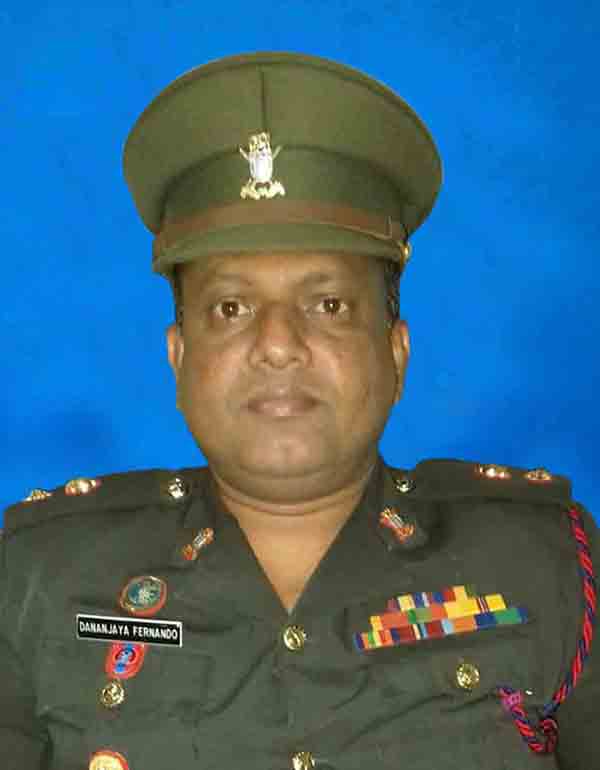 Lt Col WSD Fernando ato Lsc
1. Lieutenant Colonel WSD Fernando ato Lsc, who was born on 30th May 1975 is a proud product of Sri Sumangala College, Panadura. This Senior Officer joined the regular force of Sri Lanka Army on 04th July 1997 as an Officer Cadet of intake 47. Upon successful completion of basic military training at Sri Lanka Military Academy, Diyathalawa, he was commissioned in the rank of Second Lieutenant and posted to the Sri Lanka Army Ordnance Corps on 19th June 1999.
2. During his military career, he has held various appointments in both operational and non operational areas including Infantry Platoon Commander – 231 BDE, Officer Commanding Central Arms Depot (CAD), Instructor School Of Ordnance, Adjutant School Of Ordnance, Officer Commanding Store Section Minneriya, Adjutant 3rd Regiment Sri Lanka Army Ordnance Corps, Stock Control Officer BOD, Officer Commanding Forward Ordnance Depot - Manner, Stock Control Officer 2 SLAOC, Logistics Officer 2 (Supply and Maintence) SFHQ(East), Directing Staff - ASL, Staff Officer 2 Dte Of Ord svs, - 2nd In Command 2 SLAOC, Staff Officer 2 Deputy Chief Of Staff Office AHQ, Presently, the Senior Officer is Serving as Commanding Officer 3rd Regiment Sri Lanka Army Ordnance Corps.
3. To his credit, he has attended a number of local and foreign courses of academic and professional value. It includes Young Officer Course, Basic and Advance Senior Instructor Course of Intentional Humanities Law and Human Rights, Councelling Course Conducted by MOD as an Army Counceller, Young Officer Course Pakistan, Ammunition Technical Officer Course Pakistan, Logistics Staff Course Pakistan, Mit Career Course Pakistan, HN DIP - Procurement and Contract Administration at SLIDA, Dip Energetic Materiel Management, Dip - Explosive Ordnance Devices University of Karachi, HNDIP - Supply And Material Management ISMM, Dip - Material Management Alma Iq bal University Islamabad Pakistan, Member Of ISMM, Visiting Lecture at ISMM.
4. The Senior Officer has been Conferred with East Humanitarian Operation Medal, North Humanitarian Operations Medal, Purna Bhumi Padakkama, North and East Operations Medal, Sri Lanka Army 50th Anniversary Medal 1999, Sri Lanka Armed Services Long Services Medal 1979, Sewabhimani Medel, Services Medal, 50th Independence Anniversary Medal 1998 during his illustrious service in the Army.
5. He is married to Mrs. Nilosha Fernando and blessed with loving son and Daughter named Methira and Denadi Sedasna.