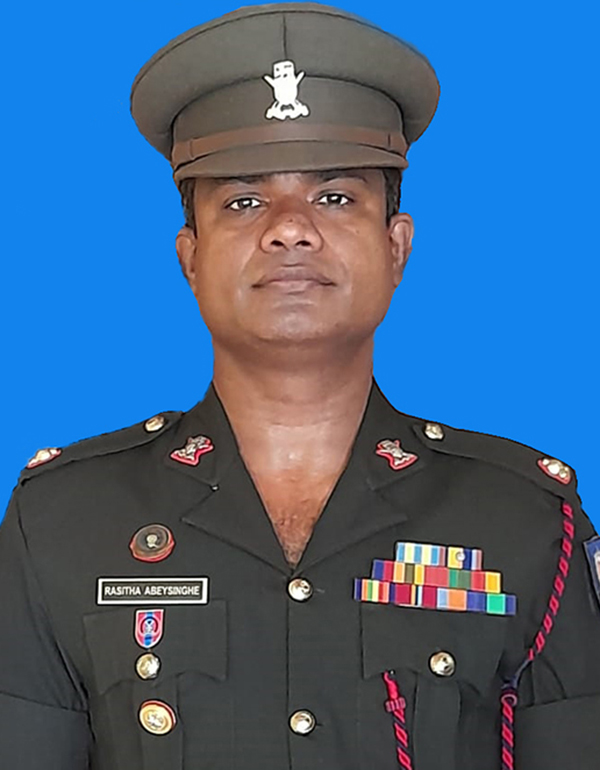 Maj A M R H B Abeysinghe USP AATO Lsc
1. Maj Rasitha Abeysinghe USP AATO Lsc who was born on 18th December 1978 is proud product of Sir John Kothalawala College - Kurunegala. This senior offr joined the Regular force of Sri Lanka Army on 08th August 1999 as an officer cadet of KDA intake 17. Upon successful completion of basic military training at Kothalawala Defence Academy and Sri Lanka military Academy, he was commissioned in the rank of Second Lieutenant and posted to the Sri Lanka Army Ordnance Corps on 08th August 2001.
2. During his military career, he has held various appointments in both operational and non-operational areas including Officer - commanding Forward Ordnance Depot Batticaloa and Valachchainai, Adjutant 3rd Sri Lanka Army Ordnance Corps Minneriya, officer commanding Ledger Section/Receipt Bay at Base Ordnance Depot Maradana, Staff officer II - Directorate of Ordnance Services, Directing staff Army school of Logistics, Second in command 6th Sri Lanka Army Ordnance Corps Kilinochchi and 1st Sri Lanka Army Ordnance Corps Panagoda, Regimental Adjutant - RHQ SLAOC, Overlooking Deputy Commandant - Sri Lanka Army Ordnance Factory Dombagoda. Presently, the Senior Officer is serving as the Commanding Officer 7th Regiment Sri Lanka Army Ordnance Corps Mullaitivu.
3. To his credit, he has attended a number of local and foreign courses of academic and professional value. It includes Bcom (Def) in KDU, Dip in World Affairs and Professional Deplomacy - BIDTI, Dip in Advance materials management CMM in Jabalpur India. Arms and Ammunition Technical Officer Course in CMM - Jabalpur India. Logistics Staff course in Kuldana Muree in Pakistan, Mid career course in Malir Caant Pakistan, Basic Ordnance Management Course in CMM Jabalpur - India. Presently he is reading for MBA in logistics management - KDU Rathmalana.
4. The senior officer has been conferred with Uththama Sewa Padakkama, East Humanitarian Operational Medal with Sandaraya, North Humanitarian operational Medal, Sri Lanka Armed Long Services medal 1979, Sewabimana Padakkama and Purnabumi Padakkama during his illustrious service in the Army. Further he has represented Sri Lanka Army Cricket Team in year 2005 and Sri Lanka Army Ordnance Corps Cricket Team in year 2004 to 2012 and received ordnance colours twice in year 2015 and 2019. He has served as secretary for Army Squash Committee From year 2017 to 2018 and as Asst secretory of Army Cricket Committee in 2018. Presently representing as a executive member of Army Cricket Commitee.
5. He has married to Mrs. Praba Puimali Karunarathne who is serving as the Senior Assistant Liberian at Open University Kurunegala and blessed with a son and daughter named Hashen and Shehali.