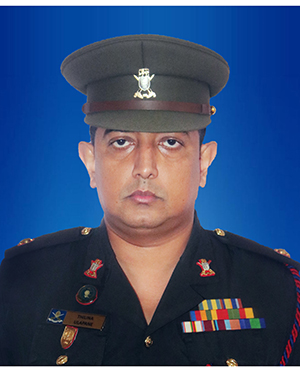 Maj KMTR Ulapane USP psc ato
1. Maj Thilina Ulapane USP psc ato who was born on 14th February 1982 is a proud product of King's Wood College - Kandy. This senior Offr joined the Regular force of the Sri Lanka Army on 05th October 2003 as an officer cadet of KDA intake 21. Upon successful completion of basic military training at Kothalawala Defense Academy and Sri Lanka Military Academy, he was commissioned in the rank of Second Lieutenant and posted to the Sri Lanka Army Ordnance Corps on 19th May 2007.
2. During his military career, he has held various appointments in both operational and non-operational areas including Gp Officer - 2SLAOC (ANP), Adjutant - 2SLAOC (ANP), OC - Fod (MNR), Adjutant - 3SLAOC (Minneriya), OC - Fod (Valachchena), Adjutant - Sch of Ord, Adjutant - ASL (TCO), CI & Seva Vanitha Coord Offr - Sch of Ord, DS - OCDC (Buttala), SO II (Log) - RHQ SLAOC, SO II (Log) - SLMA (DLA), Adjt - RHQ SLAOC, SO II (GP - 6) Directorate of Ordnance Services, Second in Command - 3 SLAOC (Minneriya). Presently, this Senior Officer is serving as the Officiating Commanding Officer of 1st Regiment Sri Lanka Army Ordnance Corps Panagoda.
3. To his credit, he has attended a number of local and foreign courses of academic and professional value. It includes BSC in management and technical science at KDU, Junior Command Course 12 - HQ SLMA (DLA), Basic Ordnance Management Course - No 37 (Bangladesh), Defense Service Command and staff course - No 07 (Buttala - 2013), Army Command and Staff Course 2015 - 2016 (Pakistan) and Ammunition Technical Officers' Course (China).
4. The senior officer has been conferred with Uththama Sewa Padakkama, East Humanitarian Operation Medal, North Humanitarian Operation Medal, Purnaboomi Padakkama, North and East Operation Medal, Sri Lanka Army Long Service Medal, 75th Independence Anniversary Medal, Sewabimana Padakkama and Service Medal during his illustrious service in the Army.
5. He has married to Mrs. Duleeka Dharmasena and blessed with one daughter named Anudini.