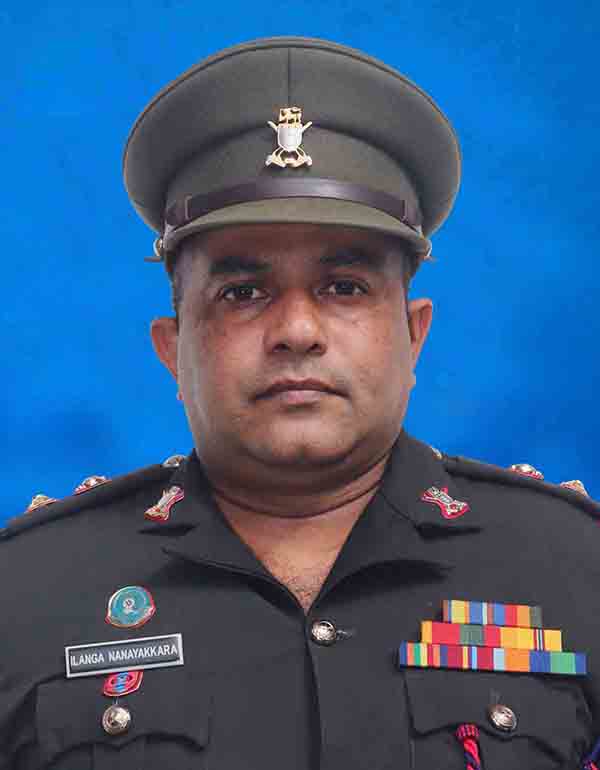 Lt Col GAIS Nanayakkara AATO
1. Lieutenant Colonel G A I S Nanayakkara AATO, who was born on 14 June 1975 is a proud product of Kingswood College Kandy. This Senior Officer joined the regular force of Sri Lanka Army on 22nd January 1997 as an Officer Cadet of intake PMA 10. Upon Successful completion of basic military training at Pakistan Military Academy and Sri Lanka Military Academy Diyathalawa, he was commissioned in the rank of Second Lieutenant and posted to the Sri Lanka Army Electrical and Mechanical Engineers on 20th December 1997. He was attached to the Sri Lanka Army Ordnance Corps on 27th August 2002 due to inter unit transfer.
2. During his military career, he has held various appointments in both operational and non-operational areas including Group Officer & Adjutant - OC TPS 4(V) SLAOC / BOD (Maradana), Officer Commanding - FOD Area HQ (Kandy)/ OSS (7 SLA - Minneriya) ,OC Receipt Bay (BOD), Staff Officer (GP -V) Dte of Ord Svcs, , Seva Vanitha Coordinating Officer 5 SLAOC/ 4 (V) SLAOC, Second in Command - 3 SLAOC, 5 SLAOC and 4(V) SLAOC and presently serving as the Commanding Officer - 1st Regiment Sri Lanka Army Ordnance Corps.
3. To his credit, he has attended a number of local and foreign courses of academic and professional value. It includes Junior Command Course No - 02 SLMA (DLA), Unit Command Course No - 02 OCDC (Buththala), Basic Ordnance Management Course No - 51 (India), Arms & Ammunition Technical Officer Course No - 22 (India) and Senior Management Officer Course No - 48 (India).
4. The Senior Officer has been Conferred with East Humanitarian Operation Medal, North Humanitarian Operation Medal, Purna Bhumi Padakkama, North and East Operations Medal and Riviresa Campaign Services Medal during his illustrious service in the Army.
5. He is married to Mrs.Salini Chandima and blessed with a son and a daughter named Yasiru Chamuditha and Piumi Oshadhi.