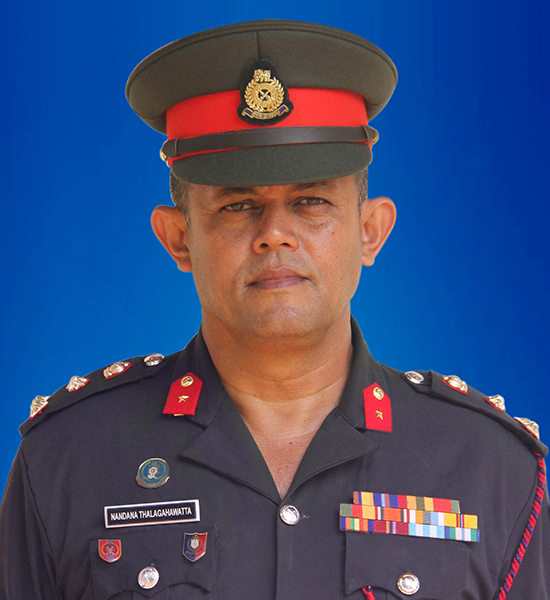 Brig SMWBN Thalagahawatta ato
1. Brig SMWBN Thalagahawatta ato assumed the duties as the Centre Commandant of the Regimental Centre Sri Lanka Army Ordnance Corps at Dombagoda on 6th March 2018.
2. He has successfully completed his education from Buddagosha M.V. and Vijaya College, Matale and he excelled in sports during his schooling.
3. Brig SMWBN Thalagahawattaatojoined the Sri Lanka Army on 17th January 1986 as an officer cadet of Intake SSC 10 SLMA and commissioned as a second Lieutenant after completion of his training on 10thDecember 1986 in to the Sri Lanka Army Ordnance Corps. He has hold vital and important appointments in Sri Lanka Army commensurate with each rank.
4. He has successfully completed following courses during his military carrier.
a. Overseas Courses:
Basic Ordnance Management Course - 18 (India)
Ammunition Technical Officer Course - 11 (Bangladesh)
Senior Management Officer Course - 09 (India)
Higher Ordnance Management Course- 35 (India)
b. Local Courses:
Regtl Sig Offrs Course (1 SLSC)
Pl Comd Course Wpns Phase (ITC - Minneriya)
Pl ComdTac Course No 2 Phase II (ATS - M'oya)
BtnIntOffrs Course (JOC)
Regtl Accountant Course (RHQ SLAGSC)
Methods Of Instrutions Course (ATC - Dla)
International Humanittarian Law (IHL) - (1 Div)
Information Systems Executive Programe (SLITT - Colombo)
5. He has participated following foreign seminars and visits & mission as a representative of the Sri Lanka Army.
122 Mm Mor Per Shipment Inspection (Slovak Pepublic)
Inspection Of 81/120/130 Mm Ammo (Pakistan)
Un Mission (Haiti)

6. He held the following appointments during his tenure.
Assistant Adjutant - RHQ
Pl Comd–ITC(Minneriya)
SO3 - DTE OF ORD SVCS, Dte Of Mov- AHQ
OC –FOD(PLY)
SO 1 (Log) - HQ 52 Div
2IC -1 SLAOC, 2 SLAOC, 5 SLAOC
GSO 2- Dte of Plans- AHQ
SO 2- DTE OF ORD SVCS
CO - 1 SLAOC, 2 SLAOC
Col AQ- Tast Force 3
Col (AQ)- SF HQ Wanni
Col (Log) – SLAVF,
Dir ProcurementDefence HQ Complex, Akuregoda,
Comdt - BOD, Sch of Ord
7. He was awarded with the following medal during his illustrious tenure.
East Humanitarian Operation Medal
North Humanitarian Operation Medal
PurnaBhumiPadakkama
North and East Operations Medal
WadamarachchiMedel
Riviresa Campaign Services Medal
50th IndependenceAnniverasary Medal 1998
Sri Lanka Army 50th Anniversary Medal 1999
Sri Lanka Armed Service Long Services Medal 1979
United Nations Medal (Minustah)
8. Brig SMWBN Thalagahawattaatois married and blessed with three children.