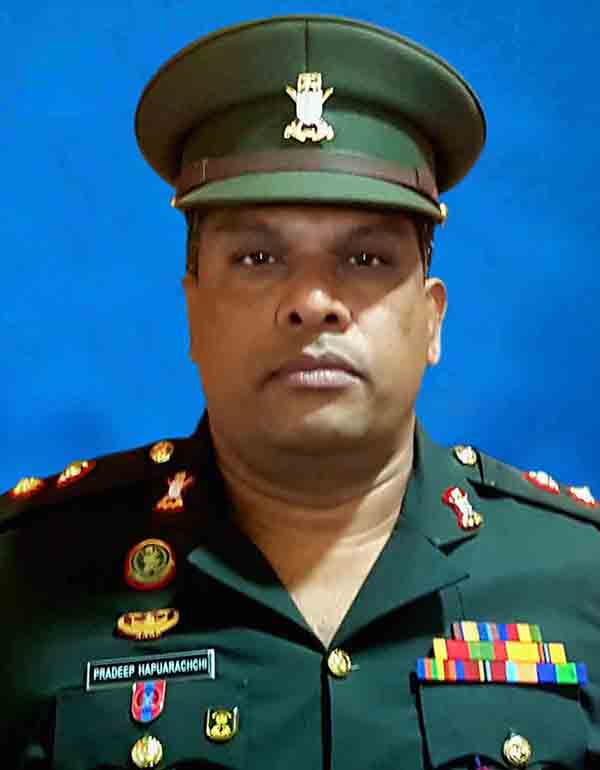 Lt Col VPAP Hapuarchchi ato
1. Lieutenant Colonel VPAP Hapuarachchi ato, who was born on 10 March 1973 is a proud product of Ginigathhena Central Collage, Ginigathhena. This Senior Officer joined the regular force of Sri Lanka Army on 22nd January 1997 as an Officer Cadet of PMA 10. Upon successful completion of basic military training at Sri Lanka Military Academy, Diyathalawa, he was commissioned in the rank of Second Lieutenant and posted to the Sri Lanka Army Ordnance Corps on 21st December 1997.
2. During his military career, he has held various appointments in both operational and non operational areas including GP Officer of 1 SLAOC Panagoda, Officer Commanding of RP, Second in Command of Port Sec DOS, IS Platoon Commander of Kankayankulam, OC FOT of Air Mobile Brigade (Jaffna), OC FOT of 53 Infantry Division (Jaffna), SO III (log) of 55 Infantry Division (Jaffna), OC of OSS (Katubedda), Second in Command of ACD (Kadawatha), OC of FOD (Punani), OC of FOD (Trincomalee), SO II of DOS (GP IV), SO II of SFHQ (Wanni), DY Comdt of BOD (Ragama), Second in Command of 6 SLAOC (Kilinochchi) SO II (Proc) of DSCSC. Presently, the Senior Officer is serving as the Commandant - Army Clothing Depot, Veyangoda.
3. To his credit, he has attended a number of local and foreign courses of academic and professional value. It includes Young Officer Course - Maduru Oya/Kuda Oya/Minneriya, Basic Ordnance Management Course - India, Mid-Career Course - Pakistan, Ammunition Technical Officer Course - China, Junior Command Course - Diyathalawa, Air Assault Course - Minneriya/Maduru Oya.
4. The Senior Officer has been conferred with East Humanitarian Operation Medal, North Humanitarian Operation Medal, Purna Bhumi Padakkama, North and East Operations Medal, 50th Independence Anniversary Medal 1998, Sri Lanka Army 50th Anniversary Medal 1999, Sri Lanka Armed Services Long Service Medal 1979, Sewabhimani Medal, and Service Medal.
5. He is married to Mrs. Madurya Dissanayake and blessed with two loving sons named Dewnitha Dulsen and Dakshila Abhishes.