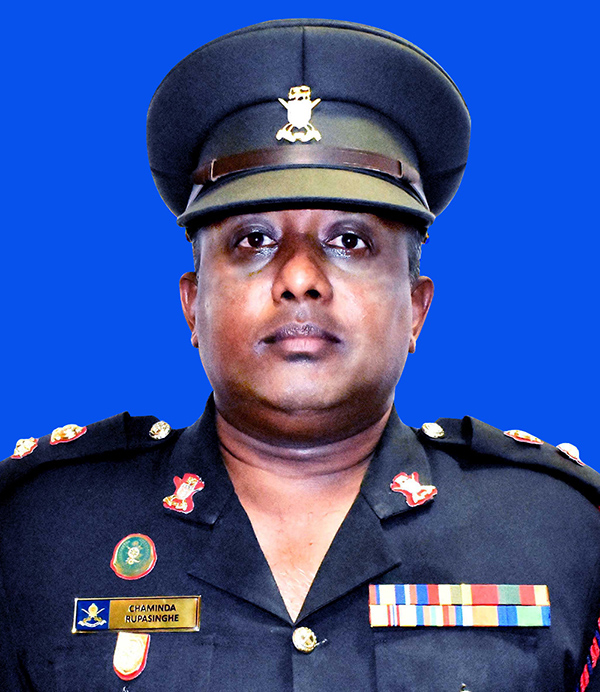 Lt Col R A C Rupasinghe ato
1. Lt Col RAC Rupasinghe ato was born in 14th June 1974. He is a proud product of Wickramashila National College Giriulla. This senior Officer joined the regular force of the Sri Lanka Army on 10th December 1997 as an Officer Cadet of Intake IMA - 02. Upon successful completion of basic military training at the Indian Military Academy and Sri Lanka Military Academy (Diyathalawa). He was commissioned in the rank of Second Lieutenant and posted to the Sri Lanka Army Ordnance Corps on 08th January 2000.
2. During his military career he has held various appointments in both operational and non operational areas such as Pl Comd (IS duties - WLK), OC - FOD(WLK), ALO (Sch of Ordnance ), Adjutant of 1 SLAOC (PNG), OC - OSS (CBO), OC - FOD (53 DIV), Maj AQ - 221 Bde (Morawewa), Maj AQ - 574 Bde (MKL), SO II (S & M )- SFHQ (Central), SO II - Ordnance Factory (Dombagoda), SO II (GP -6) Dte of Ordnance Services (AHQ), Second in Command of 2 SLAOC (ANP), Procurement Officer DSCSC (Batalanda), Log I of 1 Corps (KLN), Dy Commandant of CAAD and Presently, This Senior Officer is serving as the Commandant - Army Clothing Depot - Veyangoda.
3. To his credit, he has attended a number of local and foreign courses on Academic and Professional Values. It includes Basic Young Officer (Ord) Course - Sch of Ord (Dombagoda), young Officer (Ord) course - (Bangaladesh), MID Career and JSC (AD) Course - (Pakistan), and Ammunition Technical Officer Course (Pakistan).
4. The senior Officer has been conferred with Eastern Humanitarian Operations Medal, Northern Humanitarian Operation Medal, Purnabhumi Padakkama, North and East Operations Medal, Sevabhimani Medal and Service Medal during his illustrious Service in the Army.
5. He is married to Mrs. Nirosha Samaradivakara and blessed with one loving daughter named Charani Jayodya and a loving son named Viduna Omath.