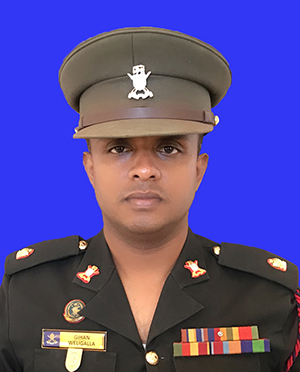 Major TMGBT Weligalla psc AATO Lsc
HISTORY OF THE 5th REGIMENT SRI LANKA ARMY ORDNANCE CORPS
A new Forward Ordnance Depot was established in Palali, Vasavilan under the 21 Div on 01st September 1980 to cater for the needs of the troops deployed in the Jaffna peninsula. In 1995, when the third Ealam war erupted, OC Troops 4 SLAOC was established at the premises of the Kankasanthurei cement factory on 26 June 1995.
In 2007, with the Inaguration of the OC Troops 5 SLAOC, it has been tasked to provide the needs of the 35,000 soldiers who were stationed under the 51, 52, 53, 55 Divs and 515 Bde in the Jaffna peninsula during the 4th Eelam War. They also repaired obsolete weapons and repaired about 3000 helmets per year and also produce mattress covers and stretchers for the use of the soldiers in their TAOR.
The Regt was highly commended at the fourth Ealam War by the Commander of the Army and area Commanders for their active contribution for providing Ordnance needs of soldiers deployed at forward defence lines without any inter upton.
During the Humanitarian Operation, an internal security platoon from the Corps consisting of 1 officer and 25 other ranks were deployed in the Forward Defence line under the instructions of Security Force Headquarters (Jaffna) /515 Brigade Headquarters. They successfully completed their task until the last phase of the war and brought honour and pride to the Regiment as well as to the Corps.
This Regt at present, is functioning as an independent Unit under the FMA (N) and is currently dep with Forward Ordnance Depot and Store Section (Kankasanthurei) with 10 Officers and 237 Other Ranks in the Jaffna Peninsula.
At present, this Unit provide ordnance support to many establishments including SFHQ(J). The 4 SLAOC (KKS) has been renamed as 5 Regt SLAOC with effect from 04 August 2009.
Role and Tasks of a Ordnance Unit
ROLE
To provide effective and efficient Ord supply to all dependent military estbs in AOR whilst ensuring responsibility and accountability in all Ord functions.
TASKS
Advise the SFHQ/DIVs/BDEs/all military estbs in AOR on all Ord functions/matters.
Maintenance and by annual update of database of aval human, vehs, machinery, eqpt etc & applicable scales, staff tables relevant to Ord supplies in respective AOR.
Provision, receipt, inspection, storage, accounting, maintenance, issue and disposal of all types of Ord stores/vehs except clothing items in respective AOR as per relevant FRs, Treasury circulars, AHQ/DOS instructions and also ensure smooth functioning of Automated Material Management System.
Vetting and scrutinizing of demands/all types of Ord stores received to ensure acceptable quality standards and productive Ord supply system to the tps in AOR.
Carrying out of all activities involved in the entire procurement cycle for all types of Ord stores through Regional Procurement Committees whilst ensuring 'value for money' and proper financial management.
Design and development, manufacture, repair or modify the relevant types of Ord stores through all Ord wksps in the Unit whilst ensuring the acceptable quality standard and proper accounting of all raw materials.
Ensure proper accounting and maintenance of sufficient stock reserves of all types of controlled stores as directed by the respective controlling authority in the AOR/AHQ.
Conduct of annual Ord inspections in all dependent military estbs in AOR and submission/review progress of such inspection reports to Dte of Ord Svcs/dependent Units in time.
Monitor and supervise all Ord functions in all under command FODs/Ofirst & ensure proper accountability, responsibility and maximum productivity.
Nominate Ordnance representatives for all types of Bds of surveys in AOR in time and also conduct of trg activities (lectures/seminars etc) in liaison with respective SFHQ/dependent Unit estbs in AOR.
Conduct of all types of special to Arm trg incl on the job trg for all Ord functions for all Ord personnel under command within the AOR to ensure high level of technical competence.
Maintain op readiness to provide relevant Ord supply assistance to mil/civil authorities during an emergency/disaster situation in the AOR as per SOPs laid down by SFHQ/AHQ.

OFFICER COMMANDING OF OC TROOPS KKS

| S/N | Name | From | To |
| --- | --- | --- | --- |
| 1. | Capt EMUK Ekanayake | 12.10.1996 | 23.04.1997 |
| 2. | Maj LMS Chandrasekara | 23.04.1997 | 26.10.1997 |
| 3. | Lt Col GS Perera | 26.10.1997 | 26.12.1997 |
| 4. | Maj GGD Gunasekara | 26.12.1997 | 01.07.1999 |
| 5. | Maj SA De C Dassanayake | 01.07.1999 | 08.09.2002 |
| 6. | Maj AS Amarasinghe AATO | 08.09.2002 | 04.11.2000 |
| 7. | Maj SMAK Wanasinghe ato | 04.11.2000 | 06.02.2002 |
| 8. | Maj DSA Dehiwatta ato | 06.02.2002 | 31.07.2003 |
| 9. | Maj SMWBN Thalagahawatta ato | 31.07.2003 | 26.06.2004 |
| 10. | Maj NAWP Perera ato | 26.06.2004 | 04.02.2006 |
| 11. | Maj JADP Jayatilake ato | 04.02.2006 | 11.04.2007 |
| 12. | Maj AN Amarasekara RSP ato | 11.04.2007 | 14.08.2009 |

COMMANDING OFFICERS OF 5 SLAOC

| S/N | Name | From | To |
| --- | --- | --- | --- |
| 1. | Lt Col AN Amarasekara RSP ato | 14.08.2009 | 20.10.2009 |
| 2. | Lt Col MEP Weerasinghe ato | 29.10.2009 | 05.04.2011 |
| 3. | Lt Col GKI Vithanachchi ato | 05.04.2011 | 20.03.2014 |
| 4. | Lt Col BRA Jayarathne ato | 20.03.2014 | 10.10.2016 |
| 5. | Lt Col ADJA Perera AATO | 10.10.2016 | 18.01.2018 |
| 6. | Lt Col CD Samaratunga | 18.01.2018 | 19.02.2020 |
| 7. | Lt Col SD Range USP AATO Lsc | 19.02.2020 | 04.04.2022 |
| 8. | Major TMGBT Weligalla psc AATO Lsc | 04.04.2022 | Up to date |