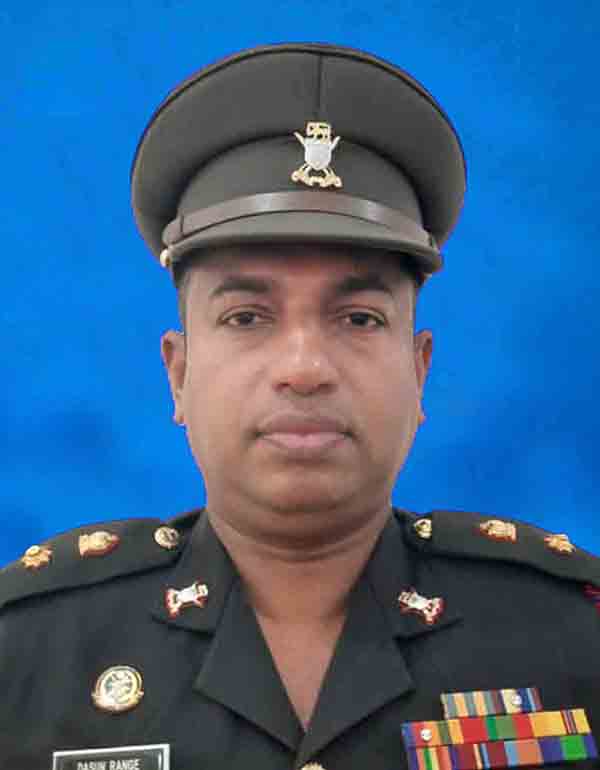 Lt Col SD Range USP AATO Lsc
1. Lieutenant Colonel SD Range USP AATO Lsc, who was born on 13 August 1976, is a proud product of Eheliyagoda Central College. This Senior Officer joined the regular force of Sri Lanka Army on 05 October 1997 as an Officer Cadet of intake 49 B. He was followed BA (Defence) Degree in Kothelawala Defense Academy and upon successful completion of basic military training at Sri Lanka Military Academy, Diyathalawa, he commissioned in the rank of Second Lieutenant and posted to the Sri Lanka Army Ordnance Corps on 21 October 1999.
2. During his military career, he has held various appointments in both operational and nonoperational areas including Platoon Commander - Internal Security duties - Vauniya, Adjutant/ Group Officer - 3 SLAOC (Minneriya), Group Officer - OC Troops 5 SLAOC(Kankasanthurei), Officer Commanding – Forward Ordnance Depot - 52 Div - Jaffna, Officer In Charge - Receipt bay/forward delivery/ stationary stores/forms & books Stores – Base Ordnance Depot (Maradana), Staff Officer II (Account) , Regimental Adjutant , Staff Officer II (Admin)– Regimental Headquarters SLAOC - Dombagoda, Liaison Officer - Army Symposium and Common Wealth Parliamentarian summit , Staff Officer II ( Group - iv) – Directorate of Ordnance Service, Staff Officer II (Group - vi) Directorate of Ordnance Service, 2nd in Command & Seva Vanitha Coordinating Officer - 7 SLAOC (Mulativu), Directing Staff – Army School of Logistic(Trincomalee). presently, he is serving as the Commanding Officer - 5th Regiment Sri Lanka Army Ordnance Corps.
3. To his credit, he has attended a number of local and foreign courses of academic and professional value. It includes BA (Deffence) - Kotalawela Defence University, Stores Management & Purchasing Procedure – Nipunatha Piyasa, Basic Ordnance Management Course – India, Logistic Staff Course – Pakistan, Arms and Ammunition Technical Course – India.
4. This Senior Officer has been conferred with Uththama Seva Padakkama, East Humanitarian Operation Medal, North Humanitarian Operation Medal, Purna Bhumi Padakkama, North and East Operational Medal, 50th Independence Anniversary Medal 1999, Long services Medal , , Sewa Abhimani Medal and Service Medal during his illustrious service in the Army.