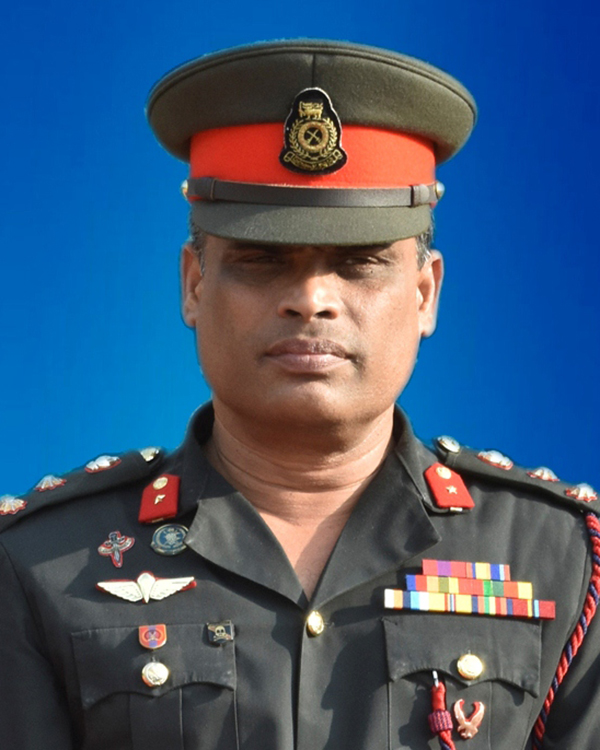 Brig W.A.P.M Wijesinghe RSP AATO
1. Brig WAPM Wijesinghe RSP AATO assumed the duties as Director of Directorate of Ordnance Services on 5th July 2018.
2. He has successfully completed his education from St Thomas College, Matale and Central College Kekirawa.
3. Brig WAPM Wijesinghe RSP AATO joined the Sri Lanka Army on 18th June 1986 as an Officer cadet of Intake 24 and commissioned as a second Lieutenant after completion of his training on 22nd January 1987 in to the Sri Lanka Army Ordnance Corps. He has hold vital and important appointments in Sri Lanka Army commensurate with each rank.
4. He has successfully completed following courses during his military carrier.
a. Overseas Courses:
Para Course (India)
CdoOffr Course (India)
Young Officer (Ord) Course - 18 (Pakistan)
Arms & Ammunition Technical Officer Course - 15 (India)
Senior Management Officer Course - 09 (India)
Higher Ordnance Management Course - 33 (India)
b. Local Courses:
Regtl Sig Offr Course (SLSC SCH)
Special Forces Basic Trg Course - 04 (SF TRG SCH)
5. He has participated following foreign seminars and visits as a representative of the Sri Lanka Army.
.
Ammo Visit (Pakistan)
122 Mm MorPershipment Inspection (Slovak Pepublic)
Insp/Test Firing Of 122 Mm Rktsin (Czech Pupublic)
Medal Parade In Un Peacekeeping Msn in Lebanon
Study Tour Of Small Arms Ammunition Production Plant – Pakistan
6. He held the following appointments during his tenure.
.
Pl Comd – CTS(AMP)
GpComd -1SF REGT
Adjt -CAAD
SO 2 -HQ SLMA
2IC -3SLAOC(MIN)
GSO 2 - Dte Of Plans-AHQ
SO 1 - 52 DIV
CO -1SLAOC
Col AQ - HQ 22 DIV
Comdt - BOD (Maradana, Veyangoda)
Comdt – CAAD (Kosgama)
7. He was awarded with the following medal during his illustrious tenure.
Rana Sura Padakkama
East Humanitarian Operation Medal
North Humanitarian Operation Medal
Purna Bhumi Padakkama
North and East Operations Medal
50thIndeendenceAnniverasary Medal 1998
Sri Lanka Army 50th Anniversary Medal 1999
Sri Lanka Armed Service Long Services Medal 1979
8. He is a keen sportsman and has brought pride to Regiment and Sri Lanka Army in following events.
Tennis
Rugby
9. Brig WAPM Wijesinghe RSP AATO is married and blessed with three children.
.