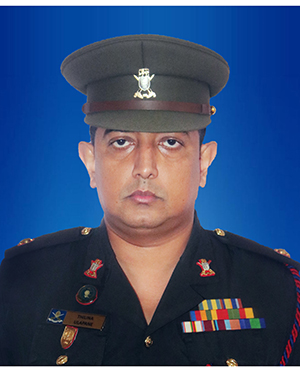 Major Thilina Ulapane USP psc ato SLAOC
1st REGIMENT SLAOC
The inception of this Regiment dated back to 1951 completing 64 years of history. It was then started as the main Ordnance Depot to the entire Sri Lanka Army. Due to the increasing activities of the terrorists in the Northern and Eastern provinces of the country in the 1980s, new Army institutes were established in order to fulfill the needs of the increasing number of soldiers.
Regiment was established on 01st July 1992 as 1 DOU to fulfill the Ordnance requirement of Army establishments. Its first Commanding Officer was Lt Col DSG Kempitiya USP ato. The following officers have served as Commanding Officers of the Div Ordnance Unit.
Commanding Officers of the Div Ordnance Unit
| S/N | Name | From | To |
| --- | --- | --- | --- |
| 1. | Lt Col DSG Kempitiya USP ato | 01.07.1992 | 15.12.1993 |
| 2. | Lt Col CJ Kottahachchi ato | 16.12.1993 | 01.02.1994 |
| 3. | Maj TMSHB Madugalle | 02.02.1994 | 17.04.1994 |
| 4. | Lt Col CJ Kottahachchi ato | 18.04.1994 | 29.11.1995 |
| 5. | Col CJ Kottahachchi ato | 30.11.1995 | 30.11.1996 |
| 6. | Lt Col MZR Sallay USP | 01.12.1996 | 10.02.1997 |
After the establishment of Div Ordnance Unit, the first anniversary of the Unit was celebrated on 01st July 1993. The main gate to the Regiment was declared open by the then Regimental Commander Brig T Sivashanmugam on 02 May 1993.
With the rapid expansion of the Army due to operational needs, this Unit which was established as the 1 DOU was re-named and restructured as the 1 Regt SLAOC. Its first Commanding Officer was Lt Col MZR Sallay USP (11.02. 1997 - 24.07.1999). He was instrumental in establishing an Ordnance Museum which was a long felt need of the Unit.
The War Heroes' Memorial was declared open by the Regimental Commander, Brigadier RMBP Ranasinghe USP upon the invitation of the Centre Commandant Col BPHS Mendis and Commanding Officer of the 1 Regt SLAOC Maj HGI Vidyananda AATO on 12 Oct 2001.
Role and Tasks of a Ordnance Unit
ROLE
To provide effective and efficient Ord supply to all dependent military estbs in AOR whilst ensuring responsibility and accountability in all Ord functions.
TASKS
Advise the SFHQ/DIVs/BDEs/all military estbs in AOR on all Ord functions/matters.
Maintenance and by annual update of database of aval human, vehs, machinery, eqpt etc & applicable scales, staff tables relevant to Ord supplies in respective AOR.
Provision, receipt, inspection, storage, accounting, maintenance, issue and disposal of all types of Ord stores/vehs except clothing items in respective AOR as per relevant FRs, Treasury circulars, AHQ/DOS instructions and also ensure smooth functioning of Automated Material Management System.
Vetting and scrutinizing of demands/all types of Ord stores received to ensure acceptable quality standards and productive Ord supply system to the tps in AOR.
Carrying out of all activities involved in the entire procurement cycle for all types of Ord stores through Regional Procurement Committees whilst ensuring 'value for money' and proper financial management.
Design and development, manufacture, repair or modify the relevant types of Ord stores through all Ord wksps in the Unit whilst ensuring the acceptable quality standard and proper accounting of all raw materials.
Ensure proper accounting and maintenance of sufficient stock reserves of all types of controlled stores as directed by the respective controlling authority in the AOR/AHQ.
Conduct of annual Ord inspections in all dependent military estbs in AOR and submission/review progress of such inspection reports to Dte of Ord Svcs/dependent Units in time.
Monitor and supervise all Ord functions in all under command FODs/Ofirst & ensure proper accountability, responsibility and maximum productivity.
Nominate Ordnance representatives for all types of Bds of surveys in AOR in time and also conduct of trg activities (lectures/seminars etc) in liaison with respective SFHQ/dependent Unit estbs in AOR.
Conduct of all types of special to Arm trg incl on the job trg for all Ord functions for all Ord personnel under command within the AOR to ensure high level of technical competence.
Maintain op readiness to provide relevant Ord supply assistance to mil/civil authorities during an emergency/disaster situation in the AOR as per SOPs laid down by SFHQ/AHQ.
| S/N | Name | From | To |
| --- | --- | --- | --- |
| 1. | Lt Col MZR Sallay USP | 11.02.1997 | 24.11.1999 |
| 2. | Lt Col CRS Fernando AATO | 24.11.1999 | 09.05.2001 |
| 3. | Maj HGI Vidyananda AATO | 10.05.2001 | 30.07.2002 |
| 4. | Maj GGD Gunasekara AATO | 30.07.2002 | 24.09.2002 |
| 5. | Maj HGI Vidyananda AATO | 24.09.2002 | 09.09.2003 |
| 6. | Maj SHM Tilakaratne AATO | 31.05.2004 | 01.05.2005 |
| 7. | Lt Col SHM Tilakaratne AATO | 01.05.2005 | 20.11.2006 |
| 8. | Lt Col WAPM Wijesinghe RSP AATO | 20.11.2006 | 31.07.2008 |
| 9. | Lt Col DSA Dehiwatta ato | 31.07.2008 | 18.03.2009 |
| 10. | Col DSA Dehiwatta ato | 18.03.2009 | 20.04.2009 |
| 11. | Maj AGCR Amarasinghe (Over Looking) | 20.04.2009 | 02.07.2009 |
| 12. | Lt Col MR Wanniarachchi ato | 02.07.2009 | 25.02.2010 |
| 13. | Maj MAV Gunarathna ato (Over Looking) | 25.02.2010 | 18.03.2010 |
| 14. | Lt Col EP Hennadige | 18.03.2010 | 03.04.2012 |
| 15. | Lt Col CS Dissanayake ato | 05.04.2012 | 06.08.2014 |
| 16. | Maj GTS Silva Lsc (Over Looking) | 06.08.2014 | 18.09.2014 |
| 17. | Lt Col JS Weerakoon AATO | 18.09.2014 | 05.11.2015 |
| 18. | Lt Col AGCR Amarasinghe | 05.11.2015 | 02.03.2018 |
| 19. | Lt Col GTS Silva USP ato Lsc | 02.03.2018 | 27.08.2019 |
| 20. | Lt Col GAIS Nanayakkara AATO | 27.08.2019 | 12.08.2021 |
| 21. | Lt Col H M S S BANDARA USP ato Lsc | 13.08.2021 | 09.08.2023 |
| 22. | Maj KMTR Ulapane USP psc ato | 10.08.2023 | Up to date |