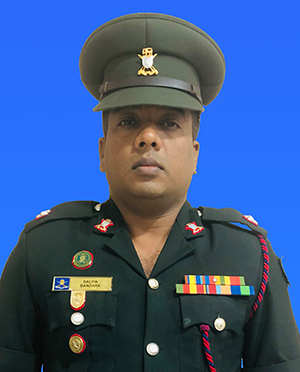 Maj K R L S Bandara ato Lsc SLAOC
HISTORY OF THE 6th REGIMENT SRI LANKA ARMY ORDNANCE CORPS
Even after the end of the Wanni Humanitarian Operation, all the Ordnance equipment required for the troops deployed in the KLN & MLT areas were met by the 2nd Regt SLAOC. However, this arrangement caused number of practical difficulties for the Divs/Bdes located in Kilinochchi area. As a solution to this, Foward Ordnance teams which were attached to the Divs/Bdes headquarters were released and taken in to the command of FMA (KLN).
The new OC Troop (KLN)was established in a 5 acre land infront of Bharatipuram Tamil college under the direction of Brigadier MZR Sallay USP. It was coordinated by Lt KHDM Mahesh and, declared open by then Col (A&Q) 58 Div Col HL Guruge AATO on 04 October 2009.
The Maj AGCR Amarasinghe was appointed as its 1st Officer Commanding on 31 January 2010 and followed by Lt Col J Ranahewa ato on 07 May 2010. This OC Troop which fulfilled the Ordnance requirement of Security Forces Headquarters (KLN) was upgraded as the 6th Regt SLAOC on 9 June 2010 by ARO 173/2009.
Lt Col J Ranahewa ato served as the first Commanding Officer of the 6th Regt SLAOC. The new camp of the 6th Regt SLAOC was established in Kokavil, Kilinochchi on 7th June 2011.
A new internet transmission grid was established in the stocks control section premises in 2012 under the direction of Maj Gen RV Udawatta psc ato in order to access the Automated Material Management System of the Army Headquarters.
A new WOs' & Sgts' mess was declared open on 15th August 2011 and a library on 14 November 2012 by the Col Comdt Maj Gen RV Udawatta psc ato.
The main gate was constructed and declared open on 12th April 2014 and a new parade ground was opened on 7th June 2014 as part of the Anniversary celebrations of the Unit by Lt Col JS Weerakoon AATO.
Role and Tasks of a Ordnance Unit
ROLE
To provide effective and efficient Ord supply to all dependent military estbs in AOR whilst ensuring responsibility and accountability in all Ord functions.
TASKS
Advise the SFHQ/DIVs/BDEs/all military estbs in AOR on all Ord functions/matters.
Maintenance and by annual update of database of aval human, vehs, machinery, eqpt etc & applicable scales, staff tables relevant to Ord supplies in respective AOR.
Provision, receipt, inspection, storage, accounting, maintenance, issue and disposal of all types of Ord stores/vehs except clothing items in respective AOR as per relevant FRs, Treasury circulars, AHQ/DOS instructions and also ensure smooth functioning of Automated Material Management System.
Vetting and scrutinizing of demands/all types of Ord stores received to ensure acceptable quality standards and productive Ord supply system to the tps in AOR.
Carrying out of all activities involved in the entire procurement cycle for all types of Ord stores through Regional Procurement Committees whilst ensuring 'value for money' and proper financial management.
Design and development, manufacture, repair or modify the relevant types of Ord stores through all Ord wksps in the Unit whilst ensuring the acceptable quality standard and proper accounting of all raw materials.
Ensure proper accounting and maintenance of sufficient stock reserves of all types of controlled stores as directed by the respective controlling authority in the AOR/AHQ.
Conduct of annual Ord inspections in all dependent military estbs in AOR and submission/review progress of such inspection reports to Dte of Ord Svcs/dependent Units in time.
Monitor and supervise all Ord functions in all under command FODs/Ofirst & ensure proper accountability, responsibility and maximum productivity.
Nominate Ordnance representatives for all types of Bds of surveys in AOR in time and also conduct of trg activities (lectures/seminars etc) in liaison with respective SFHQ/dependent Unit estbs in AOR.
Conduct of all types of special to Arm trg incl on the job trg for all Ord functions for all Ord personnel under command within the AOR to ensure high level of technical competence.
Maintain op readiness to provide relevant Ord supply assistance to mil/civil authorities during an emergency/disaster situation in the AOR as per SOPs laid down by SFHQ/AHQ.

OFFICER COMMANDING OF OC TROOP (KLN)

| S/N | Name | From | To |
| --- | --- | --- | --- |
| 1. | Lt KHDM Mahesh | 04.10.2009 | 31.01.2010 |
| 2. | Maj AGCR Amarasinghe | 31.01.2010 | 07.05.2010 |

COMMANDING OFFICERS OF 6 REGT SLAOC

| S/N | Name | From | To |
| --- | --- | --- | --- |
| 1. | Lt Col J Ranahewa ato | 07.05.2010 | 24.03.2013 |
| 2. | Maj DMVV Dissanayake ato | 24.03.2013 | 05.04.2011 |
| 3. | Lt Col J S Weerakoon AATO | 03.05.2013 | 10.09.2014 |
| 4. | Lt Col KMAWK Perera AATO | 10.09.2014 | 13.09.2016 |
| 5. | Maj VD Warushavithana ato | 13.09.2016 | 27.09.2018 |
| 6. | Lt Col NIR Silva ato | 27.09.2018 | 01.11.2020 |
| 7. | Lt Col PHSNK Paskuwell USP ato Lsc | 01.11.2020 | 24.08.2022 |
| 8. | Maj K R L S Bandara ato Lsc | 24.08.2022 | Up to Date |