1. Major NGJP Thilakarathna psc AATO was born on 8th January 1979. He is a proud product of Bandaranayaka National College, Hettimulla, Kegalle. This Senior Officer joined the regular force of Sri Lanka Army on 06th August 2000 as an Officer Cadet of KDA Intake 18 (54 B). Upon successful completion of basic military training at Kotelawala Defence Academy and Sri Lanka Military Academy, he was commissioned in the rank of Second Lieutenant on 6th August 2002 and subsequently posted to the Sri Lanka Army Ordnance Corps on 19th December 2003.
2. During his military career, he has held various appointments in both operational and non-operational areas as mentioned below.
a. Group Officer - 1 SLAOC (PNG), 2 SLAOC (ANP)
b. Officer Commanding- Forward Ordnance Depot (56 Inf Div)
c. Adjutant 2 SLAOC (ANP)
d. Maj (AQ) HQ 621 Inf Bde
e. Officer Commanding- Ordnance Store Section (Saliyapura)
f. Staff Officer 3 (S & M) MGO Br (AHQ)
g. Staff Officer 2 (LOG) SLMA
h. Regimental Adjutant (RHQ SLAOC)
i. Chief Instructor Sch of Ord (Dombagoda)
j. Second in Command - 1 SLAOC (PNG),6 SLAOC (KLN) and 3 SLAOC (MIN)
k. Overlooking Commanding Officer 6 SLAOC
l. Overlooking Comdt Sch of Ord (Dombagoda)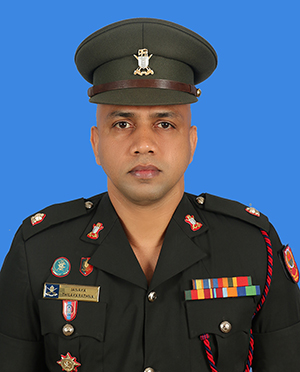 Maj NGJP Thilakarathna psc AATO SLAOC
3. Presently, this Senior Officer is serving as the Commanding Officer of 4th (V) Regiment Sri Lanka Army Ordnance Corps, Pallekele.
4. To his credit, he has attended number of local and foreign courses of academic and professional value.
a. Local Courses
     (1) Young Officers' Course (CRTS/ATS/ITC)
     (2) IHL & HR Basic Instructor Course No 04 (IPSOTSL- KKG)
     (3) Defence Service Command & Staff Course No 07 (BATALANDA)
     (4) French Language Course (SLMA)
     (5) Senior Command Course No 01 (OCDC- BUTTALA)
b. Foreign Courses
     (1) Basic Ordnance Officer Course No 34 (Bangladesh)
     (2) Advance Material Management Course No 29 (India)
5. The career of this officer is marked with following academic qualifications which were qualified with higher grading.
a. B.Com (Def) from Kotelawala Defence University (2004)
b. MBA in Supply Chain Management from University of Moratuwa (2021)
6. In addition, this Senior Officer has attended the following workshops, seminars and a visit.
a. Developing Management Skills for Administrative Assistance & Support Staff.
b. International Seminars on Leveraging Supply Chain Management to Enhance Sustainability.
c. Basic Practice in the Investigation of Digital Crime and Digital Forensics.
d. Overseas study tour in parallel with DSCSC No 7 (Malaysia)
7. The Senior Officer has been conferred with following medals during his illustrious service in the Army so far.
a. East Humanitarian Operation Medal
b. North Humanitarian Operation Medal
c. Purna Bhumi Padakkama
d. North and East Operation Medal
e. Sevabhimani medal
f. Service Medal

8. He is married to Mrs. Kaushika Thilakarathna and blessed with a loving Daughter and a son named Venuki and Yuvin respectively.