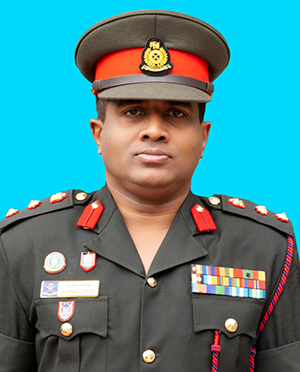 Col W M A N WARNASOORIYA ato
1. Colonel Niroshan Warnasooriya ato, who was born on 03 September 1972 is a proud product of St Thomas College, Matale. This Senior Officer joined the regular force of Sri Lanka Army on 05th May 1994 as an Officer Cadet of PMA 7. Upon successful completion of basic military training at Pakistan Military Academy in Abbottabad, Pakistan, he was commissioned in the rank of Second Lieutenant and posted to the Sri Lanka Army Ordnance Corps on 17th December 1994.
2. During his military career, he has held various appointments in both operational and non operational areas including Group Officer 1-DOU (PNG),Officer Commanding– Ordnance store section Panagoda, Officer Commanding–Ordnance store section Katubedda, Officer Commanding – Forward Ordnance Depot Kandy, Staff Officer III RHQ SLAOC (PNG), Adjt- OC Tps SLAOC(KKS) ,Staff Officer Grade II Tec (Group - II) – Directorate of Ordnance Services, AHQ,Major (A&Q) 515,554 & 683 Brigades, Regimental Adjutant –RHQ SLAOC, Dombagoda, Second in Command – 2nd Regiment Sri Lanka Army Ordnance Corps Anuradhapura, Procurement Officer (Group - I)–Defence Headquarters Complex-Akuregoda, Deputy Commandant – Base Ordnance Depot Ragama, Commanding Officer – 4(V) Regiment Sri Lank Army Ordnance Corps – Kandy, Commandant–Army Clothing Depot, Veyangoda, Staff Officer I– Master General Ordnance Branch, AHQ. Presently, this Senior Officer is serving as the Commandant – School of Ordnance, Dombagoda.
3. To his credit, he has attended a number of local and foreign courses of academic and professional value. It includes Junior Comd Course 18 at SLMA, Diyathalawa ,United Nation Mission Training Course at IPSOT, Kukuleganga with Gajaba Regiment, Basic Ordnance Officer Course 25 – Bangladesh,Ammunition Technical Officer Course 18 – Bangladesh,Senior Management Officer Course -40 (India) .
4. This Senior Officer served as a Troop Commander at United Nation Mission in Haiti(MINUSTAH) from 29th April 2014 to 11th December 2014.
5. The Senior Officer has been conferred with East Humanitarian Operation Medal, North Humanitarian Operation Medal, Purna Bhumi Padakkama, North & East Operation Medal, Riviresa Campaign Service Medal, 50th Independence Anniversary Medal 1998, Sri Lanka Army 50th Anniversary Medal 1999, Sri Lanka Armed Services Long Service Medal 1979, Sevabhimani medal, Service Medal, Videsha Sewa Padakkama, United Nations Medal (MINUSTAH), during his illustrious service in the Army.
6. He is married to Mrs. Deepani Warnasooriya and blessed with two loving son and daughter named Vidul Hirunaka and Ridmi Vidushani.