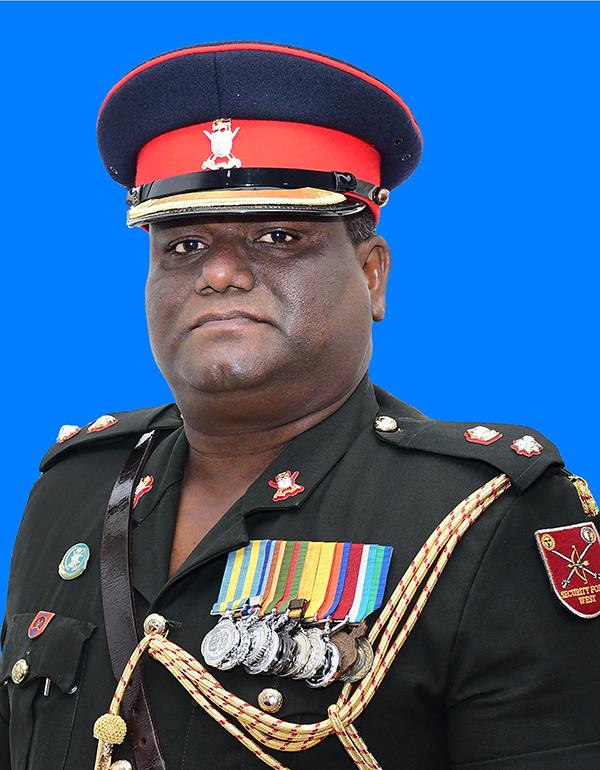 Lt Col GTS Silva USP ato Lsc
1. Lieutenant Colonel Tharanga Silva USP ato Lsc, who was born on 04 October 1976 is a proud product of De Mazenod Collage, Kandana. This Senior Officer joined the regular force of Sri Lanka Army on 06th July 1995 as an Officer Cadet of intake 43. Upon successful completion of basic military training at Sri Lanka Military Academy, Diyathalawa, he was commissioned in the rank of Second Lieutenant and posted to the Sri Lanka Army Ordnance Corps on 21st June 1997.
2. During his military career, he has held various appointments in both operational and non operational areas including Officer Commanding – Forward Ordnance Depot ,Palaly, Staff Officer Grade III – Directorate of Ordnance Services, AHQ, Major (A&Q) – 221 Brigade, Morawewa, Staff Officer Grade II – 65 Infantry Division ,Thunukkai, Regimental Adjutant – RHQ SLAOC, Dombagoda, Directing Staff – Army School of Logistics, Trincomalee , Second in Command – 1st Regiment Sri Lanka Army Ordnance Corps, Panagoda, Staff Officer II – Directorate of Ordnance Services , AHQ, Deputy Commandant – Base Ordnance Depot ,Ragama, Deputy Commandant Army Clothing Depot, Veyangoda, Staff Officer I ( Logistics ) – RHQ SLAOC, Dombagoda and Commanding Officer - 1st Regiment Sri Lanka Army Ordnance Corps – Panagoda. Presently, the Senior Officer is serving as the Commandant - School of Ordnance, Dombagoda.
3. To his credit, he has attended a number of local and foreign courses of academic and professional value. It includes MBA (Logistic management)- Kotalawela Defence University, Long Logistic Management Course – Naval and Maritime Academy, Trincomalee, Junior Command Course – SLMA, Diyathalawa, Logistics Commanding Officers Course – China, Logistics Staff Course – Pakistan, Ammunition Technical Officer Course – Bangladesh, Senior Management Officer Course – India, Mid Career Course – Pakistan, Junior Staff Course – Pakistan and Basic Ordnance Officer Course – Bangladesh.
4. The Senior Officer is the first Ordnance Officer to served as the Staff Officer at United Nations Mission in Haiti (MINUSTAH) in year 2006 – 2007.
5. The Senior Officer has been conferred with Uththama Seva Padakkama, East Humanitarian Operation Medal, North Humanitarian Operation Medal, 50th Independence Anniversary Medal 1999, Sri Lanka Armed Long Services Medal 1979, Videsha Sewa Padakkama, United Nations Medal (MINUSTAH), Sewabhimani Padakkama during his illustrious service in the Army.
6. He has captained the Army Tennis Team from 2004 to 2007 and received Army colours for Tennis in year 2010. Also he has represented the Ordnance Tennis and Rugby teams and appreciated with Regimental colors for both games in year 2017.
7. He is married to Mrs. Niroshani Erandi and blessed with two loving sons named Kushane Diyon and Devon Inesha.