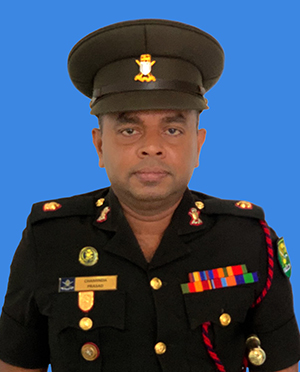 MAJ P S C PRASAD AATO Lsc
HISTORY OF THE 2nd REGIMENT SRI LANKA ARMY ORDNANCE CORPS
The 2nd Regiment of the SLAOC started as a Store Section at the Saliyapura Gajaba Regiment Camp on 18 February 1985. Later, this was upgraded as a Forward Ordnance Depot under the command of Capt DP Dissanayake and Lt(QM) S Narangoda acted as the 2IC. Then it was shifted to present location as ABOD on 1 November 1989. Capt P Ravindran was appointed as the 1st officer commanding of the FOD. Was upgraded as 2 DOU on 26 Feb 1991 to cater Ord support to the camps located in Jaffna, Mannar, Mullaitivu, Batticaloa, Polonnaruwa, Anuradhapura and Wanni area.Then Lt Col ML Jayaratne ato was appointed as the first Commanding Officer and had contributed immensely to provide Ordnance support for Operations 'Asaka sena,Akunu pahara, Thrivida balaya, Balawegaya, Haye Pahara', Wanni Wickrama 1,2,3,4,5, Edibala and etc.
At that time Forward Ordnance Depots (Wanni, Mannar, Jaffna) were under the Command of 2 DOU while MT I & II stores were under OSS Saliyapura.
OFFICER COMMANDING FOD - S'PURA
| S/N | Name | From | To |
| --- | --- | --- | --- |
| 1. | Capt DP Dissanayake | 18.02.1985 | 13.03.1986 |
| 2. | Lt(QM) S Narangoda | 13.03.1986 | 27.04.1987 |
| 3. | Maj RNKE Gunathilake | 01.04.1987 | 01.04.1988 |
| 4. | Capt NB Nikahetiya | 01.04.1988 | 01.07.1988 |
| 5. | Capt P Ravindran | 20.06.1988 | 01.11.1988 |
OFFICER COMMANDING - ABOD
| S/N | Name | From | To |
| --- | --- | --- | --- |
| 1. | Capt P Ravindran | 01.11.1988 | 23.07.1989 |
| 2. | Capt RV Udawatta | 23.07.1989 | 17.04.1990 |
| 3. | Capt SDK Wijesekara | 12.08.1990 | 24.02.1992 |
| 4. | Capt BS Vidanage | 05.04.1990 | 25.08.1990 |
COMMANDING OFFICERS - 2 DOU
| S/N | Name | From | To |
| --- | --- | --- | --- |
| 1. | Lt Col ML Jayarathne ato | 26.02.1991 | 30.12.1993 |
| 2. | Lt Col ST Abeyrathne | 30.12.1993 | 24.06.1994 |
| 3. | Maj NB Nikahetiya ato | 24.06.1994 | 01.07.1994 |
| 4. | Lt Col NB Nikahatiya ato | 02.07.1994 | 31.10.1996 |
| 5. | Maj SMAK Wanasinghe ato | 01.11.1996 | 13.02.1997 |
| 6. | Lt Col BPHS Mendis | 13.02.1997 | 19.02.1997 |
The under mentioned FODs/OSS functioned under the 2 DOU to support mil estb located in north and north central for operational and logistic matters.
Forward Ordnance Depot (Jaffna)
Forward Ordnance Depot (Mannar)
Forward Ordnance Depot (Vavuniya)
Forward Ordnance Depot (WeliOya)
Forward Ordnance Depot (Elephant Pass)
Ordnance Store Section (S'pura)
Lt Col BPHS Mendis SLAOC assumed duties as the 4th Commanding Officer on 13 February 1997 and this Unit was upgraded as the 2 Regt SLAOC by ARO/42/97 dated 19 Feb 1997. After the Operation Rivi Rasa, adm and tech responsibilities of the Forward Ordnance Depots of JFN, EPS and OSS (PLY) were taken away from this Unit and assigned under the OC Tps SLAOC KKS.
This regiment had been tasked to provide demonstration of DAA and BAA for DSCSC Student Officers at Omanthai at time to time. Under the supervision of then Commanding Officer of the 2 Regt SLAOC Maj HMUB Herath RSP AATO Lsc. A holiday bunglow was constructed inside the camp premises.
While contributing towards operational duties, welfare of the soldiers was also looked into. Number of welfare and development activities were initiated by Lt Col HL Guruge AATO. Some of them are as follows.
Removal of the camp fence and construction of a boundary wall around the camp.
Establishment of a Calypso and Pearl Rickshaw Music groups.
Construction of a holiday bunglow on 05 April 2006 for ORs.
Launching of a new project to produce shorts, hats, and flack jackets using waste material of the Ranaviru Apparel Private Ltd, Yakkala.
300 iron beds were produced for the use of soldiers who were deployed in peace keeping mission in Haiti.
In the year 2011, Fully fledged office complex was constructed and declared open.
In the year 2012, a 120'x30' conference hall sitting and dining building for the WO's and Sgt mess, officer accommodation for the stock control seetion and a 100'x20' pre fabricated building also added to the Regiment.
The 2 Regt SLAOC has provided its active contribution for a span of three decades in all the operations in the Wanni operational area with 3 Forward Ordnance Depots and one Store Section.
This Regiment has immensely contributed in providing Ordnance stores at the last phases of the Eastern and Wanni Humanitarian operations.
At present, this Regiment is located under FMA (N/C) SF HQ (Wanni) and perform technical and administrateive duties for the entire SF HQ (Wanni) theatre. During the Wanni Humanitarian operation following SFHQ/Div HQ/Task Force were supported by 2 Regt SLAOC.SF HQ (Wanni), 21 Div, 56 Div, 57 Div, 58 Div, 59 Div, Task Force 2, Task Force 3, Task Force 4, Task Force 5, Task Force 6, Task Force 8 and their under Comd Bdes and Units.
Role and Tasks of a Ordnance Unit
ROLE
To provide effective and efficient Ord supply to all dependent military estbs in AOR whilst ensuring responsibility and accountability in all Ord functions.
TASKS
Advise the SFHQ/DIVs/BDEs/all military estbs in AOR on all Ord functions/matters.
Maintenance and by annual update of database of aval human, vehs, machinery, eqpt etc & applicable scales, staff tables relevant to Ord supplies in respective AOR.
Provision, receipt, inspection, storage, accounting, maintenance, issue and disposal of all types of Ord stores/vehs except clothing items in respective AOR as per relevant FRs, Treasury circulars, AHQ/DOS instructions and also ensure smooth functioning of Automated Material Management System.
Vetting and scrutinizing of demands/all types of Ord stores received to ensure acceptable quality standards and productive Ord supply system to the tps in AOR.
Carrying out of all activities involved in the entire procurement cycle for all types of Ord stores through Regional Procurement Committees whilst ensuring 'value for money' and proper financial management.
Design and development, manufacture, repair or modify the relevant types of Ord stores through all Ord wksps in the Unit whilst ensuring the acceptable quality standard and proper accounting of all raw materials.
Ensure proper accounting and maintenance of sufficient stock reserves of all types of controlled stores as directed by the respective controlling authority in the AOR/AHQ.
Conduct of annual Ord inspections in all dependent military estbs in AOR and submission/review progress of such inspection reports to Dte of Ord Svcs/dependent Units in time.
Monitor and supervise all Ord functions in all under command FODs/Ofirst & ensure proper accountability, responsibility and maximum productivity.
Nominate Ordnance representatives for all types of Bds of surveys in AOR in time and also conduct of trg activities (lectures/seminars etc) in liaison with respective SFHQ/dependent Unit estbs in AOR.
Conduct of all types of special to Arm trg incl on the job trg for all Ord functions for all Ord personnel under command within the AOR to ensure high level of technical competence.
Maintain op readiness to provide relevant Ord supply assistance to mil/civil authorities during an emergency/disaster situation in the AOR as per SOPs laid down by SFHQ/AHQ.
COMMANDING OFFICERS - 2 SLAOC
| S/N | Name | From | To |
| --- | --- | --- | --- |
| 1. | Lt Col BPHS Mendis | 19.02.1997 | 03.04.1998 |
| 2. | Maj HMUB Herath RSP AATO Lsc | 04.04.1998 | 30.04.1998 |
| 3. | Maj CRS Fernando AATO | 01.05.1998 | 23.02.1999 |
| 4. | Lt Col CRS Fernando AATO | 23.02.1999 | 26.11.1999 |
| 5. | Maj TMSHB Madugalle | 16.11.1999 | 01.07.2000 |
| 6. | Lt Col TMSHB Madugalle | 01.07.2000 | 23.12.2001 |
| 7. | Maj GDD Gunasekara | 27.12.2001 | 09.11.2002 |
| 8. | Maj JADP Jayathillake ato | 09.11.2002 | 23.12.2002 |
| 9. | Maj HMUB Herath RSP AATO Lsc | 23.12.2002 | 08.02.2005 |
| 10. | Lt Col HMUB Herath RSP AATO Lsc | 08.02.2005 | 06.06.2005 |
| 11. | Maj HL Guruge AATO | 06.06.2005 | 08.08.2005 |
| 12. | Lt Col HL Guruge AATO | 08.08.2005 | 17.09.2007 |
| 13. | Lt Col SMWBN Thalagahawatte ato | 17.09.2007 | 30.10.2008 |
| 14. | Maj RAPAB Dissanayake (Over Looking) | 30.10.2007 | 10.12.2008 |
| 15. | Maj RLC Fernando | 10.12.2008 | 04.02.2009 |
| 16. | Lt Col RLC Fernando ato | 04.02.2009 | 10.08.2009 |
| 17. | Lt Col SNA Dissanayake ato | 10.08.2009 | 26.09.2011 |
| 18. | Lt Col JPH Gamage AATO | 26.09.2011 | 12.11.2013 |
| 19. | Col JPH Gamage USP AATO | 12.11.2013 | 04.12.2013 |
| 20. | Maj ADJA Perera AATO (Over Looking) | 04.12.2013 | 08.01.2014 |
| 21. | Lt Col WMSN Wijekoon AATO | 08.01.2014 | 21.03.2016 |
| 22. | Lt Col DMVV Dissanayake ato | 21.03.2016 | 19.06.2018 |
| 23. | Lt Col CT Siriwardana AATO Lsc | 19.06.2018 | 01.06.2020 |
| 24. | Lt Col EMTPGWK Ekanayake USP ato | 01.06.2020 | 06.06.2022 |
| 25. | Maj P S C Prasad AATO Lsc | 06.06.2022 | Up to date |