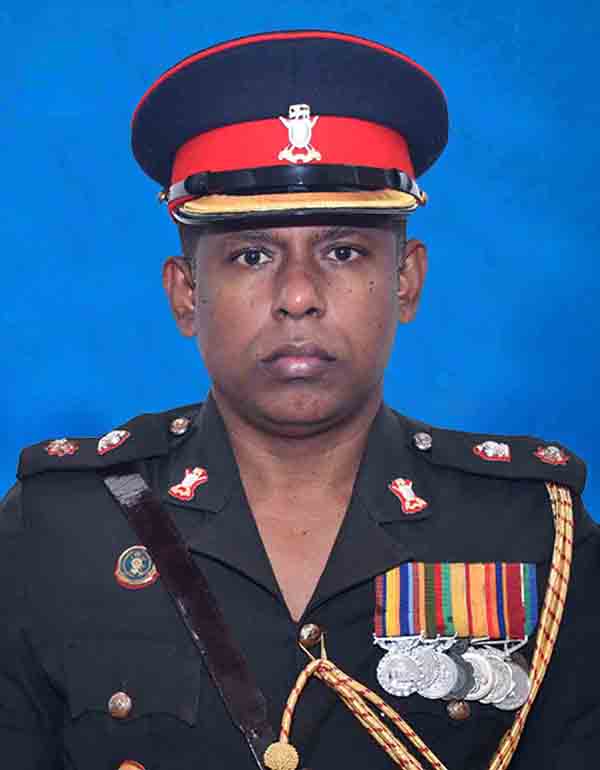 Lt Col WKSP Walakanda USP ato Lsc
1. Lieutenant Colonel Shiran Walakanda USP ato Lsc, who was born on 27.03.1975 is a proud product of Sumangalodaya Vidyalaya, Galle. This senior officer joined the regular force of Sri Lanka Army on 6th October 1996 as an officer cadet of intake 14 to the General Sir John Kotelawala Defence University. Upon successful completion of basic military training at General Sir John Kotelawala Defence University - Rathmalana and Sri Lanka Military Academy Diyathalawa, he was commissioned in the rank of second lieutenant and posted to Sri Lanka Army Ordnance Corps on 6th January 2000.
2. During his military career he was held various appointments in both operational and non operational areas including Officer Commanding - Forward Ordnance Depot 52 Div(Varani), Adjutant - 5th Regiment Sri Lanka Army Ordnance Corps, Officer Commanding - Ordnance Store Section (Arty Brigade), Account Officer - RHQ SLAOC, Adjutant - Central Arms & Ammunition Depot, Staff Officer Grade II - Security Forces Head Quarters (Wanni), Group Officer - Directorate of Ordnance Services (AHQ), 2nd In Command - 1st Regiment Sri Lanka Army Ordnance Corps, Directing Staff - Army School of Logistics (Trinco), Commanding Officer - 7th Regiment Sri Lanka Army Ordnance Corps, Presently the Senior Officer is serving as the Officiating Deputy Commandant at Sri Lanka Army Ordnance Factory (Dombagoda).
3. To his credit, he has attended a number of local and foreign courses of academic and professional value. It includes Ordnance Young Officers Course - Bangaladesh, Ammunition Technical Officer course China, Junior Carrier Course - Buththala, Potential Staff Officer Course - Kukulegaga, United Nation Logistic Course - Malayasia, Logistic Staff Course no 02 - Tco, Senior Management Officer Course - India.
4. The senior officer has been conferred with Uththama Sewa Padakkama, East Humanitarian Operational Medal, North Humanitarian Operational Medal, Videsha Sewa Padakkama, United Nation Medal, Poornaboomi Padakkama, Sewabhimani Padakkama during his illustrious service in the Army.
5. He is married to Mrs. Nishani Liyanage.