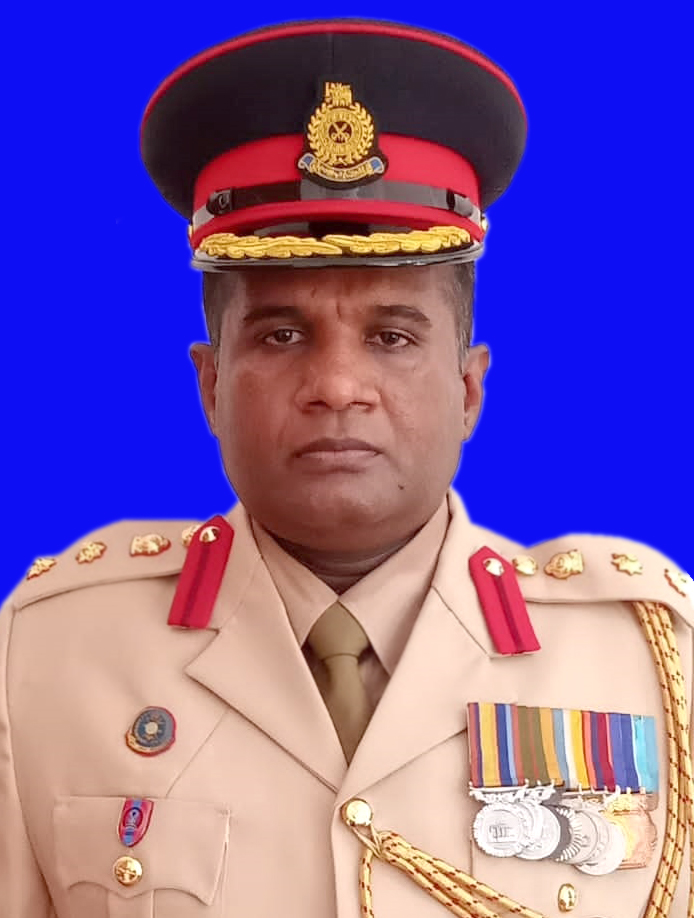 Colonel R A P A B Dissanayake AATO
1. Colonel R A Prabath Anurudda Bandara Dissanayake AATO who was born on 24th February 1972 is a proud product of Vijayaba National College (Maho). This senior Officer has joined the Regular force of Sri Lanka Army on 31st December 1993 as an officer cadet of SLMA intake SC 8A. Upon successful completion of basic military training at Sri Lanka Military Academy, he was commissioned in the rank of Second Lieutenant and posted to the Sri Lanka Army Ordnance Corps on 17th June 1995.
2. During his military career, he has held various appointments in both operational and non-operational areas including Platoon Commander - 3 (V) SLSR and 1 SLSR , Officer In Charge FOT - FOT 551 BDE, Officer Commanding - FOD (VNA), Adjutant - BOD(Maradana), Second In Command - 2 SLAOC (ANP), Competent Auth Officer - IDP Duties SFHQ(W), Officer Commanding - FOD (Punani), Second In Command - 5 SLAOC (KKS), SO II(GP-5) Directorate of Ordnance Services, Officer Commanding - BOD(Maradana), Deputy Commandant - BOD(Maradana), SO I - ASL(TCO), Commandant - Army Clothing Depot(Veyangoda), Commanding Officer of 3 SLAOC, SOI(AQ) - HQ 22 Div, SNR AMMO TECH OFFR - RODC(Agunawelpelessa), Commandant - Central Arms & Ammunition Depot (Veyangoda).
3. To his credit, he has attended for number of local and foreign courses of academic and professional value. It includes Confidence and Endurance Course - CRTS, JCC - OCDC(Buththala), UN Mission Training Course (Kukuleganga), Basic Ordnance Officer Course - No 25 (Bangaladesh), Senior Management Course - No 44 (India), Advance Material Management Course 19 (India) and UN Mission (Lebanon).
4. This senior officer has been conferred with East Humanitarian Operation Medal, North Humanitarian operation Medal, Purnaboomi Padakkama, North and East Operation Medal, Riviresa Campain Medal, 50th Independence Anniversary Medal, Sri Lanka Army 50th Anniversary Medal, Videsha Seva Padakkama, United Nations Medal (MINUSTAH), Sewabimani Padakkama and Service Medal during his illustrious service in the Army.
5. Colonel R A Prabath Anurudda Bandara Dissanayake AATO who has maintained the highest standards of discipline, counts over 28 years of dedicated, committed and unblemished service in the Army.
6. He has married to Mrs Damayanthi Hettiarachchi and blessed a daughter named Tharushi Prabashwari.