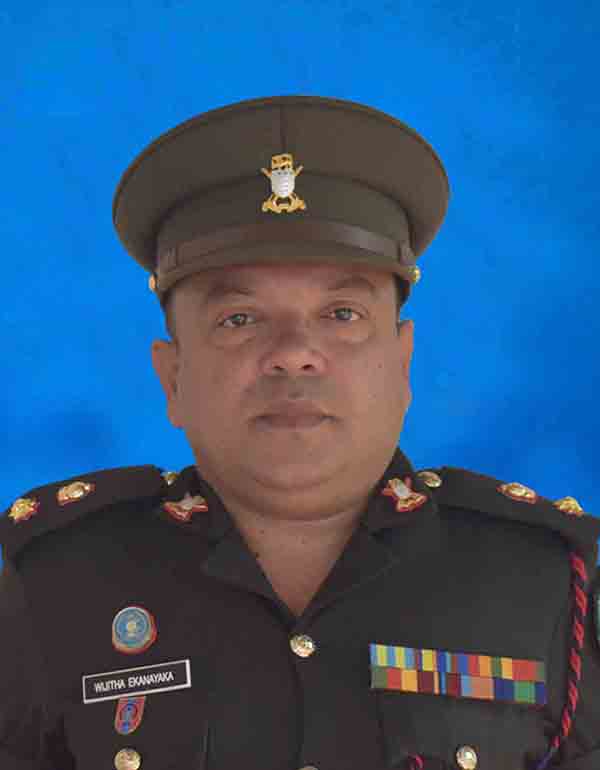 Lt Col EMTPGWK Ekanayake USP ato
1. Lieutenant Colonel Wijitha Ekanayake USP ato, who was born on 11 September 1974, is a proud product of Rathnayaka College, Walala. This Senior Officer joined the regular force of Sri Lanka Army on 16th April 2001 as an Officer Cadet of intake SC 11. Upon successful completion of basic military training at Sri Lanka Military Academy, Diyathalawa, he was commissioned in the rank of Lieutenant and posted to the Sri Lanka Army Ordnance Corps on 16th April 2001.
2. During his military career, he has held various appointments in both operational and non-operational areas including Group Officer – Central Arms and Ammunition Depot and Kankasanthurei, Officer Commanding- Forward Ordnance Depots, Kodikamam, Welioya, Mannar and Welikanda. Adjutant- School of Ordnanace, Dombagoda. Staff Officer II (Log) – Security Force Head Quarters (Wanni), Second in Command – 3rd Regiment Sri Lanka Army Ordnance Corps- Minneriya, 2nd Regiment Sri Lanka Army Ordnance Corps- Anuradhapura, 7th Regiment Sri Lanka Army Ordnance Corps- Mullativu, Staff Officer I (Executive) – Directorate of Ordnance Services. Presently, this Senior Officer is serving as the Commanding Officer – 2nd Regiment Sri Lanka Army Ordnance Corps, Anuradhapura.
3. To his credit, he has attended a number of local and foreign courses of academic and professional value. It includes Bachelor of Arts in University of Peradeniya, Diploma in Psychology, Local Young Officers' Course, Unit Command Course, Ammunition Technical Officer Course- Bangladesh.
4. This Senior Officer has been conferred with Uththama Seva Padakkama, Uthuru Nagenahira Padakkama, Nagenahira Manushiya Padakkama, Uthuru Nagenahira Manushiya Meheyum Padakkama, Sri Lanka Armed Long Services Medal, Purna Bhumi Padakkama, Service Medal, Sevabhimani Medal.
5. He is married to Mrs. Chithra Weerakoon and blessed with two loving daughters named Sashini Subashini, Navini Sanduli and one loving son named Amindu Damhasa.