HISTORY OF THE 7th REGIMENT SRI LANKA ARMY ORDNANCE CORPS
The OC Tps SLAOC(MLT) was temporarily established at the Mullaitivu Army cantonment on 10 February 2010 to fulfill the ordnance requirements of the Security Forces Headquarters(MLT) AOR. Maj DMVV Dissanayake ato had been appointed as the 1st OC Tps SLAOC(MLT). Later on 50 acre land had been acquired and constructed all amenities including Depots, NCO's Billets, Regimental Police, Guard Room and a commanding officer's challet with the guidance of then CO maj DMVV Dissanayake ato. Thereafter, OC Tps SLAOC(MLT) was upgraded as the 7th Regiment SLAOC on 01 August 2011 & Lt Col RG Herathge ato had been appointed as the 1st commanding officer.
Construction of the Thuru Sevana holiday resort was began on 22 September 2012 and was declared open by then Colonel Commandant Brig MZR Sallay USP on 17 December 2013.
OFFICER COMMANDING OF OC TPS (MLT)
| S/N | Name | From | To |
| --- | --- | --- | --- |
| 1. | 2/Lt KHMJ Ananda Kumara (Over looking) | 10.02.2010 | 19.04.2010 |
| 2. | Maj DMVV Dissanayake ato | 20.04.2010 | 01.08.2011 |
COMMANDING OFFICERS OF 7 REGT SLAOC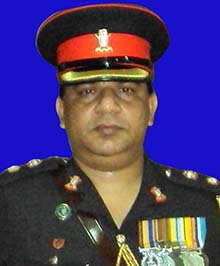 | S/N | Name | From | To |
| --- | --- | --- | --- |
| 1. | Maj DMVV Dissanayake ato (Over looking) | 25.10.2010 | 05.07.2011 |
| 2. | Lt Col RG Herathge AATO | 01.08.2011 | 08.09.2014 |
| 3. | Lt Col KPNSK Kariyawasam AATO Lsc | 08.09.2014 | 26.09.2016 |
| 4. | Lt Col RA Krishantha AATO | 26.09.2016 | 30.09.2018 |
| 5. | Lt Col WKSP Walakanda USP ato Lsc | 26.09.2020 | Up to Date |