REGIMENTAL FLAG CREST AND COLOURS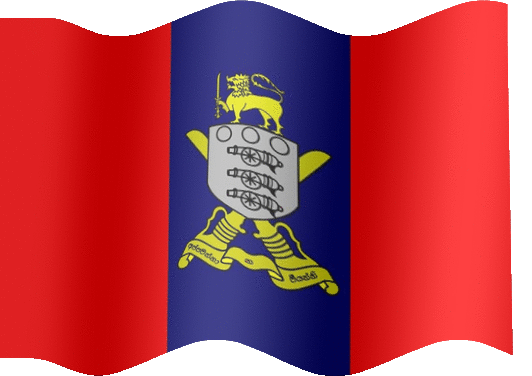 Colours of flag of Ordnance Corps are blended with red and dark blue. It is meant that the red coloured battle field and the dark blue coloured battalion in the battle field are linked to each other. The flag is made of dark blue coloured geometrically shaped rectangular positioned on the background of large scale red coloured rectangular.
While this regiment was set up as Arty unit in the British Army at the initial stage, the colour of Arty unit is also used for the flag and the similar colour is in use since the Ordnance Corps has been established in the Sri Lanka Army.
INSIGNIA OF THE SRI LANKA ARMY ORDNANCE CORPS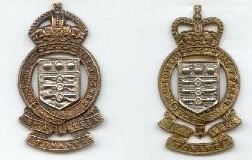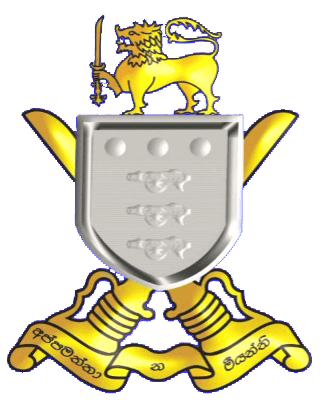 1950 - 1973 TO 1973 FORM
\Sri Lanka Army Ordnance Corps (SLAOC) was raised on 14 Oct 1949 and established as a unit on 29 March 1950. Since then up to 1972, SLAOC used the motto, ''Sua Tela Tonanti''and the logo of the Royal Army Ordnance Corps (RAOC). The current motto in Pali, 'appa matta na miyanti' written in Sinhala script meaning 'those who are mindful do not die' and the logo was introduced in 1979..
SIGNIFICANCE OF THE REGIMENTAL CREST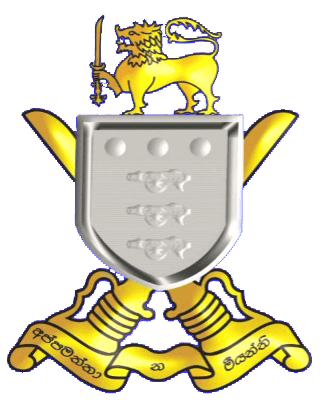 Raised hand of Lion with sword signifies security, supreme status, wisdom, bravery, strength, discipline and Sri Lankanism. Raised hand with sword denotes sovereignty. Lion positioned on the top of regimental crest indicates the superiority above all. Dual swords symbolize the Army crest. Shield indicates battle bravery, military hardware and security. Symbols within the shield is the concept that denotes correctness in a correct manner. The above concept derived from the British army in connection with artillery, arms and ammunition.