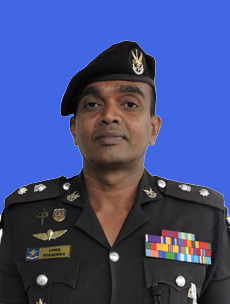 Lieutenant Colonel L P Athukorala RSP USP psc SF
Chief Instructor
INTRODUCTION
The Military Training Wing is responsible for planning, programming and conducting of various courses under the direction of the Commandant. All military exercises conducted in varying terrain, are designed and conducted by this Wing. The training emphasis is on three important aspects; leadership, military subjects and academic subjects.
ROLE OF THE MILITARY TRAINING WING
To educate and train officer cadets in basic military techniques
To facilitate the smooth functioning of officer cadets training
TASK OF THE MILITARY TRAINING WING
Primary Tasks :
Conduct of military training to achieve training standards laid down by the Headquarters
Management and supervision of military training including indoor and outdoor exercises
Conduct of exams for officer cadets
Maintenance of records pertaining to officer cadets assessments
Assessing and provision of grading for officer cadets within the stipulated time period
Allocating and programming lecture hours for academic subjects
Updating of all lesson plans, instructor service writing, staff duty notes and précis for all military subjects
Secondary Tasks :
Preparation of progression of instructions
Preparation of master sheet programmes/calendar of events
Preparation of block syllabuses for all courses
Preparation of weekly timetables
Preparation of programmes, visits and special events
Preparation of exercise papers
Selection of training areas
Miscellaneous Tasks :
Coordinate refresher courses for officers and obtain views on the following:

Revising of block syllabuses
Changes needed for assessments

Assess the standard by conducting tests for officers posted to the Academy as instructors
Continuous assessment of officer instructors and other rank instructors
ORGANIZATION
Military Training Wing is headed by the Chief Instructor. This Wing mainly consists of Training Cell, Exam Cell, Training Support Cell, DI Course, Mounted Section and Demonstration Company (Attached). Training Support Cell again divided into Physical Training Team and Support Team.
MILITARY SUBJECTS
Physical Training
Drill
Weapons Training
Tactics
Field Craft
Map Reading
Leadership
Service Writing and Staff Duties
Signal Communication Training
Field Engineering and Mine Warfare
Peacetime Administration
Military Law
Regimental Accounts
Human Rights and Humanitarian Law
Methods of Instruction