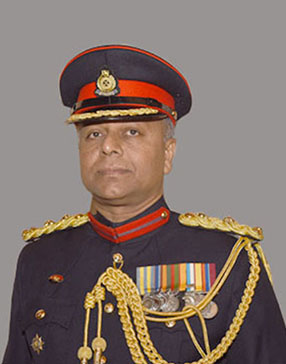 BRIGADIER S K ESHWARAN USP psc Hdmc
Brigadier SK Eshwaran USP psc Hdmc was appointed as the 33 Commandant of the Sri Lanka Military Academy (SLMA) on 16 Jan 19 as an acknowledgement of his unwavering leadership, solidarity and integrity.
He enlisted in the Sri Lanka Army on 16 Mar 87 and underwent basic officer cadet training with Officer Cadet Intake 27 at the Sri Lanka Military Academy, Diyatalawa where he earned the President's Commission on 10 Dec 88. Upon commissioning, he was posted to the Sri Lanka Artillery as a Second Lieutenant. In an outstanding tour of duty which he performed with determination and integrity, he was promoted to the rank of Brigadier in 2015.
Brigadier Eshwaran followed several overseas and local courses and seminars of academic and professional significance, commencing with the Standard Military Course conducted in the United Kingdom in 1989, Artillery Young Officers' Course, India, the Officers Locating Course in Pakistan (07 Jan 96 – 23 May 96) Radar Operating Course in the United States of America (07 Jan 98 – 08 Feb 98), ACSC Course III in Sri Lanka (31 May 98 – 18 Dec 00) Advanced Gunnery Field Course in India (06 Mar 01 – 15 Jul 01), Field Artillery Captain Course in the USA (05 July 05 – 5 Jan 06), Higher Defence Management Course in India (26 May 14 – 27 Mar 15) and UN Contingent Command Course conducted in Bangladesh (12 Oct 16 – 02 Sept 16), NESA Counterterrorism Seminar in 2012 and visited Indonesia, too. He also attended the 7 India – Sri Lanka Army to Army Talks held in Mar 18 for three days.
In his tour of duty, he rendered his academic expertise at the three most esteemed training institutions in the Army; the Sri Lanka Military Academy (SLMA), Kotelawela Defence University (KDU) and Defence Services Command and Staff College (DSCSC) as Chief Instructor and Officer Instructor at SLMA, Commanding Officer and Squadron Commander at KDU and Directing Staff at DSCSC further strengthening the academic knowledge, integrity and solidarity amongst the personnel of the tri-services.
He functioned as the GSO III and GSO I at the Directorate of Training, AHQ from 07 Feb 03 to 27 Jan 05 and he was promoted to the rank of Lieutenant Colonel on 10 May 05. As one of the most distinguished Officers in the Sri Lanka Artillery, he commanded the 7 Artillery from 21 Jan 08 to 25 Feb 09 and other formations where he demonstrated his warm-hearted humanity and deep concern for the well-being and welfare of the personnel.
After being elevated to the rank of Brigadier in respect of his forthright, frank and honest attitude to the wellbeing of the organization, he was appointed as the AMS 3, AMS 2 and subsequently AMS at the Military Secretariat Branch at the AHQ, Colombo from 02 Nov 16. At each of these appointments he performed his arduous tasks with seriousness, a sense of responsibility, and a feeling for the gravity of the issues involved.
Brigadier Eshwaran being an officer who represents a rare combination of fairness in judgments and immunity to pressure steadily advanced his career in command, staff and training appointments. He commanded 515, 511 and 653 Brigades with such great sincerity and integrity and earned the respect and admiration of all those who served under him and the civilian population.
Brigadier SK Eshwaran, who is well-known among all officers and men for his unparallel humbleness and down-to-earth attitude, is an old boy of the prestigious Wesley College, Colombo. He is married to Mrs. Udani Karunarathne.