ORBAT
22 DIVISION
HQ Complex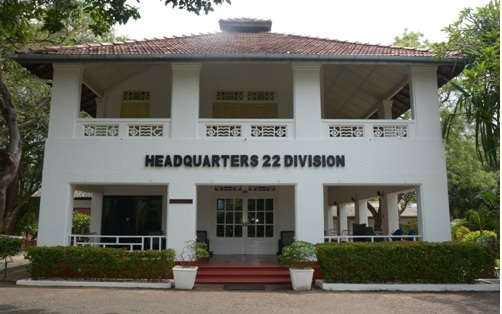 History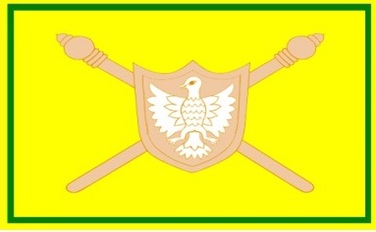 In consideration of operational commitment Security Force Headquarters (Trincomalee) was established in 1986 at the Naval Dockyard.With the rapid development of Sri Lanka Army and the operational commitments it was shifted from the Naval Dockyard to the present location,It was established on May 1988 at Plantain Point renamed as 22 Brigade.
However, the Plantain point was occupied by the Artillery Coastal Battery since the period under British's. Later, Sri Lanka School of Engineers shifted to plantain Point from Feb 1979 onward.
Subsequently 22 Brigade has retiled as TASK FORCE 3 in the year 1994 and 4 x Brigades were placed under command (6 Brigade WELIOYA, 17 Brigade NILAWELI, 221 Brigade MORAWEWA, and 222 Brigade MONKEY BRIDGE). Successively, Task Force 3 elevated to a Division as 22 Division on 23 Jul 1997.In present day context, there are three brigades are under command to this division (221, 222 and 224 Bdes).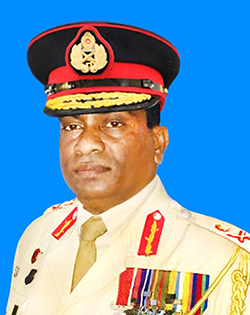 Maj Gen G M N Perera RWP RSP USP ndu
General Officer Commanding
22 Infantry Division
PROFILE
Past GOCs
OFFR NO
RANK
NAME
FROM
TO
TF 3
Brig
A S Peiris RSP IG
04.04.1994
03.07.1994
Brig
N K B Angammana RSP psc
04.07.1994
29.12.1994
Maj Gen
S T T Jayasundara RWP USP psc
30.12.1994
27.10.1996
Brig
J K N Jayakody USP
28.10.1996
22.07.1997
22 Division
Brig
J K N Jayakody USP
23.07.1997
09.11.1998
Maj Gen
G S C Fonseka RWP RSP psc
10.11.1998
14.01.2000
Maj Gen
D S K Wijesooriya RWP RSP USP psc
15.01.2000
06.04.2000
Brig
G Hettiarachchi WWV RWP RSP USP psc
07.04.2000
31.01.2001
Maj Gen
G Hettiarachchi WWV RWP RSP USP psc
01.02.2001
07.10.2001
Brig
D Rathnasabapathi RWP RSP USP
08.10.2001
04.08.2002
Brig
K J N Seenaweera RSP USP Ldmc
05.08.2002
17.08.2003
Maj Gen
S D Thennakoon RSP ndc
18.08.2003
14.08.2004
Maj Gen
D U S Y Kulathunga RSP USP ndc psc
14.08.2004
23.12.2004
Maj Gen
S R Balasooriya USP psc IG
24.12.2004
22.12.2005
O/50708
Maj Gen
T W Jayawardana RWP RSP psc
22.12.2005
17.06.2006
O/50890
Brig
S W L Daulagala RSP
28.02.2006
22.03.2006
O/50768
Maj Gen
T W Jayawardana RWP RSP psc
23.03.2006
08.04.2006
O/60019
Col
S Sooriyabandara RSP
09.04.2006
14.04.2006
O/50768
Maj Gen
T W Jayawardana RWP RSP psc
15.04.2006
12.06.2006
O/50799
Maj Gen
M C M P Samarasinghe RWP RSP USP psc
17.06.2006
14.12.2006
O/50870
Brig
M P Peiris RWP RSP USP psc
15.12.2006
12.04.2007
O/50870
Maj Gen
M P Peiris RWP RSP USP psc
13.04.2007
25.12.2007
O/60051
Brig
N J Walgama RSP USP psc
26.12.2007
01.07.2009
O/60051
Maj Gen
N J Walgama RSP USP psc
01.07.2009
04.08.2009
O/60075
Maj Gen
P P De Silva WWV RWP RSP psc
04.08.2009
07.05.2010
O/60261
Brig
D D U K Hettiarachchi RSP USP psc
07.05.2010
24.05.2010
O/50944
Brig
A K S Perera WWV RWP RSP
24.05.2010
21.11.2010
O/50944
Maj Gen
A K S Perera WWV RWP RSP
22.11.2010
29.12.2010
O/60261
Brig
D D U K Hettiarachchi RSP USP psc
30.12.2010
08.02.2011
O/60261
Maj Gen
D D U K Hettiarachchi RSP USP psc
09.02.2011
20.02.2012
O/60405
Brig
B H M A Wijesinghe psc
20.02.2012
03.06.2012
O/60594
Brig
W A M Weerasooriya RSP USP
06.06.2012
25.10.2012
O/60449
Brig
W A Wanniarachchi RWP RSP USP psc
26.10.2012
12.08.2013
O/60158
Brig
A P De Z Wickramarathne RWP ndu psc
14.08.2013
10.03.2014
O/60158
Maj Gen
A P De Z Wickramarathne RWP ndu psc
11.03.2014
20.05.2014
O/60544
Brig
A M R Dharamasiri psc
21.05.2014
06.09.2015
O/60267
Maj Gen
M K D Perera RWP RSP USP ndu
07.09.2015
23.12.2016
O/60201
Maj Gen
K P A Jayasekera WWV RSP USP ndc psc
27.12.2016
19.12.2016
O/60596
Maj Gen
W A N M Weerasinghe RSP VSV USP ndc
19.12.2018
03.11.2019
O/60629
Maj Gen
A I Marasinghe RWP RSP
04.11.2019
20.04.2020
O/60877
Brig
C D Weerasuriya RWP RSP ndu
22.04.2020
14.05.2020
O/60877
Maj Gen
C D Weerasuriya RWP RSP ndu
14.05.2020
18.01.2021
O/61041
Maj Gen
M K S Silva RWP RSP ndu
18.01.2021
18.07.2021
O/61405
Maj Gen
W B W M R S P Aluvihare RWP RSP
19.07.2021
03.10.2022
O/61722
Maj Gen
SB Amunugama RWP RSP ndu
05.10.2022
05.06.2023
O/61505
Maj Gen
G M N Perera RWP RSP USP ndu
06.06.2023
>
Up to Date
Contact Details of Div HQ
| | | |
| --- | --- | --- |
| Postal Address | :- | Headquarters 22 Infantry Division, Army Camp, Plantain Point, Trincomalee |
| Email Address | :- | 22div@army.lk, hq22div@yahoo.com |
| Telephone Numbers | : | 0262220030 |
| Fax Numbers | : | 0262220113 |