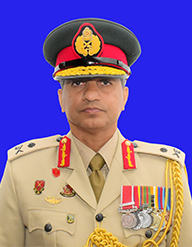 Major General G R R P Jayawardena RWP RSP ndu
Major General GRRP Jayawardena RWP RSP ndu was born on 9th Dec 1968 and joined the Sri Lanka Army in 1988. He promoted to the rank of Major General on the 04th February 2021.
During his illustrious Military career, he has held all appointments in the spectrum of Command, Staff and Instructional in different levels in many Military Formations.
He was an Officer instructor at Kukuleganga and he groomed many officers to the Sri Lanka Army in the capacity of an Instructor. In 2007 to 2010 he held the appointment of the Commanding Officer of 8th Battalion Sri Lanka Sinha Regiment and led the Battalion during Humanitarian Operation in Wanni.
In 2012, he was selected to serve as the Officer Commanding of 4th Contingent of the Sri Lankan Troops at the United Nations Peace Keeping Mission in Lebanon.
Later, he was appointed as the Officiating Brigade Commander of 542 Brigade from 2014 to 2015. In his second tenure he served as the Brigade Commander of 542 Brigade in 2016 and 661 Brigade in 2017. In 2019 he was appointed the CEO of the Nelum Pokuna Mahinda Rajapaksa Theatre.
He completed National Defence University course in Islamabad, Pakisthan. Soon after returning from the National Defense University, he assumed duties as a Director Asset Management at Army Headquarters and then as the Commandant of the Infantry Training Center in Minneriya. He was the General Officer commanding of 57 Infantry Division from 2021 to 2022. Presently he is serving as the Commander of Security forces (East), Welikanda.
Apart from his military coursers, he has obtained a Master's Degree in Human Recourse Management in the University of Colombo, a Master's Degree in Security and Strategic Studies at the Kothalawala Deffence University and also a Master's Degree in National Security and War Studies at the National defense university, Islamabad, Pakistan.