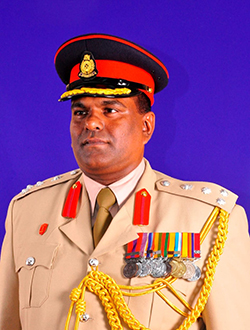 Brigadier C D Weerasuriya RWP RSP ndu
Genaral Officer Commanding
22 Division
Brigadier C D Weerasuriya RWP RSP ndu was appointed as the 25th General Officer Commanding - 22 Infantry Division - effective from 22nd April 2020. He was born on 15 July 1968 and educated at Mahanama College, Colombo. He joined the Sri Lanka Army on 27th October 1986. Having completed his basic military training at Sri Lanka Military Academy Diyathalawa and OJS Pakistan, he was commissioned into the Sri Lanka Light Infantry on 23rd July 1987.
Brigadier Channa Weerasuriya has held numerous important appointments during his military career in Command, Staff and Instructor capacities. He commanded the 4th Sri Lanka Light Infantry regiment in 2007 - 2008, as a Brigade Commander, he commanded 512, 523, 663 Infantry Brigades and Air Mobile Brigade finally on 22nd April 2020 he assumed duties as the General Officer Commanding - 22 Infantry Division.
In staff appointments, he was the General Staff Officer I (Coord) – 23 Infantry Division, Colonel General Staff - 58 Division, Brigadier General Staff - Security Force Headquarters (Kilinochchi). As a young officer, he held the appointment of Intelligence Officer, Coy Commander and Adjutant in 6thSri Lanka Light Infantry. He also served as the Staff Officer II (Administration) - 11 Div, General Staff Officer II (D Plan) – AHQ, Second In Command 1 & 7 SLLI, Regional Director - Youth Corps and Deputy Center Commandant /Center Commandant -Sri Lanka Light Infantry Regiment. At last he perform duties as Director – Directorate of Recruiting. As an instructor, he has served as Chief Instructor in Training Wing at RHQ SLLI in1999.
Besides the training courses he followed in Sri Lanka, he has followed number of overseas military training courses in India, Pakistan and Bangladesh. Such as 81mm Mortar Course, Young Officer Course, Junior and Senior Command Course and National Defence Course in Pakistan. At the same time He holds Masters of Science in Public Administration. He also participate for number of workshops held in Bangladesh, California and Mongolia.
Brigadier Channa Weerasuriya counts over 30 years of loyal service in the Sri Lanka Army.
He is married and blessed with loving daughter.