Meaning Depicted by Colours:
Earth Brown - Earth.
Blush Green - Vegetation.
Golden Yellow - Yield and prosper.
Badge: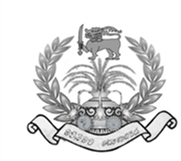 The Golden Lion holding the sword shows the independence and sovereignty of the Nation.
Pot of Plenty represents the prosperity and self and self – sufficiency of Srl Lanka.
Rice spike represents the food security of the Nation.
The Sun represents the professionalism and wisdom.
The moon shows love and affection to the nature.
The lotus buds represent the purity and transparency.