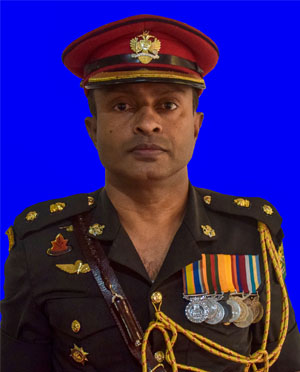 LT Col MMDSK Bandara psc SLAC Commanding Officer - 4(V) SLACAL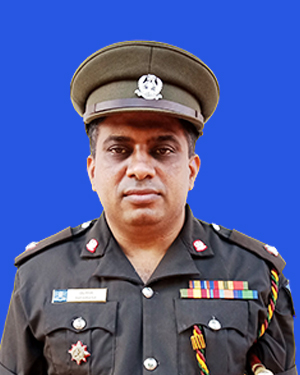 Major POVK Pathirana psc SLACAL Second in Command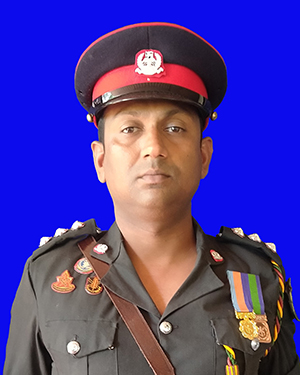 Captain KAID Chandrasiri SLACAL Adjutant - 4(V) SLACAL
INTRODUCTION
RASING OF FORTH BATTALION OF SRI LANKA ARMY AGRICULTURE AND LIVESTOCK (4th Bn SLACAL)
The newly-raised Corps of Agriculture and Livestock expects to strategically support the state sector initiatives at the national level to establish agriculture resource centres, improvement to freshwater fish-breeding, the establishment of cold storing facilities and a tri-service agrarian research and development centre while extending maximum support to further improvement of the agrarian sectors in both state and private sector initiatives.
The 7th Sri Lanka National Guard converted as the 4(V) SLACAL on 25 Feb 2021. (ARO 37/2020,ARO 38/2020, ARO 39/2020).
As the first Commanding Officer of 4(V) SLACAL Leiutent Colonel ASD Pathiraja took over duties and presently Lieutenant Colonel MMDSK Bandara psc SLAC took over duties as the new Commanding Officer.
Accordingly, the unit worn the badges of the new regiment on 08.10.2021 and performed the functions of 02 strategic Farms under the Commanding Officer of the unit
The Names of the Commanding Officers
Srn

Name

From

To

Commanding Officers

01
Lt Col A S D Pathiraja SLACAL
06.06.2021
02.06.2022

02
Lt Col MMDSK Bandara psc ALAC
02.06.2022
Up to date
Contact details
| | |
| --- | --- |
| Address | 4(V) SLACAL, Army Camp, Manicfarm |
| T.P Number | 0253898771 |
FARMING DETAILS UNDER THE 4 (V) SLACAL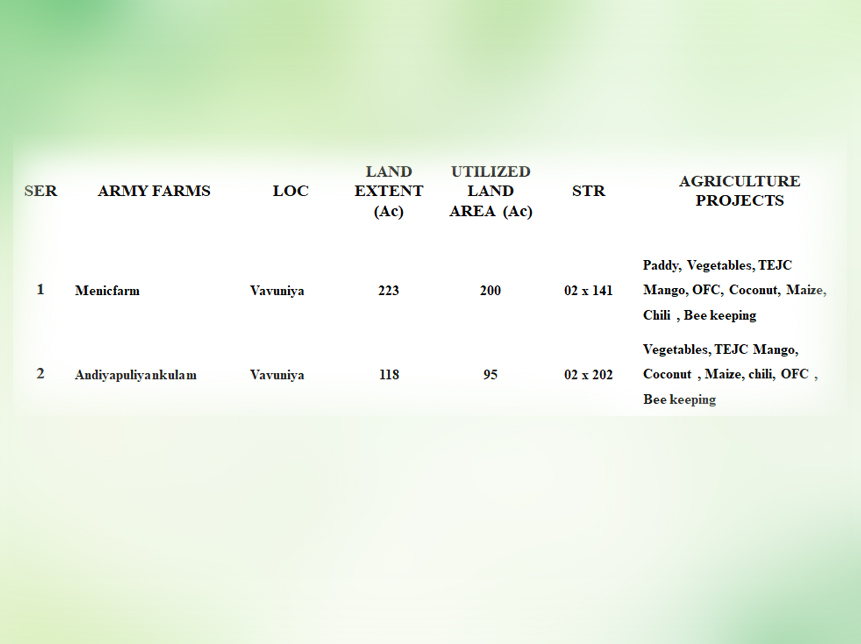 Best Student of the Quartermaster Course from SLACAL
The Regimental Quartermaster Course No - 71 at the School of Ordnance in Dombagoda was completed on 09 November 2022.
A Batch of 55 Senior Non Commissioned Officers of various Regiments of Sri Lanka Army who completed the course received their certificates from the Chief Guest. Out of 55 SNCOs Staff Sergeant Priyadarshana SDA of 4th (V) Regiment Sri Lanka Army Corps of Agriculture and Livestock was awarded as the Best Student of the course.
Further bringing the pride of this recently established Sri Lanka Army Corps of Agriculture and Livestock , S/Sgt Priyadarshana SDA who received the award for the best student was appreciated by Colonel Commandant and all ranks of SLACAL