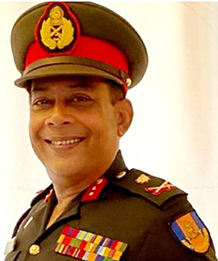 Major General MK Jayawardena RSP USP ndu
Major General M K Jayawardena RSP USP ndu is the 18th Chief Field Engineer of Sri Lanka Army. He is a proud product of Royal College, Colombo. Upon completion of GCE A/L examination in Bio stream he joined the Regular Force of the Sri Lanka Army as an Officer Cadet to the Intake 30 on 26 July 1988. After successful completion of Basic Military Training both from the Pakistan Military Academy and Sri Lanka Military Academy, Diyatalawa he received his commission as a Second Lieutenant and was posted to the prestigious Corps of Sri Lanka Engineers on 09 June 1990.
Expanding over his 34 years of illustrious military career, he has held significant command, staff and instructional appointments in the Sri Lanka Army. During his early military career he rendered his dedicated military service as a troop commander and a squadron commander in the Corps of Sri Lanka Engineers. Later he served as General Staff Officer II (Admin) at Regimental Headquarters, and held the appointment as the Second in Command of 5 Field Engineer Regiment. The senior officer has immensely contributed to eradicate terrorism from motherland accomplishing valiant service both in RFT and classic engineering duties.  He commanded both 5 Field Engineer Regiment and 6 Field Engineer Regiments during past humanitarian operations. His commendable innovative combat engineering contribution extended to 55 Infantry Division during final stages of humanitarian operations as an engineer advisor of the division was noteworthy.
As an Extra Regimental Employments appointments initially he was fortunate to hold the appointment as the Adjutant of Army Training School Maduruoya and the senior officer has held other appointments as the General Staff Officer I (Coordinating) in Security Forces Headquarters (Jaffna), General Staff Officer I in General Staff Branch Army Headquarters and Colonel General Staff in 58 Infantry Division.
Maj Gen M K Jayawardena has commanded several infantry brigades under different operational environments. He held the appointments as the Officiating Brigade Commander 581 Infantry Brigade and subsequently commanded the 612 Infantry Brigade and 141 Infantry Brigade. Then he was appointed as the Director Sirisara Pivisuma, and Commander Plant Engineering Brigade of Corps of Sri Lanka Engineers to extend his plant engineering expertise for nation development projects of the country. He was promoted to the rank of Major General on 18 May 2021 and became the Commander FMA Kilinochchi. Furthermore, the senior officer was appointed as the 25th General Officer Commanding of the prestigious 55 Infantry Division.
The senior officer is both a war and a scholar warrior. His professional military career includes attending numerous overseas training courses few of them namely, Officer Cadet Training Course Pakistan, Engineers' Young Officers Course Pakistan, Engineer Officers Earth Moving Plant Workshop & Construction Course India, Humanitarian Mine Action and the Military Course Switzerland and Senior Command Course India. He is a military strategist in the contemporary Army and he has successfully completed his Advance Diploma in Defense and Strategic Studies in National Defense University in China. He has also attended number of  local courses such as Platoon Commander Tactics Course, Field Engineer Basic Course, Plant operator and fitter course, Officers PAR Excellence course, Officers' staff duties course,  Psychological operation course, Military Geography course, Mine action management course and Humanitarian Demining course.
Maj Gen M K Jayawardena is a war veteran and a decorated military personality of the Sri Lanka Army who has been awarded Ranasura Padakkama for his bravery in the battle front and Uththama Seva padakkama for his unblemished military service. The general officer is married to Mrs Shammi Jayawardena and blessed with two daughters.