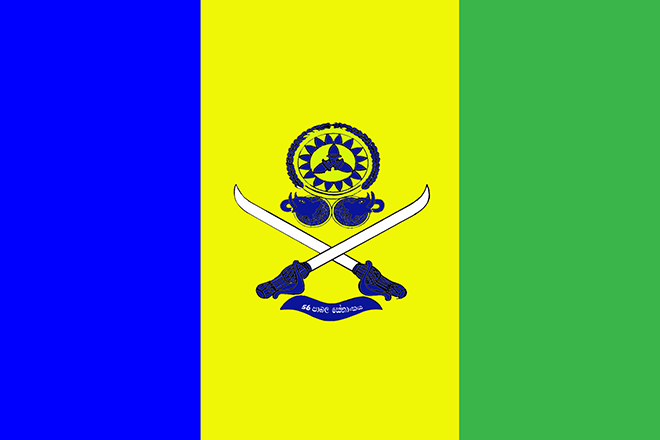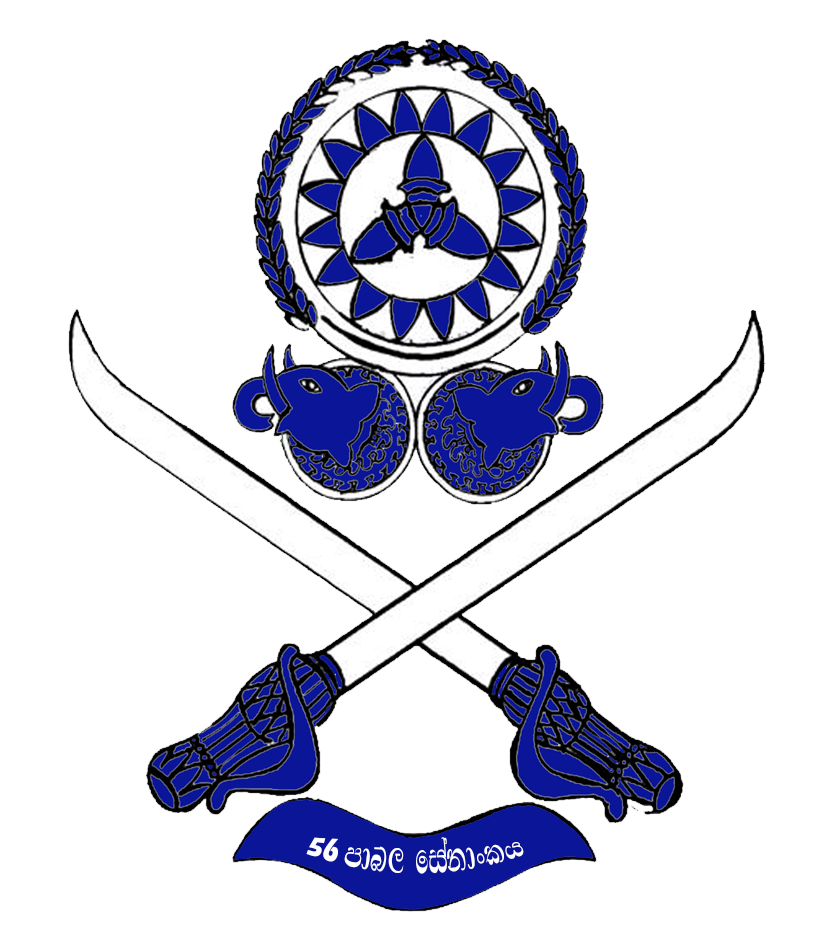 History of 56 Infantry Division
56 Inf Div was raised on 17 Oct 1997 at KANAGARAYANKULAM. After the Wanni debacle Div HQ was re-located to the present location with 02 x Bdes and OC Tps (W) in 1999. On 22 Mar 2003 OMANTHEI entry/exit point was established under supervision of this Div. During the period of 2006 to 2009 and after the Humanitarian Op Div was on defensive role providing security for offensive fmns and handled IDPs / Surrendered terrs. On 07 Dec 2009, 643 Bde was designated as 561 Inf Bde and place UC to 56 Inf Div and relocated at KANAKARAYANKULAM.
On 14 Sep 2010 OC Tps (W) was disbanded and area was given to 563 Inf Brigade. Thereafter 563 Inf Brigade also relocated at NAWATKULAM camp on 9 December 2010. OMANTHEI road block was transformed to a Military Police check point in 2017 and it was removed in same year. With the re- demarcation of Div Areas in the Month of January 2020, VAVUNIYA town was placed U/C to 56 Div and 681 Inf Bde was renamed as 562 Inf Bde and placed U/C to this HQ..
02 x Quarantine Centres were estb at PAMPEMADU, PERIYAKADU in Mar 2020. Latest addn is at POONTHODDAM in Oct 2020. Now, 56 Infantry division has 561 Infantry Brigade, 562 Infantry Brigade
561 Inf Bde
Location - Kanagarayankulam
Under Command Battalions
562 Inf Bde
Location - Echchankulam
Under Command Battalions
563 Inf Bde
Location - Navatkulam
Under Command Battalions
It includes area of approximately 1561.98 Sqkm. The AOR bounded from North - 573 Inf Brigade, from East - 623 Infantry Brigade, from South 21 Infantry Division and from West 653 Infantry Brigade. The total population is approx 161,271 and the area includes 04 x DS Divisions from Vavuniya district and part of 01 x DS Division from Mannar district, 01 x DS Division from Mulathiv district and 01 x DS Division from Anuradhapura district. Demography of the areas multi religious, multi ethnic and multilingual.


During the post conflict scenario, 56 Infantry Division is to defend the Area of Responsibility within boundaries from internal and external threats and to assist civil authorities including police to maintain law and order by performing appropriate combat operations and CIMIC/ MACA activities in order to maintain secure environment within SF HQ (W) AOR to support national security objectives. Major General HGPM Kariyawasam RSP ndc psc IG is presently holding the appointment as GOC in 56 Infantry Division from 30 August 2022.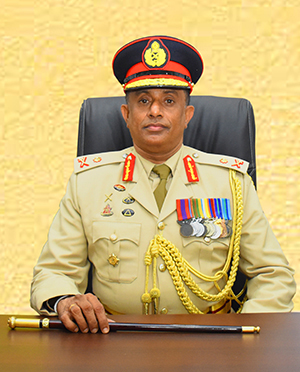 Maj Gen HGPM Kariyawasam RSP ndc psc IG GOC 56 DIV
Past General Officer Commanding – 56 Infantry Division
| | From | To |
| --- | --- | --- |
| Brig MDS Chandrapala RSP USP psc | 17.10.1997 | 01.11.1998 |
| Maj Gen WADGA Gunasekara RSP USP psc | 01.11.1998 | 10.11.1999 |
| Maj Gen HB Thibbotumunuwe RWP USP IG | 10.11.1999  | 05.03.2001 |
| Maj Gen CJ Ranaweera RWP RSP USP | 05.03.2001  | 20.05.2002 |
| Brig UBL Fernando RWP RSP psc | 20.05.2002 | 18.08.2003 |
| Maj Gen N Wijesinghe USP ndc IG | 20.08.2003 | 28.12.2003 |
| Maj Gen NA Ranasinghe RSP USP ndc psc | 31.12.2003 | 21.12.2005 |
| Maj Gen NAJC Dias RWP RSP | 08.01.2006 | 13.06.2007 |
| Maj Gen JC Rambukpotha RSP USP psc IG  | 15.06.2007 | 19.12.2008 |
| Maj Gen HCP Gunathilaka RSP USP psc | 20.12.2008 | 07.06.2009 |
| Brig PMR Bandara psc | 07.06.2009  | 18.06.2009 |
| Brig NAPC Napagoda IG | 18.06.2009 | 05.08.2012 |
| Brig DAR Ranawaka RSP IG | 06.08.2012 | 28.01.2015 |
| Brig DMWWWMRBM Dalugala RSP | 28.01.2015 | 03.09.2015 |
| Brig IP Ranasinghe RWP RSP ndu psc | 04.09.2015 | 04.11.2016 |
| Brig HJ Senavirathne RWP RSP ndu | 04.11.2016 | 01.01.2017 |
| Brig TJ Nanayakkara RWP USP ndu | 02.01.2017  | 09.04.2018 |
| Maj Gen DAPN Dematanpitiya ndu psc | 18.04.2018 | 18.06.2019 |
| Maj Gen HP Senavirathne VSV USP ndu | 18.06.2019 | 09.10.2019 |
| Maj Gen WMJRK Senarathne RWP RSP | 09.11.2019   | 29.05.2020 |
| Maj Gen AN Amarasekara USP ndu | 29.05.2020 | 22.07.2020 |
| Maj Gen KWR de Abrew RWP RSP USP psc Hdmc | 22.07.2020 | 06.12.2020 |
| Maj Gen HP Ranasinghe RWP RSP ndc | 06.12.2020 | 15.01.2021 |
| Maj Gen U U K L S Perera RWP RSP USP psc | | |
| Maj Gen L D S S Liyanage RSP USP psc Hdmc | | |
| Maj Gen HGPM Kariyawasam RSP ndc psc IG | 30.08.2022 | Up to date |
Contact Details
Postal Address
-
56 Infantry Division, Army Camp, Kokeliya, Vavuniya
E mail Addresses
-
56div@army.lk,
56division@gmail.com
Telephone Numbers
-
024-3125648
025-3242963 (Micro 58727)
Fax
-
011-4058725 (Micro 58725)