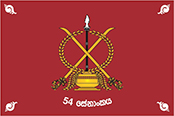 The history of 54 Division goes back to 1951 and initially It was established to prevent smuggling activities and drug trafficking in Mannr. It was established as an Operational Headquarter and a Coordinating Centre in order to counter the expansion of illegal activities in 1965. In 1990, it was renamed as 5 Brigade and later it became as the 212 Brigade. With the acceleration of insurgent movements, the task, responsibilities, and the involvement of the brigade was expanded. Then the camp was re-established as the Area Headquarter, Mannar in year 2000. Later this became the administrative hub and the operational base for Eelam War.

54 Division was raised on 10 September 2010 and Major General Maithree Dias RWP RSP USP pscwas the first General Officer Commanding of the newly raised Division. Following senior officers have commanded the Division as at today.
Maj Gen MAM Dias RWP RSP USP psc 10 Sep 2010 – 01 Jan 2014
Maj Gen KMU Wijerathne USP ndu 02 Jan 2014 – 13 Jan 2016
Maj Gen WBDP Fernando RWP RSP USP psc 21 Jan 2016 – 19 Sep 2016
Brig TJ Nanayakkara RWP USP ndu 19 Sep 2016 – 30 Dec 2016
Brig HJ Seneviratne RWP RSP ndu 02 Jan 2017 – 10 Aug 2017
Maj Gen GJAW Galagamage 10 Aug 2017 –12 June 2018
Maj Gen WGHAS Bandara RWP RSPndu 06 July 2018 – 01 July 2019
Brig AAIJ Bandara RWP RSP USP ndu 01 July 2019 – 20 Dec 2019
Maj Gen DSD Welikala WWV RWP RSP USP 20 Dec 2019 – 01 May 2020
Presently Major General A A I J Bandara RWP RSP USP ndu is performing as the General Officer Commanding of 54 Division wef 01 May 2020.
54 Division consist with 4 Bdes namely 541 Bde located at Kalliadi, 542 Bde deployed in Manthottam, 543 Bde is deployed at Pesalei and 544 Bde is deployed in Thachchanamaradamadu. Each Bde has 2 Bns and out of them 5 Bns are Regular and 3 Bns are Volunteer.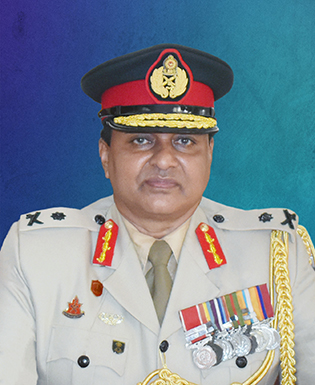 MAJ GEN A A I J BANDARA RWP RSP USP ndu
GOC 54 DIV