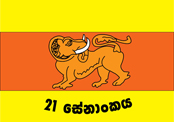 21 Div is one of the oldest Div in the Sri Lanka Army. It was raised on 04 Apr 1988 as 2 Div at Ranasewapura, Anuradhapura. On 1997 Division was renamed as 21 Division. On 20 Aug 2004 the division was deployed Gajasinghepura due to operation requirements. 21 Division was again relocated at Ranasewapura on 13 Nov 2011. At present 21 Division consists of 3 x Bdes.
21 I Infantry Brigade — Welioya
Under Command Battalions
212 Bde - Ranasewapura
Under Command Battalions
213 Bde - Gajasinghepura
Under Command Battalions
d. Area of 2 I Intantry Di vision : 7781.38 Sq Kms
e. Total population :1,026,823
f. DS Di ision form ANP : 24
g. DS division from ANA :02
It includes area of approximately 6567 km2. The AOR bounded from North - 56 Division, from East - Security Force (East), from South Security Force (West) and Security Force (Central), from West Security Force (West). The total population is approx 928,791 and the area includes 19 x DS Divisions from Anuradhapura district and part of 02 x DS Divisions from Vavuniya district. Demography of the areas multi religious, multi ethnic and multilingual. During the post conflict scenario, the primary task of the 21 Div is to maintain the peace and sy in the AOR.
General Officer Commanding - 21 Division
Maj Gen WMP Fernando USP ndc psc 23.07.1997 10.09.1997
Maj Gen WAA De Silva RSP USP 11.09.1997 10.11.1998
Maj Gen JKN Jayakodi USP 11.11.1998 21.12.1998
Maj Gen SHS Kottegoda RWP RSP USP 23.12.1998 29.12.1999
Maj Gen SD Thennakoon RSP 30.12.1999 07.05.2020
Maj Gen KB Egodawela RWP RSP USP 07.05.2000 17.10.2001
Maj Gen GBW Jayasundara RWP RSP 18.10.2001 27.01.2003
Brig N Wijesinghe USP IS 28.01.2003 20.08.2003
Maj Gen G Hettiarachchi WWV RWP RSP USP psc 21.08.2003 16.12.2004
Maj Gen N Wijesinghe USP IG 17.12.2004 08.08.2005
Brig KS Fernando RWP RSP USP LDMC 09.08.2005 30.10.2006
Brig MK Jayawardena RSP 01.11.2006 03.08.2007
Maj Gen GRP De Silva 03.08.2007 30.10.2007
Maj Gen SWL Daulagala RSP 01.11.2007 12.06.2008
Maj Gen ADGA Jayawardena RSP USP 12.06.2008 03.09.2008
Brig PWP Jayasundara USP psc USACGSC IG 04.09.2008 11.11.2008
Brig AS De Z Wickramarathne USP psc IG 11.11.2008 04.07.2011
Brig PUS Vithanage RSP 04.07.2011 04.07.2012
Maj Gen BA Perera RSP USP ndu psc 05.07.2012 11.01.2013
Brig HKP Peiris USP 11.01.2013 01.01.2014
Maj Gen PUS Vithanage RSP 02.01.2014 10.06.2015
Maj Gen AS De Z Wickramarathne USP psc IG 11.06.2015 30.10.2016
Maj Gen WRP De Silva USP ndu IG 01.11.2016 17.10.2018
Maj Gen HPNK Jayapathirana RSP 18.10.2018 27.02.2020
Maj Gen HLVM Liyanage RWP RSP ndu 28.02.2020 - 21.04.2021
Maj Gen W R M M Rathnayake RWP RSP USP ndu 2021.04.21 - 2022.05.03
Maj Gen HDWKN Eriyagama RWP RSP 2022.05.03 - 2022.08.26
Major General UPR Weerakoon WWV RWP RSP USP 2022.08.31 - 2023.03.21
Major General WPADW Nanayakkara RSP VSV USP ndu 2023.03.22 - 2023.07.18
Major General I A N B Perera RWP USP ndu psc 2023.07.21 - up to date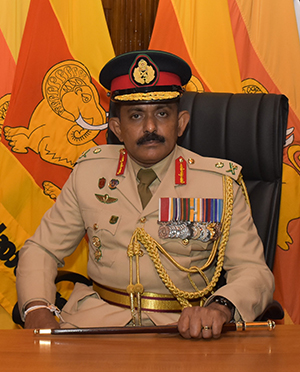 Major General I A N B Perera RWP USP ndu psc
GOC - 21 Inf DIV