Wasgamuwa National Park is one of the many national parks in Sri Lanka. It earned its name as a national park during the Mahaweli Development Project in 1984 in which it provide refuge to countless displaced wild animals. Originally it was supposedly considered as a nature reserve in 1938, and then in the early 1970's the park was regarded as a strict nature reserve. This is one of the places in Sri Lanka where elephants can be seen in very large numbers. It also rises up to prominence for bird-watchers too , and is also considered as one of the Important Bird Areas in Sri Lanka. The name of Wasgamuwa is a derivative of two words Walas Gamuwa where Walasa is the Sinhala word for the Sloth Bear ( who are also present but in very small numbers ) and Gamuwa which means wood. The park is simply just about 225 km away from the commercial capital of Sri Lanka.
Climate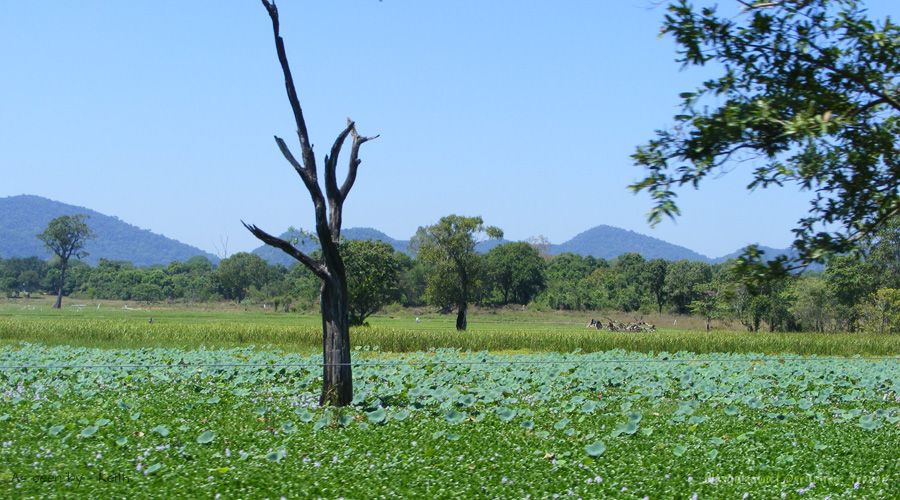 The National Park's average daily temperature is 28 °C (82 °F) and has a dry-zone climate despite the dense woodland. So wearing cotton clothes is a very sensible option. Rainfall is expected usually from October to January whereas July to September is the dry season. The highest elevation in the park is the Sudu Kanda (White Mountain). The nearest city to Wasgamuwa is Polonaruwa.
Biodiversity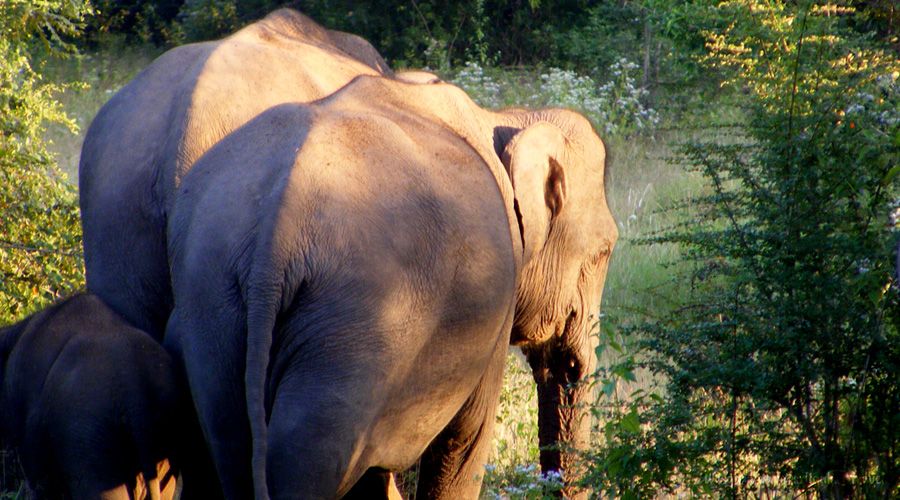 Wasgamuwa National Park boasts a very high biodiversity. More than 150 floral species have been recorded from the park.Cryptocoryne walkeri and Munronia pumila are two plants with economic value. Reservoirs and riverine forests support large number of fauna species. The forest consists of several layers. Chloroxylon swietenia, Manilkara hexandra, Elaeodendron glaucum, Pterospermum canescens, Diospyros ebenum, Holoptelea intergrifolia, Pleurostylia oppasita, Vitex altissima, Drypetes sepiaria, and Berrya cordifolia are dominant trees in the emergent layer.Polyalthia korinti, Diplodiscus verrucosus, Limonia acidissima, Cassia roxburghii andStrobilanthes stenoden are common in other strata. Some 1,700 years old tamarind trees, "Oru Bendi Siyambalawa" (Sinhala for Canoes-moored-Tamarind) are also present.
Wasgamuwa National Park is home to 23 species of mammals. The park is inhabited by a herd of 150 Sri Lankan Elephants. Marsh elephants roam in the Mahaweli river area. Purple-faced Langur and Toque Macaque are monkeys who are also present in the park and are endemic to Sri Lanka. While Water Buffalo and Sri Lankan Axis Deer are common to observe, Sri Lanka Leopard andSloth Bear are rare. Small Golden Palm Civet is another rare endemic mammal.
Number of bird species recorded from the park is 143. This includes 8 endemic species. Endemic Red-faced Malkoha is a resident bird in this national park. Sri Lanka Junglefowl ( The national emblem of Sri Lanka ) is another endemic bird inhabits the park.Lesser Adjutant, Yellow-fronted Barbet, and Sri Lanka Spur fowl are the species that visit the reservoirs and streams of the national park. Peafowl, Painted Stork, Black-headed Ibis and Eurasian Spoonbill are the park's other aquatic birds. Rare Sri Lanka Frogmouth is can been here. Another rare species, Chestnut-winged Cuckoo is seen near the Mahaweli river.
Endemic and endangered Fejervarya pulla is one of the 8 species of amphibians of the park. Of 17 reptile species recorded in the park 5 species are endemic. Water monitor and Mugger Crocodile are common in the waterbodies of the park. Skinks Lankascincusspp, lizards Calotes ceylonensis and Otocryptis wiegmanni, and serpent Chrysopelea taprobanica are the endangered reptile species. Endemic Garra ceylonensis and Combtailare among the 17 fish species reside in the aquatic habitats of the park. Of the park's 50 butterflies, 8 species are endemic.