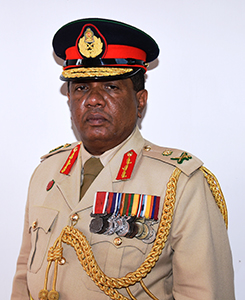 Major General A I Marasinghe RWP RSP
Genaral Officer Commanding
24 Division
Major General Athula Marasinghe was born on 25th April 1965 in Colombo. He was an old boy of Wesley College and Royal College - Colombo. He joined Sri Lanka Army as an Officer Cadet of Intake SSC10 on 17 January1986. After successful completion of training from Sri Lanka Military Academy, he was commissioned on 10 December 1986 and subsequently, he was posted to 1st Battalion of Gajaba Regiment as a Second Lieutenant.
During his 33 years of dedicated Service to motherland, he has held many vital appointments. Beside his regimental appointment as Platoon Commander, Company Commander, Second in Command and Commanding Officer of 4th Battalion of Gajaba Regiment, he has hold the appointment of the Brigade Commander of 232 and 523 Brigade. Subsequently, he became the Director of Directorate of Movementand presently holding the appointment of the General Officer Commanding of 24 Infantry Division Malwatta. In addition to the command appointment he has held staff appointments of General Staff Officer III (Coy) at ITC Minneriya General Staff Officer I (Operations) Area HQ Welioya, General staff officer I, Dte of Inf AHQ, GSO 1 (Ops) HQ CO Anuradapura, Colonel General Staff at 56 Division.Moreover he was held the appointments of Project Coordinator SF HQ Central. Beside many local courses, he has attended overseas in Young Officers' Course at India and Staff Planning work shop at Cambodia. In academic field he has followed the Diploma in Occupational Safety and Health at National Institute of Occupational Safety and Health. Major General Athula Marasinghe was awarded with Rana Wickrama Padakkama and Rana Sura Padakkama for his valor of gallantry exhibited during the Elam Wars. Major General Athula Marasinghe is married to Mrs. Dammika Marasinghe and Blessed with three daughters.