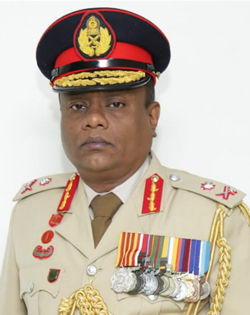 Maj Gen AC Lamahewa WWP RWP RSP
Genaral Officer Commanding
24 Division
Maj Gen AC Lamahewa joined the Sri Lanka Army in 1986 after completing his primary and secondary education from St. Thomas' College, Gurutalawa.
After his successful completion of the basic military training at the Sri Lanka Military Academy in Diyatalawa, he was commissioned in the rank of Second Lieutenant and was posted to the 5th Battalion of the Gemunu Watch as a Platoon Commander. He held the appointments of the Adjutant and Company Commander.
Maj Gen Chaminda Lamahewa commanded the 7th Battalion of the Gemunu Watch during the peak of the Humanitarian Operation. The great leadership that he displayed was an immense contribution to eradicate the separatist terrorism from our motherland.
At present he is serving as the GOC 24 Infantry Division. In his long tour of duty, he has followed a number of courses both local and overseas, few of those are mentioned bellow:
* Young Officer Course - India * Junior Command Course - India * Senior Command Course - India * Command and Staff Operations Low Course - Australia
In appreciation of his bravery and selfless dedication in the battle field he was awarded with 'Weere Wickrama Vibushan' medal, 'Rana Wickrama Padakkama' and 'Rana Sura Padakkama' four times.