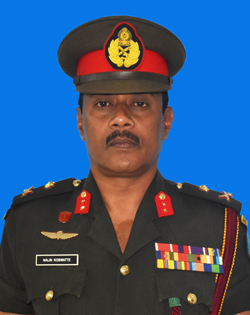 Major General KANN Koswatta RWP RSP ndu
Genaral Officer Commanding
23 Infantry Division
Major General KANN Koswatta RWP RSP ndu was appointed as the 30th Commander of the 23 infantry Div effective from 20 January 2021.
Born in 1967 in Kandy, he completed his education from St Anthony's College, Kandy and excelled in Sports and various scopes during his bright school days. He joined the Army as an Officer Cadet in 1987 and was commissioned into one of the most prestigious Infantry Battalions of the Sri Lanka Army, the First Battalion of the Vijayabahu Infantry Regiment on 23rd July 1989 after completion of his officer cadet training at Sri Lanka Military Academy. Besides regimental appointments in every scope, Major General Nalin Koswatta had commanded one of the reputed Infantry Battalions 8th Battalion of Vijayabahu Infantry Regiment during the era of very high intensity Counter Insurgency Operations and held numerous important appointments in Command and Staff capacities.
Having completed the tenure as the Battalion Commander, he held the Staff appointments of SO 111 Dte of PA, Genaral staff officer 11 RHQ VIR, SO 11 RHQ VIR , General Staff Officer 1 (OPS) 64 Division, Colonel General Staff 14 Division and OCDC. Major General KANN koswatta has served in many command appointments including Commander 572, 121 Brigades, Deputy Commadant at ITC and BRIG (GS) SFHQ (W) before the present appointment of Commander of 23 Infantry Division.
Major General Nalin Koswatta had been awarded with the elite 'Rana Wickrama Paddakkama' and 'Rana Sura Paddakkama' in recognition of the gallantry, invaluable and selfless dedication excelled in face of enemy in the Battlefield and other service commendations and medals.
Besides the courses of training he followed in Sri Lanka, Major General Nalin Koswatta had attended SOP course SFHQ (J) and Basic Para Course at CRTS. Young Officers' Course in Bangladesh, Junior Command Course in India, Regular Education Programme in Indonesia, Major General Nalin Koswatta was recognized with the title 'ndu'.
He is married and blessed with a Son and a Daughter.