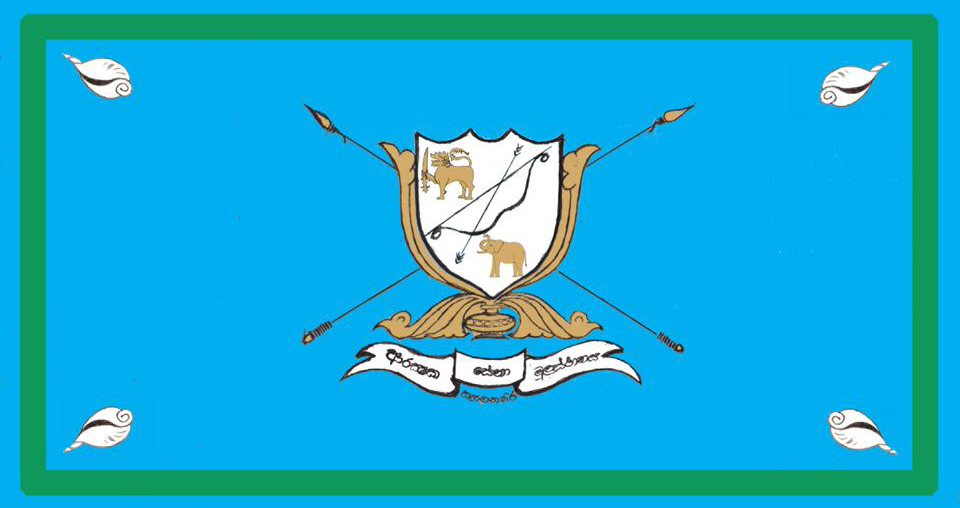 The Security Force Headquarters (East) was raised on 31 October 2003 in Mahasenpura, Minneriya.
SF (East) flag was selected by a competition of flag designs held in division level under the supervision of first Comd SF (East) Maj Gen Mallawarachchi in 2003.
FLAG OF SF HQ (E)
The flag represents the proud history, heritage, values, natural resources and integrates the minorities with major race of the Eastern Theatre. The symbols have been given distinctive meanings.
| | | | |
| --- | --- | --- | --- |
| a. | Colours | - | 1.    Blue      -      Represents the Sky |
| | | | 2.    Green    -      Represents the Jungle area |
| | | | 3.    White    -      Represents the genuineness and peacefulness. |
| | | | 4.    Gold      -      Represent the rosperity and agricultural |
| b. | Four conches | - | Winningness , sound of heroes and persons with kind hearts |
| c. | Lion | - | Represents the Thun Sinhalaya and Skillfulness, intelligence and prideness |
| d. | Tusker | - | The living being representing the war of North and East. The creature is one the ancient four arms forces |
| e. | Bow | - | Represents the Courageousness to move into the expected target |
| f. | Spear | - | Represents the palm (Jayakonthaya) and the triumph of the victorious King Dutugemunu who led the first national campaign of Sri Lanka. |
| g. | Vase(Punkalasa) | - | Symbolizes the prosperity, Supportiveness of economic development. |
| h. | Shield | - | To achieve the expectation of local peoples and people protection |