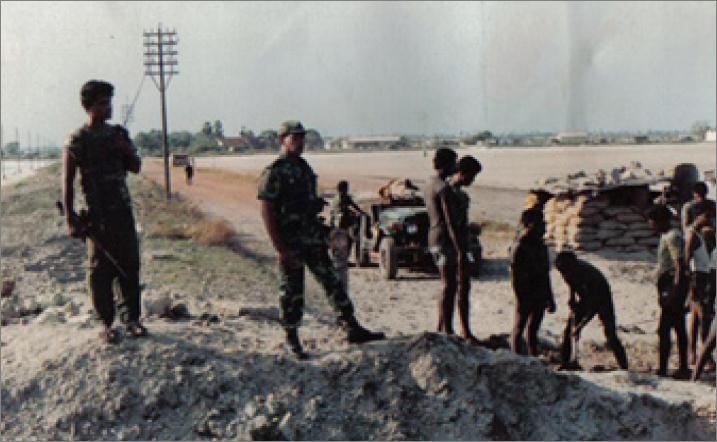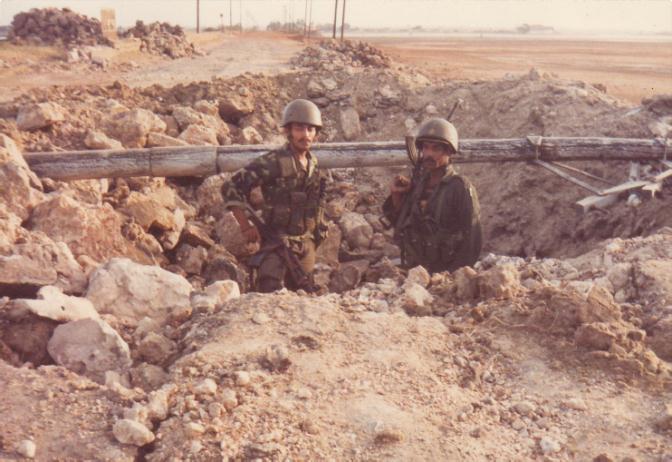 Forward Defence Line at Elephant Pass
On 14th July 1991 'Operation Balavegaya' led by Major General DL Kobbekaduwa RWP rcds psc was launched with the amphibious landing of troops on the beach at Vettilakerni. 17 days later fighting through the fierce resistance offered by the enemy, the troops on the operation reached the Elephant Pass Camp. During these 17 days, as was in the days before the operation was launched, the terrorist made repeated attempts using all the fire power they had to break into the camp. However troops of the Battalion succeeded in holding back the enemy.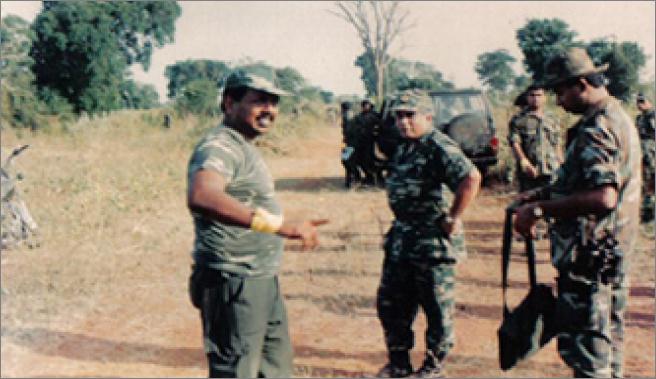 Major General Denzil Kobbekaduwa and others in the field
On 26th October 1992, Major LWCBB Rajaguru was appointed as (acting) Commanding Officer as Lieutenant Colonel SG Karunarathne psc proceeded overseas to follow a course of training.

Later, the Battalion was deployed to Vavuniya and placed under Wanni Command Area Headquarters. Here the Battalion was part of many operations carried out by the higher headquarter as well as other small scale operations carried out by the Battalion itself. In all these operations the troops of the Battalion played important roles as a result of which the operations concluded with success for the Army.

On 27th May 1993 the Battalion moved to Cheddikulam on the road leading to Mannarand placed under command to the 15 Division. While at Cheddikulam, the Battalion took part on 'Operation Seda Pahara' launched to expand the security zone in Cheddikulam and in 'Operation Himidiri Gamana' aimed at combing and searching of the Mankulam area. The Battalion was also part of 'Operation Hakgediya' launched from Pemaduwa, Anuradhapura on 17th June 1993 aiming to clear the terrorist stronghold of Marichchakaddi and Mullikulam.

On 1st November 1993 a new camp named 'Jayasinghapura' was established at Karawaddukerni, a location between Kokilai and Kokkuthuduwai. This camp was first occupied by the 'C' Company.

Since 13th September 1994, the Battalion was kept in readiness to launch an offensive in Iyakachchi under the 19 Brigade. As the operation was temporarily halted the Battalion was deployed in Komaar, Pooneryn from 23th September 1994.

The Battalion was part of the offensive that liberated Achchuweli.

'Operation Riviresa' was launched on 19th October 1995 with the participation of all three Forces. The troops of the Battalion played a key role in saving the lives of the troops of the 9th Battalion of the Sinha Regiment, at the time they were completely surrounded by the enemy. The Battalion lost (killed) 8 soldiers while 26 others received injuries including the Commanding Officer of the Battalion, Major LWCBB Rajaguru. Thus, Major MAM Dias was appointed as the Commanding Officer.

On completion of 'Operation Riviresa' the Battalion was placed under command to the 532 Brigade of the 53 Division to be part of 'Operation Riveresa 2' as well as 'Operation Riviresa 3'.