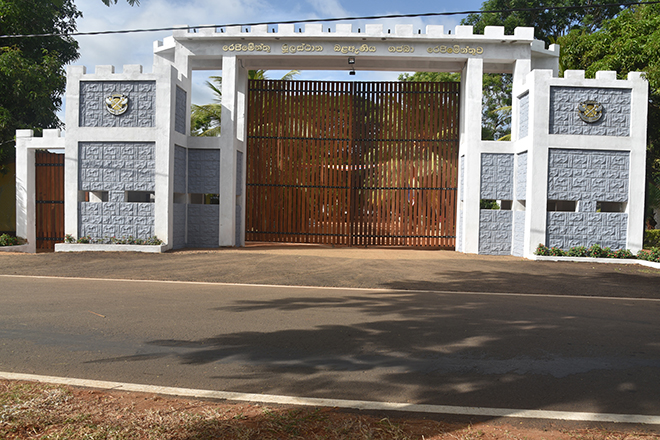 HISTORY OF REGIMENTAL HEADQUARTER BATTALION OF THE GAJABA REGIMENT
This battalion was established on 27th May 1994 at Saliyapura as an independent unit of the Gajaba Regiment. The main aim of this battalion is carry out welfare facilities, admin matters of WIA persons and NOK of KIA persons due to Battle / Non Battle activities. Later this battalion was relocated at Senapura area on 08th October 1999 Maj DJI Peramunagamage RWP was 1st commanding officer and Maj KGAPN Piyathissa was 1st 2nd in command of this battalion. Capt UKDDP Udugama RWP RSP was 1st Adjutant and WO 11 Swarnapala was 1st RSM.
171 Officers and 4069 Other Ranks KIA due to operational reasons, 31 Officers and 643 Other Ranks died due to Non Battle reasons,14 Officers and 242 Other ranks WIA due to battle reasons, 1 Officers and 268 Other Ranks WIA due to Non battle reasons.
Posted strength of this battalion is 19 X 646 and out of them following number of officers and ORS attached to relevant rehabilitation centers for further treatment and also for rehabilitation.
Ranaviru Sewana Ragama - 01 ORS
Abimansala I Anuradhapuraya - 02 ORS
Abimansala II Kamburupitiya - 04 ORS
Abimansala III Pangolla - 03 ORS
Mihindu Sethmedura Aththidiya - 06 ORS
This battalion was done lot of welfare facileties for WIA persons and nok of KIA persons some of those are as follows.
Api Wenuwen Api Housing Project - 05 X 148 Houses
Hoses Constructed/ donated by donors - 08 Houses
Loans (RS: 500000.00) - 34 Persons
Sewa Wanitha Housing Loan - 19 person
MOD Loan Without Interest - 04 persons
This battalion is consisting Command & Admin Company, Casualty Holding Company, Document Company and Sport Company. From year 2010 to year 2014 Sport Company won overall Championship of Army inter regiment Para Games. After 2015 and now onward they became the Runner up.
The Names of the Commanding Officers.
| Snr | Name | From | To |
| --- | --- | --- | --- |
| 1 | Major DJI Peramunu Gamage RWP (3 GR) | 1994.02.10 | 1998.09.13 |
| 2 | Major J Dedimuni (4 GR) | 1998.09.13 | 1998.11.30 |
| 3 | Major DJI Peramunu Gamage RWP (3 GR) | 1998.11.30 | 2001.02.01 |
| 4 | Major DVP Kariyawasam RSP (3 GR) | 2001.02.01 | 2001.03.27 |
| 5 | Lt Col DJI Peramunu Gamage RWP (3 GR) | 2001.03.27 | 2001.09.08 |
| 6 | Major WT Premashantha RWP RSP 1 GR | 2001.09.24 | 2002.07.15 |
| 7 | Major JMSS Jayasundara RSP USP (10 GR) | 2002.07.15 | 2004.02.09 |
| 8 | Major KGAPN Jayathissa (3 GR) | 2004.02.09 | 2004.05.25 |
| 9 | Lt Col JMSS Jayasundara RSP USP (10 GR) | 2004.05.26 | 2004.06.18 |
| 10 | Lt Col SPA Rodrigo RWP RSP (4 GR) | 2004.06.25 | 2004.11.08 |
| 11 | Major SBRK Fernando RSP (6 GR) | 2005.06.24 | 2007.01.04 |
| 12 | Major MKB Pushpa Kumara (6 GR) | 2007.01.04 | 2007.07.26 |
| 13 | Lt Col MKB Pushpa Kumara (6 GR) | 2007.07.26 | 2008.05.07 |
| 14 | Major TS Balasooriya (8 GR) | 2008.05.07 | 2008.06.13 |
| 15 | Lt Col SBRK Fernando RSP (6 GR) | 2008.06.13 | 2010.09.09 |
| 16 | Lt Col VMK Bandara RSP (6 GR) | 2010.09.09 | 2012.01.27 |
| 17 | Major ATJS Bandusena (10 GR) | 2012.01.27 | 2012.08.06 |
| 18 | Lt Col DCCDR Waidyasekara RSP (9 GR) | 2012.08.06 | 2015.09.25 |
| 19 | Lt Col TM Hettiarachchi RSP (6 GR) | 2015.09.25 | 2016.09.19 |
| 20 |  Lt Col JP Vithanachchi RWP USP (12 GR) | 2016.09.19 | 2018.06.20 |
| 21 |  Col JP Vithanachchi RWP USP (12 GR) | 2018.06.20 | 2019.05.08 |
| 22 | Lt Col MSC Peiris RSP USP (8 GR) | 2019.05.09 | 2020.06.14 |
| 23 | Col MSC Peiris RSP USP (8 GR) | 2019.06.15 | 2020.10.20 |
| 24 | Lt Col KDCJ Siriwardana RSP (14 GR) | 21.10.2020 | 11.05.2022 |
| 25 | Maj RMLUA Rathnayake (3 GR) | 12.05.2022 | 21.06.2023 |
| 25 | Lt Col MNK Kumara RSP (2 (V) GR)(3 GR) | 22.06.2023 | up to date |
Contact Details
Address
Regimental Headquarter Battalion the Gajaba Regiment
Army camp
Senapura
Anuradhapura
Email :- rftgajaba@gmail.com
Tp No :- 025-2236145