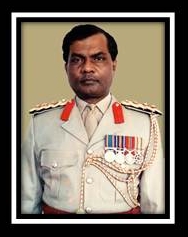 Major General WIVKM Wimalarathne RWP RSP VSV USP psc
MILITARY CAREER
Major General Vijaya Wimalaratne received his education at Royal College, Colombo and joined the Sri Lanka Army as an Officer Cadet in August 1962. He commenced his career as an Officer in the Army on 1 August 1963 after completion of his training at the Indian Military Academy. It was destiny's plan for him that he was appointed as Battalion Cadet Adjutant in his final term and it's rare opportunity for any foreigner to date.

After his commission he enrolled as a Second Lieutenant in the Gemunu Watch, leaving soon after for a jungle warfare course in Malaysia. On his return, he was assigned with the task of conducting the jungle warfare phase for Officer Cadets by applying the subject to the local scenario. He also introduced training on Fighting in Built up Areas and anti-terrorist operations to the Army. Major General Wimalaratne was also a graduate of the British Army Staff College at Camberley.

During his colourful career he had the distinction of developing the formidable Gajaba Regiment. He nurtured, trained and guided the Officers and the Men and made the battalion an effective fighting unit. The nucleus he created in the battalion became a catalyst, and the performance of the Gajaba Battalion in the later years is ample testimony of his leadership and vision. During 'Operation Liberation' in 1987, he commanded 3 Brigades in the first ever two Brigade operation launched in the history of the Sri Lanka Army. He was holding the appointment of Deputy Security Forces Command Jaffna. Meticulous planning of operations and attention to detail were his strong points and he taught and guided his staff to achieve the same standards. He played a major role in the rescue of the troops in the Jaffna Fort in 1990 and in the 'Operation Balavegaya' in 1991.He was bold and daring, and whenever an incident occurred in Jaffna he used to get some troops from his battalion and proceed to the area to assess the situation.

The staff work of Maj Gen Wimalaratne was meticulous. His method of maintaining records and data with accuracy are still being followed. His influence over the staff officers enabled them to learn and progress. He was a hard taskmaster and set high but achievable standards. With his personal guidance and personal touch, he was able to obtain the best from his staff.

His final appointment was Commander Security Forces Jaffna. His vision and dedication were a source of inspiration to others. His presence in the front and his leadership were motivating factors which led to his success in the operations. He had a firm belief that proper logistical planning is essential for successful operations. Therefore, he always ensured that logistic plans were made in detail and that resources were in place prior to launching of operations.
DEATH
On 8 August 1992 as Jaffna Brigade Commander, Brigadier Vijaya Wimalaratne accompanied Major General (posthumously Lieutenant General) Denzil Kobbekaduwa, General Officer Commanding Northern Sector and Commodore (posthumously Rear Admiral) Mohan Jayamaha, Commander Northern Naval Area and were killed when the Land Rover they were traveling was destroyed by a land mine blast. Brigadier Wimalaratne was killed instantly. Subsequently, he was posthumously promoted to the rank of Major General. They were planning an offensive code named "Operation Final Countdown" to liberate the northern peninsula from the LTTE, which was to be launched shortly.
FAMILY
Major General Vijaya Wimalaratne was married to Manel Wimalaratne and they had 2 sons and one daughter. He had 9 brothers in his family.
LEGACY
Being a well disciplined and dedicated Officer and gentlemen, he expected the same from those serving under him. He was firm, friendly and fair. Those under him responded positively and gave him their wholehearted support since they were inspired by his leadership and had confidence that he had the staying power and courage to ensure that any assignment given to him would be successfully completed. He always made it a point to recognize good performance and place on record by way of commendations for future reference.

Being deployed in operational areas for a long duration, he had to sacrifice time with his family. His wife Manel therefore had to bring up the children. Her devotion and support enabled him to carry on with the campaign to eradicate terrorism and bring about peace to Sri Lanka.
The Sri Lankan Army remembers Maj Gen Vijaya Wimalaratne today as one of its greatest warriors and respected Officers who laid down his life whilst fighting in a campaign to safeguard his country, Sri Lanka and its people.