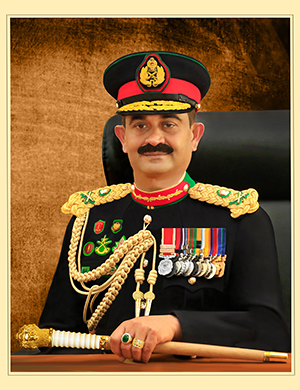 Lieutenant General H L V M Liyanage RWP RSP ndu
Lieutenant General H L V M Liyanage RWP RSP ndu was appointed as the 24th Commander of the Sri Lanka Army on 01 June 2022 and he is also the 12th Colonel of the Regiment of Gajaba Regiment and 20th Colonel of the Regiment of Sri Lanka National Guard. Prior to taking office as the 24th Commander of the Army, he was serving as the Chief of Staff of the Sri Lanka Army.
Lieutenant General Vikum Liyanage, as a proud product of Vijaya College, Matale, excelled in athletics and hockey as a bright student and received accolades for the school. He joined the Regular Force of the Sri Lanka Army on 27 October 1986 as an Officer Cadet of the Regular Intake - 26 and underwent basic military training at the Sri Lanka Military Academy, Diyatalawa and subsequently at the Pakistan Military Academy. Upon successful completion of Officer Cadet training, he was commissioned in the rank of Second Lieutenant and posted to the Gajaba Regiment on 23 July 1987. After being steadily elevated to subsequent ranks in the Army over the years, he was promoted to the rank of Major General on 26 January 2020.
During his 35 years of illustrious military career, he has held a number of significant command, staff and instructional appointments. His tenure of command comprises several distinguished command appointments including the Commandant, Sri Lanka Army Volunteer Force, Commander - Security Forces - Central, Commander - Security Forces -West, General Officer Commanding - 21 Infantry Division, Brigade Commander - 215, 542, 224, 221 and 623 Infantry Brigades, Sector Commander - Operations Command (Colombo) and Brigade Commander (Overlooking) - 225 and 553 Infantry Brigades.
Furthermore, he served in a number of Staff appointments including the Director - Psychological Operations, Director (Doctrine & Training) and Director (Operations & Systems), the Office of the Chief of Defence Staff (OCDS), Adjutant - General Sir John Kotelawala Defence University, Staff Officer II (Admin) - Regimental Centre of the Gajaba Regiment and Staff Officer II - Directorate of Staff Duties. In addition, he served in several instructor appointments including the Commandant - Combat Training School (Ampara).
As a battle-hardened Infantry Officer of the prestigious Gajaba Regiment, Lieutenant General Vikum Liyanage performed a commendable role contributing to the eradication of terrorism from Sri Lanka while serving in all salient unit line appointments. During the peak of the final humanitarian operation, he commanded the 8th Battalion The Gajaba Regiment of victorious 57 and 56 Divisions.
As an avid sportsman in uniform, he has served in the capacity of the Chairman of Sri Lanka Army Wushu Committee and made a significant contribution to further promotion of this martial art in the Army.
Lieutenant General Vikum Liyanage holds a Masters' degree in Strategic and Resilience Studies from Lemhannas University, Indonesia and he is a graduate of the Asia-Pacific Centre for Security Studies in Hawai. In addition, he has received a Diploma in Defence Management from the University of Indore in India. He has also attended many other overseas courses, workshops and seminars of professional value, including Officers' Physical Training Course in India, Young Officers' Course in Pakistan, Junior Command Course in India, Unit Commanders' Course in Bangladesh, Senior Command Course in India, Advanced Security Cooperation Programme in Hawai and Regular Education Programme at the National Institute of Lemhannas in Indonesia.
The local training courses attended by the Senior Officer include the Internal Security/ Counter-Revolution Warfare Course at the Army Training School -Maduru Oya, Forward Observation Officer Course at School of Artillerya-Minneriya, Battalion Support Weapon Course at Infantry Training Centre -Minneriya, and the Unit Security Officers' Course at the Military Intelligence Corps.
Lieutenant General Vikum Liyanage has been adorned with gallantry awards of Rana Wickrama Padakkama (RWP) and Rana Sura Padakkama (RSP) in recognition of his bravery and eminent service on the battlefield. Further, he is a recipient of Desha Puthra Sammanaya for being wounded whilst on operations due to enemy action. Lieutenant General Vikum Liyanage has also received service decorations of East Humanitarian Operation Medal, North Humanitarian Operation Medal, Purna Bhumi Padakkama, North and East Operation Medal, Riviresa Campaign Service Medal, 50th Independence Anniversary Commemoration Medal, Sri Lanka Army 50th Anniversary Medal, Long Service Medal, Seva Abhimani Medal and Service Medal.
In appreciation of noble contribution rendered for fostering of the Buddha Sasana in the country, he was awarded the honorary title of 'Janamanya Vibhutiratna' in the Buddhist Monastic Order of Amarapura Chapter.
Lieutenant General Vikum Liyanage is married to Mrs Janaki Liyanage and blessed with a daughter and a son.