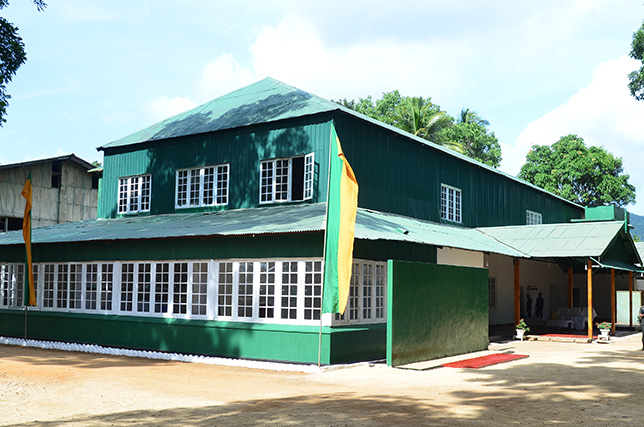 HISTORY OF 8TH BATTALION THE GAJABA REGIMENT
The battalion was inaugurated on 17th December 1992 under the command of Major TB Moseth RSP at Gajaba Regimental Centre, Saliyapura, with Major LHSC Silva WWV RWP RSP as the Second In Command and WO II Chandrasiri as Acting Regimental Sergeant Major. Later, senior officer named Major LHSC Silva WWV RWP RSP, who served as the Second In Command of the unit, took charge as the commanding officer of the unit on 25.08.1995.
Re- establishment 8th Battalion the Gajaba Regiment
The battalion was merged with the 1st Gajaba Regiment for a period of more than a year from 04.06.2000 after the fierce fighting in Alimankada area due to the prevailing situation at that time.. There, Commanding Officer was taken over by a senior officer named Major SDNJ Suraweera RSP.
On the 20th June 2001, the 8th Battalion Gajaba Regiment, consisting of 15 officers and 50 other ranks, was re- established and operated at Saliyapura camp. After the re- establishment of the unit, the senior officer Major WMRJK Senaratne as the second in command, Captain RMAB Ratnayake as the A Coy Officer Commanding, Captain H MP Heenkenda as the C Coy Officer Commanding , Lt. EW Thisera as the D Coy Officer Commanding, Major SB Amunugama RSP as the Sp Coy Officer Commanding, Lt. MAHW Premachandra as First Adjutant and WO 1 WDE Ligori as Regimental Sergeant Major.
Later on 25th May 2001 this battalion was stationed under 21st Battalion in Periyakulam District and from 5th July 2001 it was stationed at Chatras Fort, Mahamorakanda, Devil's Bend, Galpotta, Kituluthuwa Kantale, Mollyapothana, Tambalagamuwa, Sinhakanda, Palamtar and Vellankulam. Under 221 Bde HQ, the battalion was stationed in Omanthe area from 24 December 2001, and on 4th January 2007, under 111 Bde HQ, which arrived in Serunuwaea area, and participated in operational duties from Serunuwara.
After participating for Infantry training in Kokeliya Infantry Training School from 27th January 2007 under 56 Battalion HQ from 20th May 2008 participated in operational duties in Palamodei in Mullaitivu District.Later, from 20 February 2009, attached to 58 HQ, the battalion was deployed in Paranthan region on 15 September 2000 for Humanitarian Operation.
After the end of the War period, on September 29, 2009, this battalion was stationed in Saliyapura Gajaba Regimental Center, and then on 31st January, 2010, it was stationed behind 7 (V) Gajaba Camp stationed in Matale Ukuwela area.
The officers of this battalion played a great role starting with the sacrifice of their lives by actively contributing to the humanitarian operation in the east and , which were implemented to protect the territorial integrity and sovereignty of Sri Lanka and bring peace to the country. 35 Rana Vikrama Medals with 01
Parama Weera Vibhushana Medal and 01 Weera Wikrama Vibhushana Medal and 229 Rana Shoora Medals have also been awarded for Officers and ORs of the unit.
Commanding Officers who have served so far
| | | | |
| --- | --- | --- | --- |
| Srn. | Name | From | To |
| 1. | Major TB Moseth RSP | 1992.10.20 | 1993.12.02 |
| 2 | Lt Col TB Moseth RSP | 1993.12.02 | 1995.08.22 |
| 3. | Major LHSC Silva WVBV RWP RSP | 1995.08.22 | 1996.01.01 |
| 4. | Major MMRK Vanninayake RSP | 1996.01.01 | 1997.05.20 |
| 5. | Lt Col MMRK Vanninayake RSP | 1997.05.20 | 1998.06.05 |
| 6. | Major EMSVB EMSVB Ekanayake RSP | 1998.06.05 | 2000.05.10 |
| 7. | Major SADNU Suraweera RSP | 2001.06.21 | 2002.10.21 |
| 8. | Major HRN Fernando RSP | 2002.10.21 | 2003.03.21 |
| 9. | Lt Col HRN Fernando RSP | 2003.03.21 | 2005.12.31 |
| 10. | Lt Col HLVM Liyanage RSP | 2005.12.31 | 2008.06.23 |
| 11. | Major JMNK Jayasundara | 2008.06.23 | 2008.11.10 |
| 12. | Major MGWWMCB Wickramasinghe Psc | 2008.11.10 | 2008.12.21 |
| 13. | Lt Col MGWWMCB Wickramasinghe Psc | 2008.12.21 | 2011.11.16 |
| 14. | Lt Col WHKS Peiris RSP | 2011.11.16 | 2013.11.08 |
| 15. | Colnel WHKS Peiris RSP | 2013.11.08 | 2014.03.25 |
| 16. | Major MAHW Premachandra RSP | 2014.03.25 | 2014.10.10 |
| 17. | Lt Col MAHW Premachandra RSP | 2014.10.10 | 2017.01.04 |
| 18. | Major BADNK Bulathsinghala RWP RSP Psc | 2017.01.04 | 2017.05.29 |
| 19. | Lt Col BADNK Bulathsinghala RWP RSP Psc | 2017.05.29 | 2019.01.28 |
| 20. | Major IADRP Gunathilaka RWP USP | 2019.01.28 | 2020.02.04 |
| 21. | Lt Col IADRP Gunathilaka RWP USP | 2020.02.04 | 2021.01.15 |
| 22. | Major HMAB Heenkenda RWP RSP | 2021.01.15 | 2021.06.22 |
| 23. | Lt Col HMAB Heenkenda RWP RSP | 2021.06.22 | 2022.08.15 |
| 24. | Major YSHNP Silva USP Psc | 2022.08.15 | 2022.10.10 |
| 25 | Lt Col YSHNP Silva USP Psc | 2022.10.10 | Up to date |
Contact Information:
&nbsp
&nbsp
&nbsp
Address:
:

Headquarters
8th Battalion the Gajaba Regiment
Army Camp
Thawalankoya
Ukuwela
Matale


&nbsp
&nbsp
&nbsp
Phone
:
0283897553
0662245230
Email
:
8gr@army.lk
8grbnhq@gmail.com