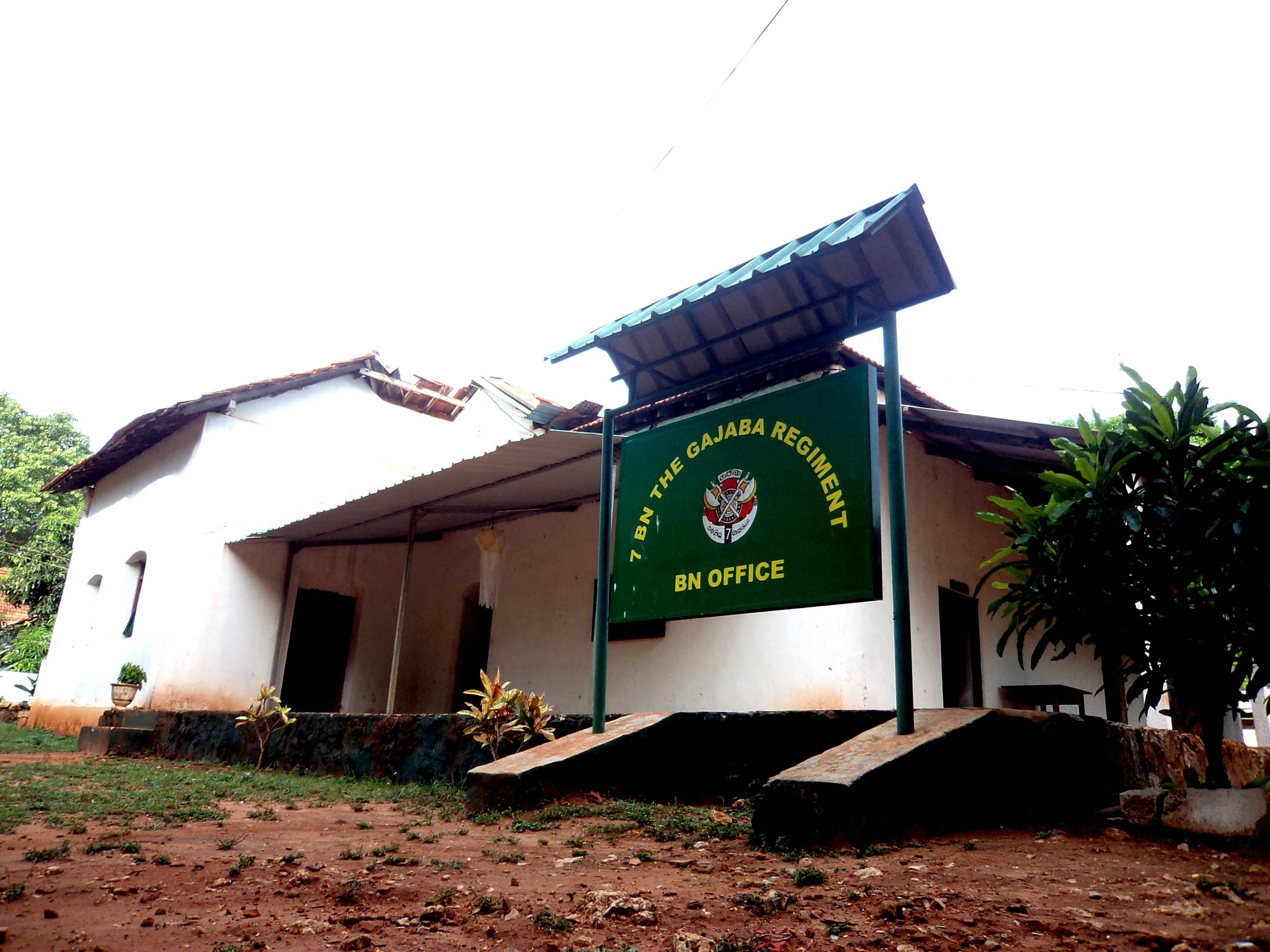 HISTORY OF 7(v)th BATTALION THE GAJABA REGIMENT
This battalion officially raised on 14 Desember 1990 in the building pertaining to the irrigation department of Pankulama Morawewa in Trincomalee district, After having the approval of his excellency the president and rasing orders by the commander of the Army Lt Gen H Wanasinghe VSV ndc to be published by the ARO holding no, RO/31/90GVF/29 (41) to established as the 7 (v) Bn the Gajaba Regiment in Sri Lanka volunteer force, on the date 28.11.1990 under the guidence of commander of 2 div in the auspicious time, charm and ceremonoiusly hoisting the Gajaba flag with the aim of conserving the sovereignty and the territorial integrity of the mother land and to aggravate the streangth of the military, as well a younger member to the Gajaba family and a batallion to the Sri Lanka volunteer force.
The battalion which opened in the month of December in 1990 cosisted with 6 officers and 203 ORS from 2nd batallion the Gajaba Regiment, 1 officer and 125 ORS from 5 bn the Gajaba Regiment, and two cadet officers who passed out from military academy Diyathalawa, 100 recruits from VFTS- Diyathalawa and the Bn consisted with 9 officers and 428 ors in the biginig. First commanding officer was Lt Col ADJG suraweera and 2nd in command was Maj L Wijekoon who came from 2nd (v) bn the Singha Regiment and Opening adjutant was the capt VAP Samaraweera 4GR and RSM WO 1 MLG Danapala. And which commensed under the leadership of above senior officers have been in the service to conserve the sovereignty and territorial integrity of Sri Lanka mother land from the LTTE terrorist approximately 26 years of time under the commandment of 8 commanding officers, at the present, our battalion located and performs the duties in Jaffna penisula.
Since beginning thi battalion was consigned mainly task of consolidating the security of main supply routes and VPS. In addition to that very often performed finite operations as a battalion and contributed in riviresa compaign, North Humanitarian Operation as well. To honour the dedication of valiant soldiers 21 gallantry awards (RSP) have been awarded to officers and soldiers of the battalion during the post war era. This unit has emensily contributed to the economic development of the country and the reconciliation measures taken by the government.
The Names of the Commanding Officers.
| | | | |
| --- | --- | --- | --- |
| Srn | Name | From | To |
| 1. | O/1694 Lt Col ADJP Suraweera ksv | 04.12.1990 | 17.02.1994 |
| 2. | O/1913 Lt Col L Wijekoon | 15.02.1997 | 09.05.1997 |
| 3. | O/2538 Lt Col RM Kumarasinghe | 14.05.1997 | 29.05.2004 |
| 4. | O/2850 Lt Col KM Thilakarathne | 27.05.2004 | 23.06.2008 |
| 5. | O/3426 Maj DKGS Kapukotuwa | 24.06.2008 | 14.03.2001 |
| 6. | O/4406 Maj GRG Ranasinghe (Over Looking) | 03.15.2011 | 22.06.2011 |
| 7. | Maj RHSPK Perera | 23.06.2011 | 10.10.2015 |
| 8. | Lt Col RHSPK Perera |   |   |
| 9. | Maj WR Presanna | 16.12.2016 | 14.02.2017 |
| 10. | Lt Col EPA Mangala | 11.10.2015 | 15.12.2016 |
| 11. | Maj SAKD Lecamarachchi RSP | 15.02.2017 | 03.06.2020 |
| 12. | Maj WSI Fernando RWP | 04.06.2020 | 10.01.2022 |
| 13. | Maj HMSSB Karunarathne RWP RSP | 10.01.2022 | up to now |
Contact Details
Address
:

Headquarters,
7(v) Battalon the Gajaba Regiment,
Achchuvely - Palaly

Fax
:
021 3734 827
T.P no
:
021 3734 827(Rear HQ)