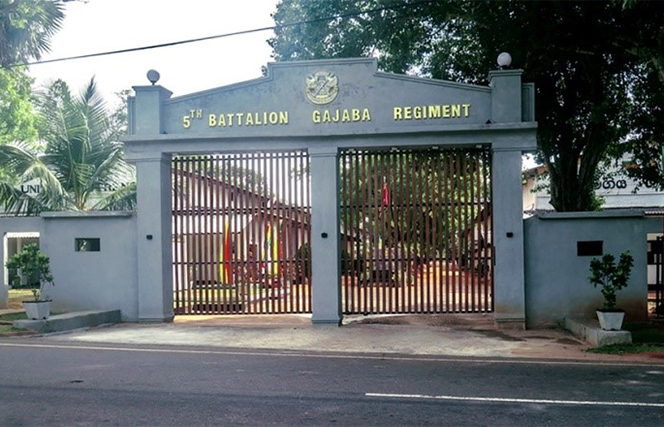 HISTORY OF 5TH (VOLUNTEER) BATTALION THE GAJABA REGIMENT
Nucleus of the 5th Battalion the Gajaba Regiment was initiated under Sri Lanka Army Volunteer Force by ARO 587/5 03rd March 1989. The Battalion was temporally located Headquarters 2 (v) Sri Lanka Light Infantry regiment - Colombo.
There after 5th Battalion the Gajaba Regiment was raised as an Independent Infantry Battalion, on 07th July 1989 and placed under command to Headquarters 2 Division and establishing the Battalion Headquarters at Horowpothana.
The Battalion was deployed in Welioya, Gajabapura, Galkulama, Pulmudei, Wilpattu, Jaffna, Kilali, Jayapuram, Mirusuvil, Kodikaman, Valvettithurai, Palaly, Kantalei, Trincomalee, Mannar, Mulankavil, Poonaryne, Paranthan, Mullaitivu, Kiranchi, Bogaswawa, Selvary,Horowpothana
Specially during the humanitarian operation this Battalion was actively participated under 55, 57 and 58 Divisions in Madu, Mulankavil, Kevil, Poonaryne, Paranthan, Dharmapuram and presently under command to 211 Inf Brigade, 21 Inf Division under Security Force headquqrters Wanni.
The Names of the Commanding Officers
| | | | |
| --- | --- | --- | --- |
| Srn | Name | From | To |
| 1. | Lt Col P C Premachandra KSV | 09.03.1989 | 16.05.1994 |
| 2. | Lt Col G Wijayarathna | 17.05.1994 | 11.07.1996 |
| 3. | Major L H S C Silva RWP RSP | 12.07.1996 | 15.09.1996 |
| 4. | Major V S P De Mel | 16.09.1996 | 16.07.1997 |
| 5. | Major M D K J Maniyangama | 17.07.1997 | 12.10.2000 |
| 6. | Major W B A S Perera | 13.10.2000 | 05.05.2002 |
| 7. | Major M R C S Fernando | 06.05.2002 | 07.03.2007 |
| 8. | Lt Col S R M B Weerakoon | 08.03.2007 | 07.09.2011 |
| 9. | Major I P Jayarathna | 08.09.2011 | 10.07.2014 |
| 10. | Major D S P Liyanage | 11.07.2014 | 02.06.2018 |
| 11. | Major K K Jayasinghe | 03.06.2018 | 15.03.2021 |
| 12. | Major HMRDK Herath | 16.03.2021 | 20.02.2023 |
Contact Details
Address
:

Headquarters
5 th Battalion the Gajaba Regiment,
Army Camp,
Veravil,
Vavuniya Road,
HOROWPOTHANA

Fax
:
025 - 3770419
T.P no
:
0252278488 (Rear HQ)
Email
:
5gr@army.lk
5gajaba@gmail.com