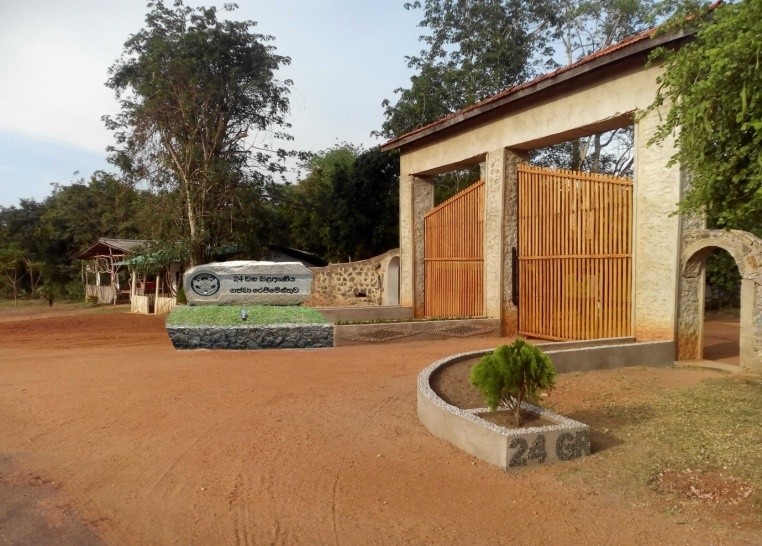 HISTORY OF 24TH BATTALION THE GAJABA REGIMENT
24th Battalion of the Gajaba Regiment was inaugurated according to the instruction of ARO 86/2009 of Sri Lankan Army on the 18th October 2009 as a new member to the Gajaba family at Regimental headhunters Saliyapura Anuradhapura. With the aim of strengthening the military force and to take up the responsibility of rehabilitation and relocation of the Sinhala, Tamil and Muslim victims who were internally displaced and evacuated by the humanitarian operations conducted in the North and Eastern regions by SL Armed forces.
When the inauguration of the Battalion took place at Saliyapura, Anuradhapura the proud Ketterians home the first Commanding Officer was O/62099 Major DUN Serasinghe RSP, and O/64004 Major SW Arachchige was appointed as the Second In Command. The Battalion consisted of the strength of 08 X 495 with fellow regimental members from brother battalions and recruits who joined the battalion newly at its inauguration.
When nominating key appointment holders of the battalion under mentioned officers and other rankers were fortunate enough to record its first. As an Adjutant O/66873 2/Lt RAEN Fernando RSP, as a Regiment Sergeant Major S/450727 WO1 WG Premarathna, as a Chief Clerk S/453312 C/Srt Jayathissa M were appointed on 22nd October 2009. Then the Battalion was shifted to Naddankandal in Mullative district under command to 612 Bde to continue the rehabilitation and relocation tasks which was entrusted to SL Army on 31st October 2009. Areas of Responsibility were the general area Pandiyankulam, Selvapuram, Panankamam and Karanpuliyamkulam.
With the instruction of 61 Division battalion had to shift to the Sacred Madhu church area in Mannar district under 613 Bde on 05.03.2012 after handed over the previous place to 33 SLNG. Since then, battalion is well performing in the area covering 403.5 km2 providing security in the area and helping civil authorities in natural calamities. Mainly assist to famous Madhu church when there is a priest and who are coming to witness it.
From 01.01.2020 this battalion under command to the 544 Bde and performing duties after the 61 Inf Division moved out from SFHQ (Wanni). With the suppressed of SFHQ (KLN) this battalion area under command to the 653 Bde from 04.12.2020.
With the re - designation of the 4th battalionthe Gajaba Regiment was authorized by the Commander of the Army Lieutenant General H L V M Liyanage RWP RSP ndu in a special Army Order (ARO 38/2022) on 23rd November 2022 having suppressed this Battalion as the junior most regular battalionof the Gajaba Regiment.
The Names of the Commanding Officers.
Srn
Name
From
To
1.
Maj DUN Serasingha RSP
2009.10.18
2010.03.31
2.
Lt Col DUN Serasingha RSP
2010.04.01 
2012.06.20
3.
Maj KGK Ariyadasa RWP RSP
2012.06.20
2012.12.10
4.
Lt Col KGK Ariyadasa RWP RSP
2012.12.11
2014.10.29
5.
Maj EGC Gunasena RSP psc
2015.01.02
2017.10.02
6.
Lt Col EGC Gunasena RSP psc
2017.10.03
2018.02.08
7.
Maj ICN Gunathilake RWP RSP USP
2018.02.09
2020.02.04
8.
Lt Col ICN Gunathilake RWP RSP USP
2020.02.04
2020.03.11
09.
Lt Col HMC Pushpakumara RWP USP
2020.03.11
2021.03.28
10.
Maj LHWBI Silva RWP RSP
2021.03.28
2022.02.03
11.
Lt Col LHWBI Silva RWP RSP
2022.02.04
2022.09.28
12.
Maj WMAUK Weerasinghe
2022.09.29
2022.11.23
Contact Details
Address
:

Headquarters
24th Battalion the Gajaba Regiment
Madhu
MANNAR

Fax
:

0253778801

Tel
:
0253778801