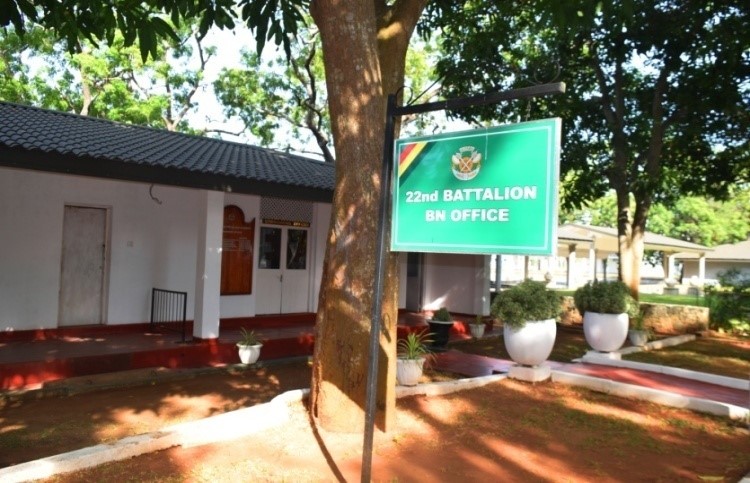 HISTORY OF 22ND BATTALION THE GAJABA REGIMENT
The 22nd Battalion the Gajaba Regiment inaugurated on 3rd July 2009 as a regular member of the proud Gajaba Family just after the eradicating of brutal terrorism, which was a great threat to the territorial integrity and sovereignty of Sri Lanka. The battalion was inaugurated according to the Special Army Order 47/2009 issued by the Commander of the Army at the Regimental Headquarters, Saliyapura Anuradhapura. With the aim of strengthening the military forces and to take up the responsibility of rehabilitation and relocation of the Sinhala, Tamil and Muslim victims who were internally displaced and evacuated by the humanitarian operations conducted in the Northern and Eastern theatre by the Sri Lankan Armoured forces.
03rd July 2009, the 22nd Battalion Gajaba Regiment was established at Saliyapura Regimental Center consisting of 12 officers and 571 other rankers. Major DRN Hettiarachi, was the first Commanding Officer of the unit and now that position is holding by the Lt Col KP Rohan Kumara RWP RSP psc Further Focusing on the pursuers of important positions since the beginning of the unit, there were 07 Commanding Officers from 2009 to 2023, have been appointed to the battalion.
After the forming of the battalion, on 23rd of July 2009, the 611 Bde under the 61 DIV at the Puvarasankulam, was engaged in duties in Mannar Madhu area to take up operational duties. Since this was the first Madhu festival held after eradicating all the fierce of terrorism, a large number of people attended to the Madhu festival and this battalion was in charge of main security of this occasion. After that, On August 18, 2009, this battalion was in charge of the security of twelve LTTE rehabilitation centers at the Vavuniya, under the 21 div, 211 BDE areas and the battalion headquarters was located in the Pampemadu area.
After the Easter attack, a special contribution was made by this battalion to prevent the riotous behavior of the civilians and maintain the peace in the area of Mannar Jeewanagar. Addition to that, they had provided initial contribution to the National plantation Programme which was also carried out under the supervision of the Commander of the Army. Afterward, while performing duties, on January 2020 battalion was change its duties as Commander's Reserve Strike Force and IS Duties of Saharan's bomb attack too.In addition conducted a dengue control program in Mannar and provided full contribution to the vaccination program focusing on Anuradhapura district during the Covid 19 pandemic period. During the period of 14 years from 2009 to 2023, this unit has contributed well to the country's security and public safety as well as civil welfare activities.
The Names of the Commanding Officers.
| | | | |
| --- | --- | --- | --- |
| Srn | Name | From | To |
| 1. | Lt Col DRN Hettiarachchi RWP | 2009.07.20 | 2012.10.06 |
| 2. | Lt Col RNR Sirisena RWP RSP psc | 2012.11.06 | 2014.02.23 |
| 3. | Lt Col KR Kalupahana RSP USP (Overlooking) | 2014.05.29 | 2017.05.29 |
| 4. | Maj MP Samarasekara RWP RSP | 2014.05.29 | 2019.04.10 |
| 5. | Lt Col HPA Senarathne RWP RSP USP | 2019.05.13 | 2021.01.04 |
| 6. | Lt Col BSK Jayasundara | 2021.01.04 | 2022.08.08 |
| 7. | Lt Col KP Rohan kumara RWP RSP psc | 2022.08.08 | Up to date |
Contact Details
Address
:

22nd Battalion the Gajaba Regiment
Regimental Centre
Home of Gajaba
Saliyapura
Anuradhapuraya

T.Phone

025 - 3778068
025 - 3859791