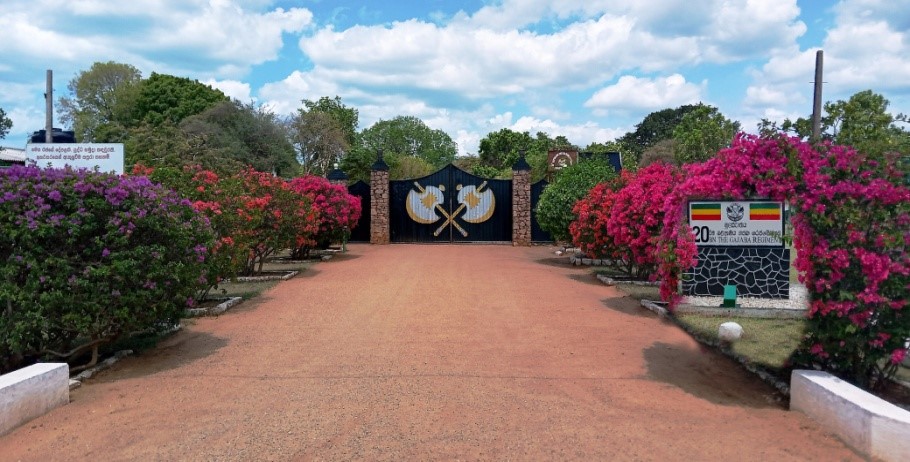 HISTORY OF 20TH BATTALION THE GAJABA REGIMENT
The 20th Battalion of Gajaba Regiment was established as a new regiment according to the Behavioral order 80/2008 and dated 05.12.2008 at the auspicious time of 1053 hours on the 01 day of January in the year 2009 by the approval of former Army commander, General GSC Fonseka RWP RSP VSV USP RCDS psc. This historical moment was delighted consisting with Major RMAB Rathnayake psc as the first acting commanding officer including other 09 officers and 435 other ranks legionaries at that commencing occasion.
On the day of 06.01.2009, having left the home of Gajaba and attaching to the 3rd operational brigade under the 631 brigade headquarters, stared the operational duties in Mankulam and Olumadu areas and acted as a combat battalion in the operation capturing the power in the area of Udayaramkattukulam.
Then battalion was temporally deployed at 5 (v) MIR rear hq at Maberiyathenna to release the troops of 10 GR on 06.10.2012. Again battalion was deployed at Baratipuram camp at the kilinochchi. Afterhand over Maberiyathenna camp to troops of 10 GR. On 28.02.2013 battalion deploy at 7 SLSC at Uilankulam..
Again battalion was deployed at Saliypura RHQGR camp after hand over Uilankulama camp to troops of 1 GR On 09.06.2016. After that bn moved to the pulmoddai on 21.09.2018 and deployed at 13th mile post pulmoddai to undercommand 622 Inf Bde and 62 Division. From 10 June 2023 Command and Control shifted to SF East AOR under 22 Inf Div and 221 Inf Bde.
The Names of the Commanding Officers.
| | | | |
| --- | --- | --- | --- |
| Snr | Name | From | To |
| 1. | Major RMAB Rathnayaka | 2009.01.01 | 2009.01.28 |
| 2 | Lt Col TMGK Peiris RWP | 2009.01.28 | 2011.09.30 |
| 3. | Lt Col MWDN Mediwake | 2011.11.02 | 2015.01.26 |
| 4. | Major RMHPK Rathnayake | 2015.01.26 | 2016.07.28 |
| 5. | Lt Col RMHPK Rathnayake | 2016.07.28 | 2018.02.20 |
| 6. | Maj BGALW Sapugoda RWP RSP | 2018.02.21 | 2020.03.11 |
| 7. | Maj WMWD Weerasooriya RWP RSP | 2020.03.12 | 2021.09.19 |
| 8. | Lt Col WMWD Weerasooriya RWP RSP | 2020.09.19 | 2021.12.16 |
| 9. | Maj JAD Priyakalum RSP | 2022.12.16 | 2023.06.15 |
| 10. | Maj WWNC Waduge RWP RSP USP | 2023.06.15 | up to now |
Contact Details
Address
:
Headquarters
20th Battalion The Gajaba Regiment
13thMille Post
Pulmuddai
T.Phone
:
0253771312