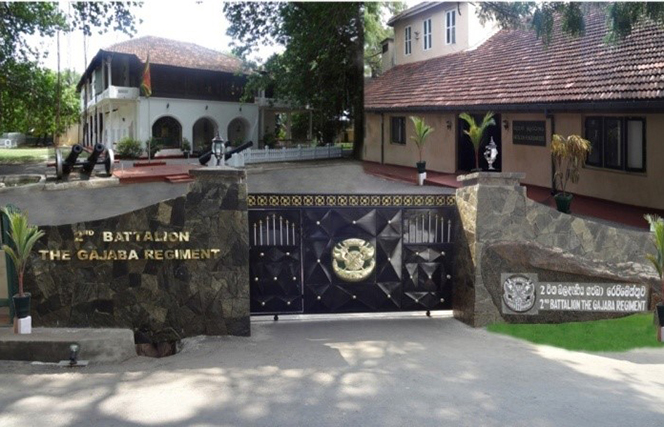 HISTORY OF 2nd (VOLUNTEER) BATTALION THE GAJABA REGIMENT
The 2nd Rajarata Rifle Battalion established in the historic Fort Fredrieck of Trincomalee on 10.04.1980 under the army order 07/80 is the first volunteer unit to be established in an operation area. The first Commanding Officer of this unit was Major RV Cooray ED - 2SLAC who held Command till 15.02.1982. By this time the 3rd Rajarata Rifle Battalion had been established in the Minneriya area and on 15.02.1982 a joint unit of these two unit was established in the Trincomalee Fort Fredrieck on The 2/3 Rajarata Rifle Battalion. Eventually the 2/3 Rajarata Rifle Battalion was disbanded and re established as the 2nd (v) Battalion Gajaba Regiment with effect from 14.10.1983. Lt Col WR Wijerathna - GW assumed command of this new Battalion as the first Commanding Officer and Major SA Kulatunge the 2nd In Command, Lt HRLRD Silva the Adjutant WO I MLC Perera the Regimental Sergeant Major as another Appointments. Since there 14 Commanding Officers and 17 2nd   in Command Officers have served in this battalion.
With the uprising of the LTTE terrorist, this unit launched minor operations in Trincomalee, in order to suppress the terrorism, killing a large number of terrorist cadres and taking into custody many weapons, vehicles, equipment. While commencing in this manner, this unit was called up to indulge in the "Jayasikuru" operation, launched in the "Vanni" area on 14.10.1997 while operating in "Oddusudan" in "Vanni". The unit was re-stationed in Muthur in the Trincomalee district on 25.11.2001. After that unit established in colombo area on 14.05.2005.  On 14.08.2006 the unit was recalled back again to the "Vanni" for operations.
With the commencing of the Humanitarian Operation of eradicating terrorists, this unit began operations with into fullest strength including parallel in the "Omanthei" front line. As the forces advance steadily with their humanitarian operation, the unit was stationed in "poonakareen" under the command of the 58th Div on 14.12.2008. On 12.09.2009 the unit reported back to Trincomalee for duties under the command of the 22 div at Fort Fredrieck. From the inception up to the end of the humanitarian operation this unit had lost 24 officers and 172 soldiers who sacrificed their lives for the motherland and another 18 officers and 244 soldiers were disabled in the warfront. For their service and bravery in the battlefield 03 officers of the unit were awarded with the "Rana Wickrama" medal and 13x30 officers/soldiers "Rana Sura" medal.
The Names of the Commanding Officers.
| | | | |
| --- | --- | --- | --- |
| Srn | Name | From | To |
| 1. | Lt Col  WR  Wijerathna | 1983.10.15 | 1985.03.25 |
| 2. | Major  B Jayasundara | 1985.03.26 | 1985.05.04 |
| 3. | Lt Col  WMG Bandara | 1985.05.05 | 1985.11.22 |
| 4. | Major  SA Kulathunga | 1985.11.23 | 1986.07.16 |
| 5. | Lt Col  G Angammana | 1986.07.17 | 1987.07.10 |
| 6. | Lt Col  SA Kulathunga | 1987.07.11 | 1993.07.04 |
| 7. | Lt Col  NWPU Navimana | 1993.07.05 | 1999.07.11 |
| 8. | Major PSN Amarasingha | 1999.07.12 | 1999.11.02 |
| 9. | Lt Col V  Nanayakkara | 1999.11.08 | 2006.10.13 |
| 10. | Major MKH Mayasingha | 2006.10.14 | 2008.03.12 |
| 11. | Major AD Hettiarachchi psc | 2008.03.13 | 2010.06.30 |
| 12. | Lt Col JSB  Rathwatte | 2010.07.01 | 2012.06.21 |
| 13. | Lt Col RMH  Jayathissa | 2012.06.22 | 2014.12.12 |
| 14. | Major  MGD Mahesh Kumara | 2014.12.13 | 2016.12.14 |
| 15. | Major  RMDB Rathnayaka | 2017.01.04 | 2020.03.01 |
| 16. | Maj KJNMUK Nawaratne | 2020.03.02 | 2021.06.08 |
| 17. | Lt Col KJNMUK Nawaratne | 2021.06.09 | 2022.06.01 |
| 18. | Lt Col W Warnakulasooriya | 2022.06.01 | Up to date |
Contact Details
Address
:

Headquarters
2nd   Battalion the Gajaba Regiment
Army Camp
Fort Federieck
TRINCOMALEE.

Tele/ Fax
:
026 2222413
E- mail address
:
2ndgajaba@gmail.com