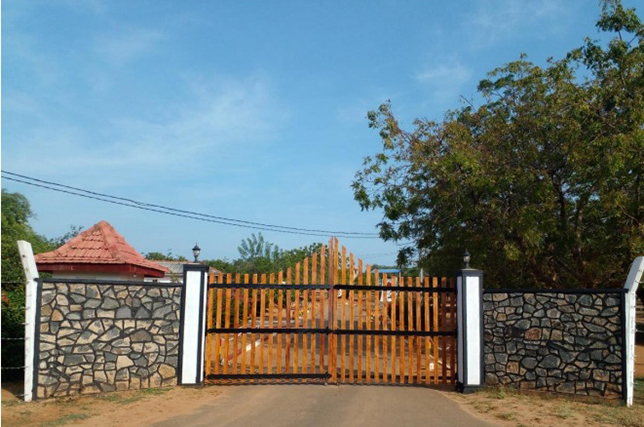 HISTORY OF 12TH BATTALION THE GAJABA REGIMENT
The 12th Battalion The Gajaba Regiment was raised on 8 October 2007 and is in the active Service for six years up to date. All ranks of this unit claim a high degree of professional competence and combat readiness due to their previous deployments on humanitarian operation and internal security operations throughout the Island. As such, the unit had been deployed in saliyapura, Anuradhapura from 8th October 2007 to 22nd October 2007.
The first operation of the unit had been involved to clamp - down the LTTE attack to the air force base Anuradhapura. After on 23rd October 2007 Under the 51 Division and 514 Brigade the unit had deployed at kaytes Island and serviced up to 11th January 2008. At Thanankilappu from 12th January 2008 to 24th February 2008. At Murunkan from 24th February 2008 to 8th March 2008 under the first Task Force Headquarters and 581 Brigade 12th Battalion The Gajaba Regiment joined to the wannihumantarian Operation. They Participated operations at Yodawewa, Parappakandal, Kalliadichchan, Udaiyadi, NothAdappan, Kareimuddi, Veditalathiv areas.
Then participated operations under the 582 Brigade Adampan, Uiyanlkulam, and under the 583 Brigade VanneriyaKulam, KarambaKulam, Pandiweddikulam, Eluppakadaveli, Mulankawil, Jayapuram, Chempankundu, Punarin, Kilinochchi, Paranthan, Darmapuram,Vishvamadu, Shanthipuram, Dewapuram, Pudukudierippu, Pudumatalan, up to welayamulliwaikkal the unit had raised their operations till end of Wannihumantarian Operation.
After the humanitarian Operation unit was established under mention places at Iranamadu from 22nd May 2010 to 8th February2010, at puttalam from 8th February 2010 to 01st March 2010. At Kandy from 01stMarch 2010 to 20th July 2011 had done VVIP and VIP duties. Then participated Battalion training from 20th July 2011 to 13th August 2011 at Battalion training School katukeliyawa. At Trincomalee from 15th August 2011 to 8th January 2013. After that deployed at Batticaloa 9th January 2013. The unit continues to perform the Role and task of infantry, VVIP and VIP protection as efficiently and promptly as legionnaire with in its area of responsibility under the security force Headquarters (East) till 07th May 2016. From 08th May 2016 onwards battalion was located at Defense Headquarters Complex premises - Akuregoda in order to relieve 10 GR. Now the battalion Located at Yala – Platupana and performing its duties under 122 Bde to ensure the safety, security & comfort in the AOR of 12 Division and SFHQ (Central).
The Names of the Commanding Officers.
| | | | |
| --- | --- | --- | --- |
| Srn | Name | From | To |
| 1. | Lt Col NDSP Niwnhella RWP RSP | 08.10.2007 | 04.03.2008 |
| 2 | Lt Col SB Amunugama RSP | 04.03.2008 | 05.08.2009 |
| 3. | Lt Col SB Amunugama RSP | 05.08.2009 | 06.12.2010 |
| 4. | Lt Col RPARP Rajapaksha RSP | 06.12.2010 | 18.07.2013 |
| 4. | Lt Col KHNP Hannadigepsc | 06.12.2010 | 18.07.2013 |
| 5. | Maj RPARP Rajapaksha RSP | 18.07.2013 | 09.10.2014 |
| 6. | Lt Col RPARP Rajapaksha RSP | 09.10.2014 | 05.07.2016 |
| 7. | Lt Col AGLS Samansooriya RSP USP | 11.07.2016 | 24.03.2018 |
| 8. | Maj MN Gunasinghe RSP | 24.03.2018 | 01.01.2019 |
| 9. | Lt Col MN Gunasinghe RSP | 01.01.2019 | 22.06.2020 |
| 10. | Maj MMAJJ Gunawardana psc | 22.06.2020 | 09.09.2020 |
| 11. | Lt Col MMAJJ Gunawardana psc | 09.09.2020 | 16.07.2021 |
| 12. | Maj MACR Makawita RWP psc | 16.07.2021 | 18.05.2022 |
| 13. | Lt Col MACR Makawita RWP psc | 18.05.2022 | 03.03.2023 |
| 14. | Maj WGN Weththasinghe RWP RSP Lsc | 03.03.2023 | Up to date |
Contact Details
Address
:

Headquarters
12th Bn The Gajaba Regiment
Army Camp
Palatupana
Yala
Kirinda

T.P no
:
025 - 3859459