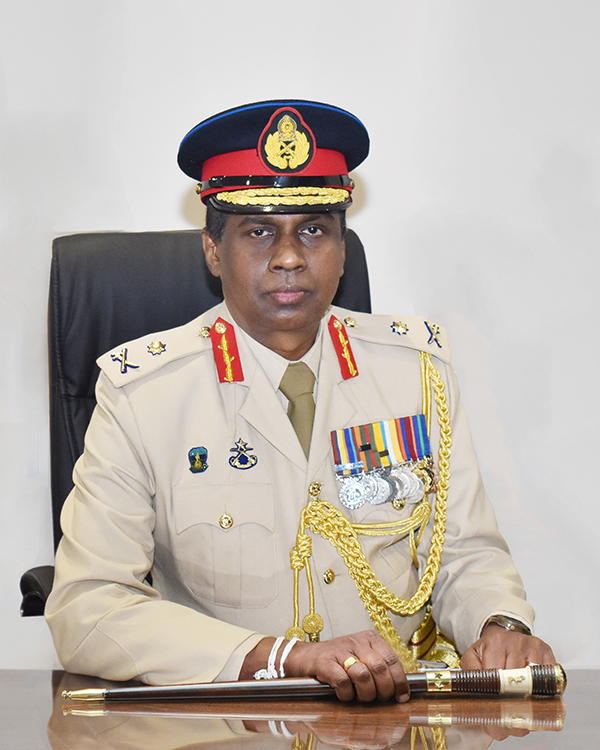 MAJOR GENERAL PAJ PEIRIS ndu
Major General P A J Peiris ndu joined the Sri Lanka Army on 16 March 1987 upon his commission he was posted to the Sri Lanka Signal Corps as a Second Lieutenant on 10 December 1988 having completed his Basic Military Training at Sri Lanka Military Academy. He was subsequently promoted to the ranks of Lieutenant on 10 June 1990, Captain on 10 June 1992, Major on 10 June 1996, Lieutenant Colonel on 26 July 2007, Colonel on 01 June 2012, Brigadier on 06 September 2016 and Major General on 03 August 2020.
Major General P A J Peiris ndu has held various Command, Staff and Instructional appointments both in Army and Regimental levels during his 34 years of service in the Army. Some of them are;
Regimental Adjutant
Commanding Officer – 5 SLSC
Commanding Officer – 1 SLSC
Colonel General Staff(Offg)- 57 Infantry Division
Colonel General Staff - Defence Services Command and Staff College
Commander 681 Infantry Brigade
Deputy Centre Commandant
Centre Commandant
Director - Directorate of Information Technology
In addition to that he was appointed as Coordinator at Operations Disaster Management Centre from 2009 to 2012.Furthermore he is also appointed as a member of the Curriculum Development Team of the National Defence College,Sri Lanka before being appointed as the Director Information Technology.
Presently Major General P A J Peiris ndu is holding the appointment of 14th Colonel Commandant of Sri Lanka Signal Corps from 18 January 2021 and 8th Chief Signal Officer from 22 January 2021.
During his military career he had followed a number of local and foreign courses in different stages of his career. Some of them are,
Signal Young Officer Course in India -1991.
Officer Physical Training course in India – 1995.
Signal Company Command Course in India – 2005.
Signal Captain Career Course in United States of America – 2007.
Multinational Communication Interoperability Programme (MCIP) in Australia, Mongolia and Singapore in 2011.
Unit Command Course(SIGS) in Bangladesh - 2012
Furthermore, he is a graduate from National Defence University Pakistan in 2019 and holds a Master of Science degree in National Security and War Studies. In addition to that, he holds a Master's in Public Administration Management at Sri Lanka Institute of Department Administration.
Major General P A J Peiris ndu was awarded with following medals in recognition of his distinguished service.
North and East operational medal and clasp.
Purna Bhumi Padakkama.
North Humanitarian Operation Medal.
East Humanitarian Operation Medal and clasp.
Riviresa Operational medal.
Sri Lanka Army 50th Anniversary Medal.
50th Anniversary Commemoration Medal.
Sri Lanka Armed Services Long Service Medal.
Sewa Padakkama.
Sewabhimani Padakkama
Major General P A J Peiris ndu is a proud product of Kotte Ananda Shastralaya and Pannipitiya Dharmapala College. He is married to Sajeewani Peiris and blessed with a daughter and a son.