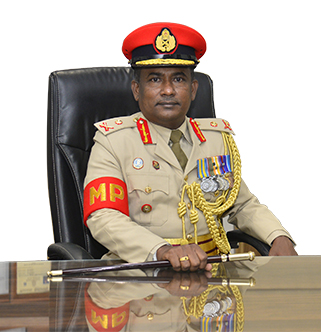 Major General ACA de Zoysa USP Hdmc Lsc
The Provost Marshal of Sri Lanka Army is the head of the Directorate of Provost Marshal and he is assisted by Colonel Provost (Col Pro) and other staff officers. The Provost Marshal responsible for advice to the Commander of the Army on all Provost Matters and the Director Provost (Dte of Pro) will be responsible to uphold Military Law and maintain Military Discipline in War and Peace.
CHAIN OF COMMAND
The PM will function under command of Dte of Pers Admin Army HQ. The PM shall exercise overall command and control of all military police activities whilst the Deputy Provost Marshal will carryout functions which are previously executed by COs of SLCMP.
PROVOST MARSHAL
The duties include;
1. Enforcement of Military Law , Army regulations and order in the Army.
2. Investigation of serious crimes such as theft , murder, suicide, loss of property from installations, in the army.
3. Advise General Staff on provost matters and make provost plans in accordance with the operational/administrative plans of the Army and co-ordinate provost resources.
4. Advise other Branches of Army Headquarters on provost matters.
5. Advise formation commanders periodically regarding the state of Mechanical Transport and personnel discipline in their formations.
6. Record the Mechanical Transport accidents analysis of their causes and recommend measures for prevention.
7. Supervision of the training being imparted at Corps of military police School and review of syllabus of all military police courses.
8. Liaison and co-ordination of law enforcement activities with Navy, Air Force as well as Civil Law enforcement agencies.
9. Study and evolve Military Police aspect of tactical doctrines.
10. Preparation and conduct of Provost Marshal Exercises as and when required.
11. Endorsement of Annual Confidential Reports as the senior technical officer of all officers serving in the CMP.
12. Carry out surprise checks. eg:- Army Headquarters Special Mobile Military Police party, when considered necessary