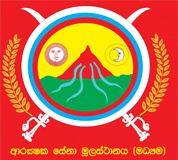 Overall history of the flag
Coloured in read and combines with the back ground colour of Sri Lankan flag
The shape of the middle of flag is round, has 03 rings in Blue, Red and White
It represents an island which is responsible to be protected by Army. AOR of Security Force Headquarters (Central) is protected by God UPULVAN- Blue / God KATHARAGAMA - Red / God SAMAN – White
Adam's peak –
A rare place which is honored by 4 main religions of the world. This represents the National unity and religious harmony. With all these qualities, the quality of bravery in Army is represented.
Four rivers coming from Adam's Peak –
As same as the rivers coming down from Adam's peak delivers the prosperity, the orders given by Army.