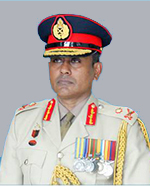 Major General WRP De Silva USP ndu IG
---
Major General WRP De Silva was born on 05 January 1965. He is a proud product of Maliyadeva College, Kurunegala. During his school life, he had been a brilliant student in all academics. Apart from that, he had been a very good sportsman. To name few, During his stay in the school he captained the college Basketball team under 13,15,17 and 19. In additional he played Cricket under 12,13 and 15, Played Rugby under 11 and 13, Represent Sri Lanka schools in 1983 and 1984 and he won the Basketball college colors in 1982 and Sri Lanka Basketball school colors in 1984 and also played for Sri Lanka Army from 1990 to 1992 and captained in 1992. During his stay in the school, he captained the college Basketball team and also he played Cricket and Rugby. He represented Sri Lanka schools and won the basketball college colors and Sri Lanka Basketball school colors. In addition to that he played for Sri Lanka Army. After the Advance Level examination, young Ruwan Prasanna De Siva joined the Sri Lanka Army as an Officer Cadet to the Officer Cadet Intake 21, on 06 July 1985. Upon the successful completion of officer cadet training, he was commissioned as a 2/Lieutenant on 25 January 1986 and posted to the prestigious Regiment of Sri Lanka Artillery.
During his 33 years of dedicated service, he has held many Commands, staff and instructional appointments.
To name, the Command appointments are:

Commanding Officer 7 SLA
Commander Artillery Brigade
General Officer Commanding of 65 Division
General Officer Commanding of 21 Division
The main staff and instructor appointments were:

General Staff Officer II (Coord) at Directorate of Operations
General Staff Officer II (Coord) at Directorate of Operations
Instructor at School of Artillery
General Staff Officer I at ACSC
Colonel (GS) at HQ 53 Division
Commandant School of Artillery
Senior Coordinator at Media Coord Centre
Director - Directorate of Plans
During his distinguished military career, Major General Silva has attended number of local and overseas courses. To name:

In 1988, Artillery Young Officer Course in India
In 1994, Regimental Survey Course in India
In 1996, Mid Carrier Course in Pakistan
In 1998, Officers Gunnery Staff Course in Pakistan
In 2000, Unit Command Course in Pakistan
In 2008, APCSS Comprehensive Crisis Management Course in USA
In 2014, National Security War Course in Pakistan
In addition to the above, he has also participated to 10th meeting of the state parties to the mine ban treaty at Geneva,Switzerland.
In recognition of his unblemished service to the motherland, he was awarded with following service medals:

UTTAMA SEVA PADAKKAMA
EAST HUMANITARIAN OPERATION
NORTH HUMANITARIAN OPERATION
PURNA BHUMI PADAKKAMA
NORTH AND EAST OPERATIONS MEDAL
RIVIRESA CAMPAIGN SERVICE MEDAL
50 TH INDEPENDENCE ANNIVERSARY MEDAL 1998
SRI LANKA ARMY 50 TH ANNIVERSARY MEDAL 1999
SRI LANKA ARMED SERVICES LONG SERVICE MEDAL 1979
Major General Silva is married to Mrs Ludmila De Silva and blessed with two daughters.
Major General Silva is the Chairman of Army Basketball Committee