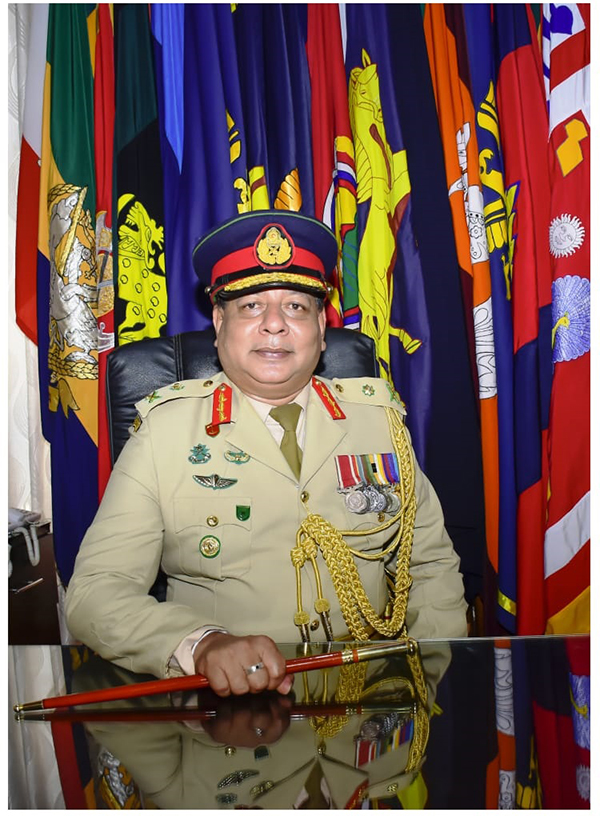 Major General WRMM Rathnayake RWP RSP USP ndu
Major General WRMM Rathnayake RWP RSP USP ndu, more popularly known as Major Genral Mohan Rathnayake, assumed duties as Commander Security Force (Central) on 17 November 2022.
Mohan Mahinda Rathnayake was born on 30 June 1968 in Colombo. He is a proud product of Isipathana College Colombo and was an outstanding sportsman. With inborn talents and motivation, he represented the Isipathana Collage Rugby team from 1985 to 1987 consecutively. As soon as he left the school in 1987, the renowned ruggerite had the opportunity to join with CH & FC Rugby Club which is a premium Rugby club in the country.
Major General Mohan Rathnayake was enlisted to Intake 30 of Sri Lanka Army Regular Force on 26 April 1988, and subsequently completion of basic military training at Sri Lanka Military Academy, he was commissioned as a Second Lieutenant and posted to the Gajaba Regiment on 09 June 1990. The discipline and professionalism made his career stretch forward and he was elevated to the rank of Major General in 2021.
During his unblemished Military Career over 33 years, he has held many Command and Staff appointments in the organization of Sri Lanka Army. He held all the key appointments in unit line such as Platoon Commander, Intelligence Officer, Adjutant, Officer Commanding, and the Second in Command of prestigious 6th Battalion of the Gajaba Regiment and was privileged to Command the same unit during the tense phase of war against ruthless terrorism in year 2008.
Major General Mohan Rathnayake has discharged duties as Commander of Sector 4 in 2009 and Chief of Staff of Regimental Centre of the Gajaba Regiment in 2015. In recognition of his capabilities and capacity, the Senior Officer was appointed as Commander of 224 Infantry Brigade and 122 Infantry Brigade. Then he took over the appointments as Director of Directorate of Movement of Army Headquarters in 2020 and subsequently he was appointed as Director of Directorate of Sports in 2021 given the proficiency and advisability of the Senior Officer. His unblemished career and potentials were inspired where he was appointed as General Officer Commanding of 21 Infantry Division in year 2021.
The Senior Officer has followed a number of local Courses during his illustrious military career. In addition to mandatory career courses, he has followed Basic Parachute Course, Humanitarian Law and Human Rights Training Course and United Nations Peace Support Operations Training course.
In order to enhance his competency as a professional military officer, he has followed a number of foreign courses in different countries. Physical Training Instructor (Officer) Course in Pakistan, Young Officer Course in India, Junior Command Course in India, and Infantry Battalion Commander Training Programme in China. The Senior Officer has also served in United Nation Peace Keeping Mission in Haiti. Further, he was graduated in National Security and War Collage in Pakistan.
Being a military officer, Major General Mohan Rathnayake did not give up his career as a professional ruggerite, and thus his exceptional sports performances selected him to the Sri Lankan National Rugby Team in 1993 while on active service. Further, he was a pie member of Sri Lanka Army Rugby Team for six consecutive years and contributed to crown the Army Rugby Team in several occasions. On his reputation as a national ruggerite, he was appointed as Manger of Sri Lanka National Rugby Team in 2011.
For his valuable service and devotion to duties marked by exceptional ability, merit and exemplary conduct as an infantryman in the battle field, he is decorated with "Rana Wickrama Padakkama" and " Rana Sura Padakkama", and also "Uththama Seva Padakkama" for his unblemished military career and yeoman service rendered to the nation.
Major General Mohan Rathnayake is married to Mrs Udeni Jayarathne, and blessed with two sons a daughter.